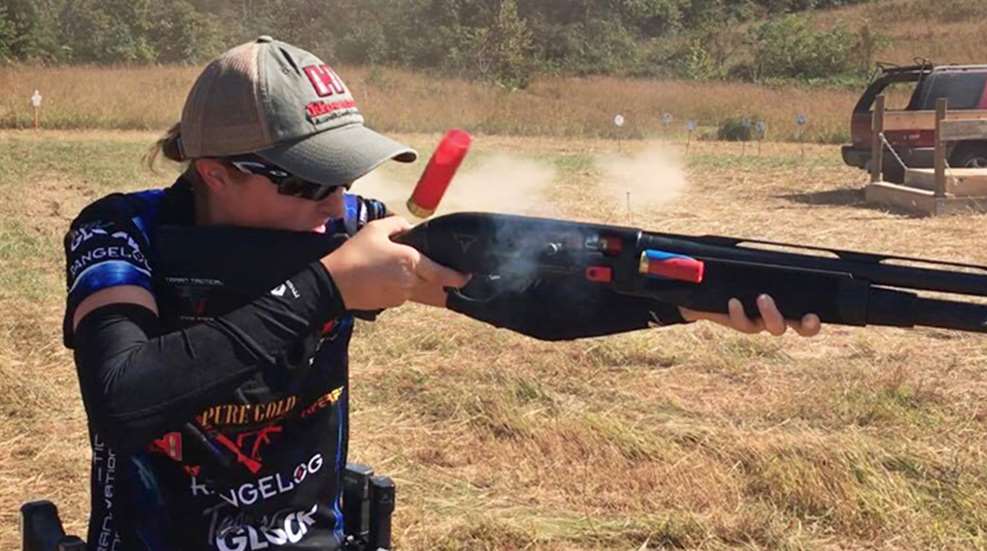 For the second consecutive year, Ashley Rheuark was the overall winner of the Brownells Ladies' Multigun Fall Festival. This year's Fall Fest Match, held at the Rockcastle Shooting Center in Park Mammoth, KY, had 117 female competitors tackling eight stages and two side matches over two days of intense competition.

This true multigun experience featured 3-gun, 2-gun, and single gun stages. Competitors were spread out over three divisions: Open, Tac Ops, and Limited Scope. Red Stitch Targets sponsored the steel targets used by stage designers Mike Oberman and Bryan Corry in bays, structures, and natural terrain throughout the vast Rockcastle property. Range Master Nancy Oberman coordinated a staff of over 30 that helped ensure the event was fun and safe. During the match, a Range Officer was assigned to each squad to perform as a "squad mom"―assisting stage staff, answering participants' questions and keeping squads on time.

While several competitors were sponsored professionals, many participants were shooting their first major match. The majority of the attendees took full advantage of clinics conducted by pro shooters prior to the match. Ashley Rheuark taught pistol clinics, Dianna Muller and Heather Miller conducted rifle clinics, and Janna Reeves and Aaron Hayes taught shotgun clinics. Additionally, Tina Martin-Nims educated shooters during her clinics on optics and 3-gun gear.

"We are thrilled that we were able to offer a great match experience and share the 'A Girl & A Gun' culture with these incredible women," said Match Director Julianna Crowder. "Our sponsors offered generous prizes and giveaways, and our staff was talented, kind, and hard-working. Our clinics, activities, and stages served to strengthen the female presence in the world of competitive shooting sports. We couldn't be more proud."

Participants walked the prize table in order of finish―a table that included 14 guns from Benelli, GLOCK, Mossberg, Remington, Area 15, Springfield Armory, and Walther. Three additional guns from GLOCK, Breda, and Bond Arms were also awarded in a random drawing.

In addition to Rheuark as the match winner, the top five finishers were second place Dianna Muller (also High Law Enforcement), third place Becky Yackley, fourth place Heather Miller, and in fifth place Janna Reeves.

The class winners were High Junior Anniston Baluyot (who also finished in sixth place overall), High Military Ashleigh Gosnell, High Senior Laura Torres-Reyes, and High Super Senior Cheryl Fordyce.

Next year's Multigun Fall Fest will once again be held at Rockcastle on October 5-6, 2018.