Support NRA Shooting Sports USA
DONATE
When a new gun hits the market, especially one that is designed for the competitive shooter, finding a holster that works for what we do can be a real challenge. However, Black Scorpion Gear has been one of the first holster manufacturers to have selections for new guns. When the SIG 226 X-Five was released, Black Scorpion Gear was among the first companies within days of the release to have a holster that would accommodate the firearm with the extended take-down lever.
The Black Scorpion team is a dynamic group of passionate and innovative shooting enthusiasts dedicated to providing fellow gun enthusiasts with top-tier gear at the most accessible prices. Established in 2012 in Sunrise, Florida, Black Scorpion has swiftly evolved into one of the leading global suppliers of sportsman gear.
Black Scorpion Gear's wide-ranging line of accessories has earned the company recognition and praise, as they enable their customers to excel in their performances and shine in competitive environments.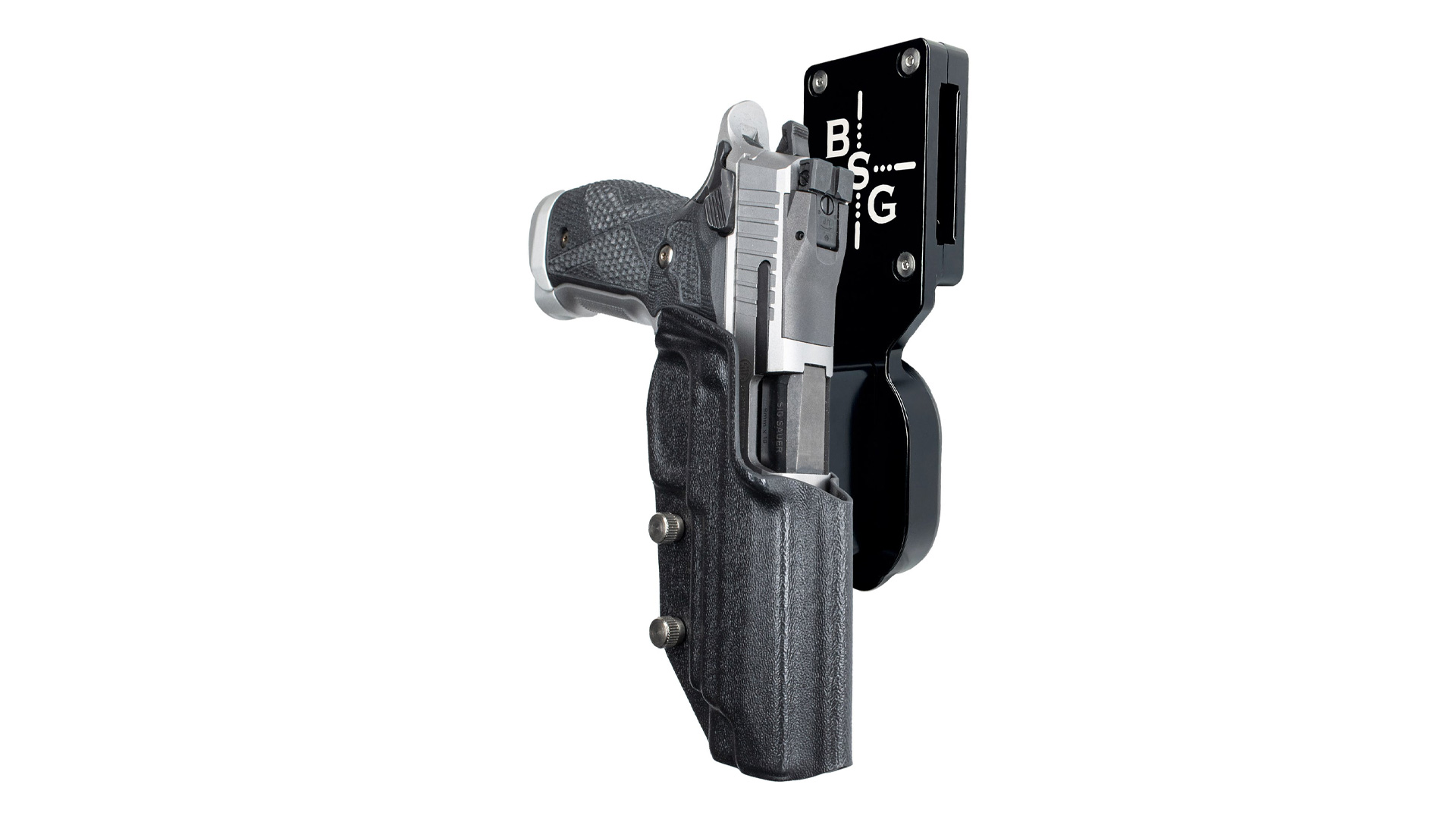 Black Scorpion's specialty originated in the competitive shooting world. The team identified a need for high-quality gear at accessible prices that catered to both beginners and experienced shooters. Every product is meticulously designed and manufactured with the aim of providing users an edge, whether at the shooting range or at home.
Black Scorpion values the insights of many top shooters and continuously refines product designs based on this feedback. The company uses only the most durable materials known for resistance to wear and tear, ensuring the long-lasting reliability of its products.
All products by Black Scorpion meet or exceed the standards, rules and guidelines set forth by the United States Practical Shooting Association (USPSA), the International Practical Shooting Confederation (IPSC) and the International Defensive Pistol Association (IDPA). This commitment to quality has led to top shooters regularly achieving outstanding results in national and international competitions using Black Scorpion's equipment.
The holster used for the Canik Rival-S was a Black Scorpion Pro Heavy Duty Competition holster. Black Scorpion's Pro Heavy Duty Competition Holster is well crafted, sporting an anodized aluminum belt attachment with a built-in 15 mm spacer. This design ensures that the holster secures the firearm at an ideal 90-degree angle, optimizing both draw speed and accuracy. Engineered to pair seamlessly with 1.5-inch belts, this holster comes equipped with convenient thumb screws that facilitate adjustment of the retention level without requiring any tools. Moreover, the holster comes with additional screws enabling users to adjust the angle and ride height, while maintaining full compliance with IPSC and USPSA holster regulations. This feature allows you to set the holster for your draw to align with preferences on how you like the holster to sit. The Pro Heavy Duty Competition Holster is a custom-molded, thermoformed 0.08-inch Kydex shell, designed to snugly fit the user's firearm. The Canik fits perfectly into the holster, as does the SIG 226.
The holster was mounted to one of Black Scorpion's Professional Heavy Duty Belts. This was a solid and well-built inner and outer belt system designed to hold the weight of multiple magazine pouches as well as shotgun caddies and other accessories like magnets. The company offers the Universal Magnet Magazine carrier that fits right on the belt. The magnet that can hold up to 30 pounds is secured to the slide-on belt attachment. Additionally, Black Scorpion Gear offers a few different styles of magnets.
They also offer a variety of magazine pouches. The Ambidextrous Single- and Double-Stack Competition Pouch is designed specifically for the competitive shooter. This pouch allows for most double-stack 9 mm and .40 S&W magazines and single-stack magazines. The pouch is height, angle, cant and retention customizable for the competitor. The pouch—like the holster—is made to be a durable piece of gear to last.
Recently, Black Scorpion introduced its Concealment Line. This line upholds the same professional quality of its sportsman gear, but is designed for everyday wear. The introduction of the Concealment Line shows Black Scorpion's commitment to expand its product portfolio, while maintaining the high standards that customers have come to expect. Whether for competitive shooting or daily use, Black Scorpion Gear has quality products that will meet any enthusiast's needs.
Black Scorpion Gear also offers affordable combo packages. A Professional Heavy Duty Belt, with three Ambidextrous magazine pouches and Magnet Magazine Pouch is $159.99, and then you can select your holster. The Pro Heavy Duty Black on Black series is $118.99. The best part is zero lead times. If you can add it to the cart, it's in stock and ready to ship, $278.98 shipped to your door. Black Scorpion Gear takes pride on being able to offer same-day shipping on orders placed before 1:30 p.m. EST with free shipping anywhere in the United States.
If you are looking for a full rig, just a holster or other accessories, including a range bag and pistol cases, check out Black Scorpion Gear's website at blackscorpiongear.com.
Article from the July/August 2023 issue of USPSA's magazine.