These days, when it comes to Kydex holsters competitive shooters have many manufacturers to choose. Kydex holsters for competition have come a long way from the thin style of the early days of Kydex. Now, every holster manufacturer that bends Kydex is doing double layers, which makes the holster more solid, especially for the heavy Limited, Single Stack and Carry Optics division guns. Having a solid holster that will last several seasons of hard use and dry-fire practice is essential, and with so many to choose from it can be hard to decide which best suits your needs. There are holster manufacturers that offer the equivalent of the 120 size box of crayons when it comes to colors; some offer custom graphics as well. The biggest things to look for are overall fit, finish and function of the holster—then, in my opinion, looks.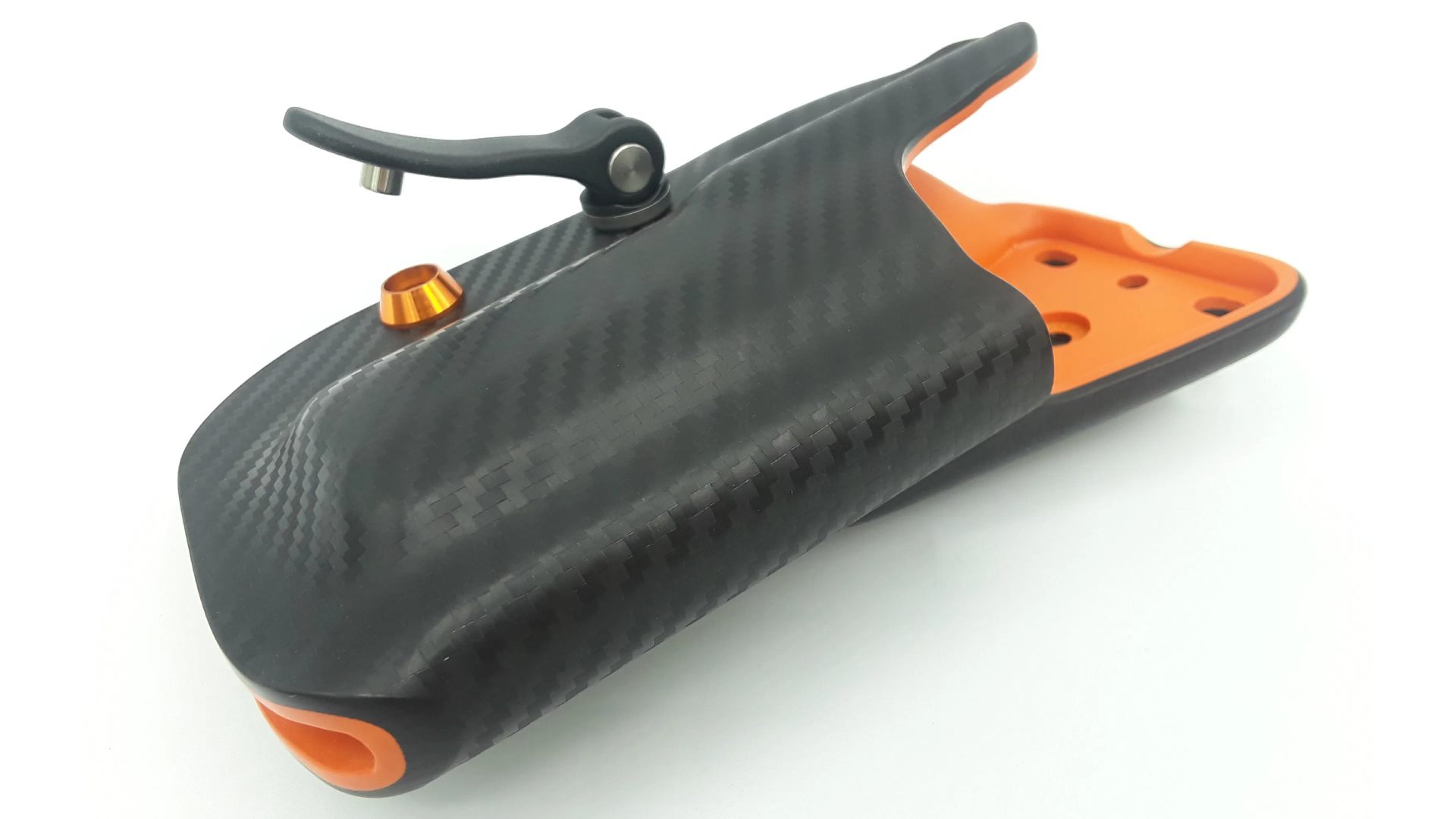 So how would a new holster manufacturer set themselves apart? Lafe Kunkel founded GX Products last year to build a better custom competition holster. Kunkel had done his market research on the range as he traveled to USPSA and IDPA matches, discussing holsters with everyone he came across. Kunkel took that information with him to start his product development.
First it had to have a perfect fit, then the finish had to be right and it needed to be strong and rigid to be a good competition holster. Now many of us might like to have the holster a little loose on the draw when the buzzer goes off. What we don't want is a holster that doesn't retain the gun during all the other stuff we do at the range before the buzzer and after the "unload show clear" command. Bending over to pick up steel, pasting low targets or even just being aggressive in your walkthrough—having a loose-fitting holster for that fast draw can leave you with a gun falling out during these non-shooting activities. Let's face it, during a match your gun stays in the holster for longer that it is ever out of it.
GX Products' solution to having a holster set up for a fast draw but keeps its retention is the innovative GX Vice holster. The clamp-lock retention mechanism provides a secure system to retain the firearm, doesn't have the drawbacks of thumb-break style of holsters and doesn't affect the quickness of the draw we all prefer from Kydex. With a simple flip of the clamp-lock lever, the firearm goes from being held securely in the holster while you do all the non-shooting stuff at match to a retention-free smooth draw.
When the clamp-lock lever is flipped into its locked position, the holster body securely clamps to the trigger guard of the firearm, making it difficult with any reasonable force to dislodge the firearm from the holster. When the clamp-lock lever is flipped to its open position, the lever is secured with a powerful neodymium magnet to the lower retention adjustment screw. This ensures the lever will remain securely out of the way.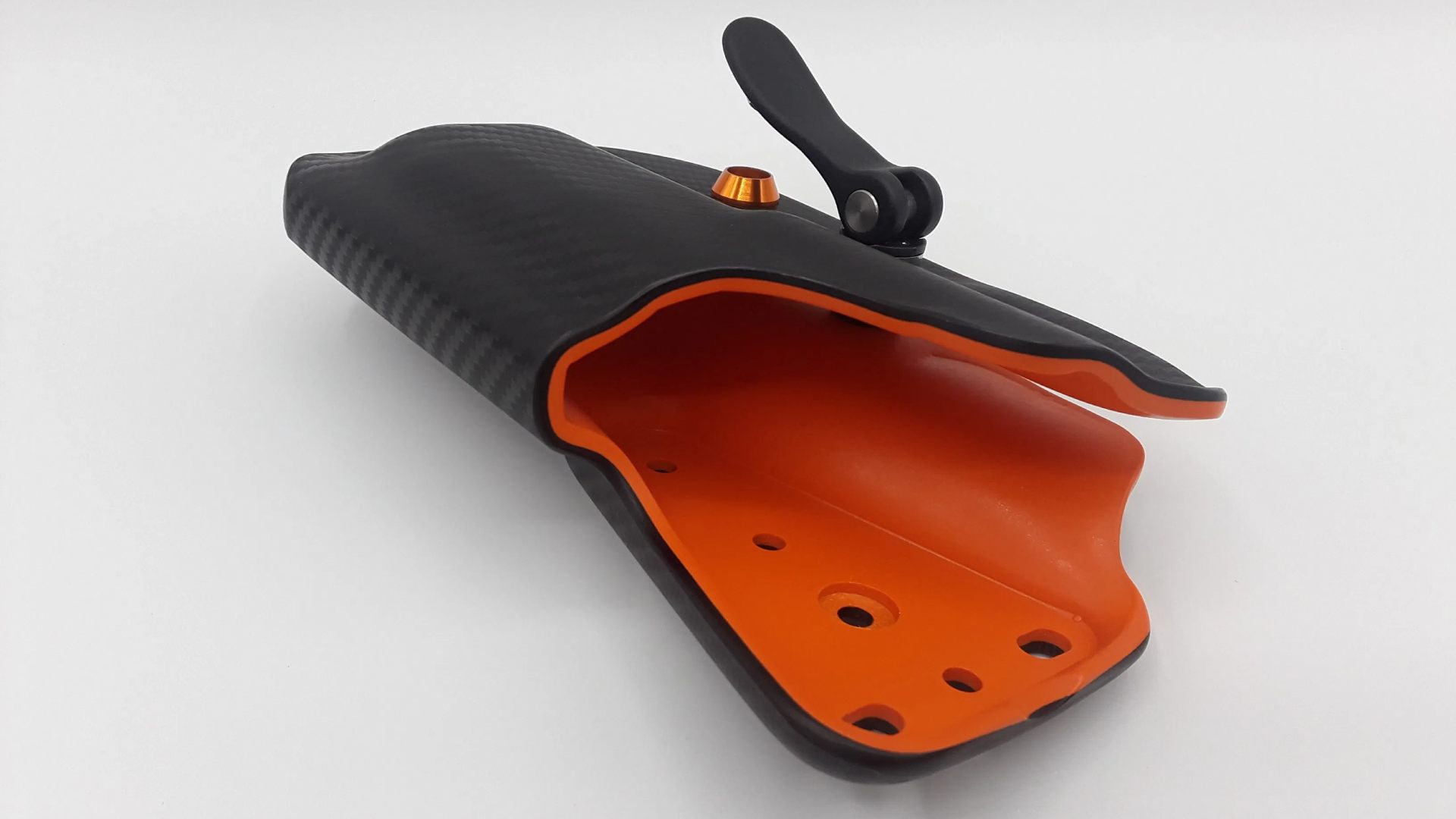 This is a pretty slick setup and works well. I took the EAA Stock 2, set it up for Carry Optics with a 23-round magazine loaded and holding it upside down and giving some good shakes, I couldn't get the gun to move.
The GX Vice ($95) is a double-layer Kydex with all stainless-steel, cadmium-plated steel and aluminum hardware with great fit and finish. There are no sharp edges on the holsters I received; the fit was perfect. These have a universal mounting platform that is compatible with all the popular hangers like the BOSS, Blade-Tech, Safariland, Double Alpha and Comp-Tac hole patterns. Plus, the belt attachment hardware is counter-bored and shielded to prevent damage to your firearm while holstering and drawing also.
There are several different color options available, as well as holsters sized for most popular handgun models. You can also select different colors for the anodized aluminum accent washers and several different belt attachments and hangers. Besides the Vice, there is also the Legacy holster ($75) without the clamp-lock.
Check out the line of GX Products at gxproductsusa.com.
Article from the March/April 2021 issue of USPSA's magazine.
---
Read more:
Everything You Need To Know About Modern Hearing Protection