Support NRA Shooting Sports USA
DONATE
I have always been more of range bag or backpack guy when it comes to hauling my gear around. I have tried the $60 collapsible Sam's Club specials, but always end back up lugging my stuff in a bag. A range bag for an all-day match can get pretty heavy to haul around. Over the last year, I started having shoulder problems that ultimately led to surgery this past February. I would always carry the range bag on my left side, since my holstered gun was on the right side. My doctor said that while it wasn't the only cause to my issues, it sure didn't help them any, either.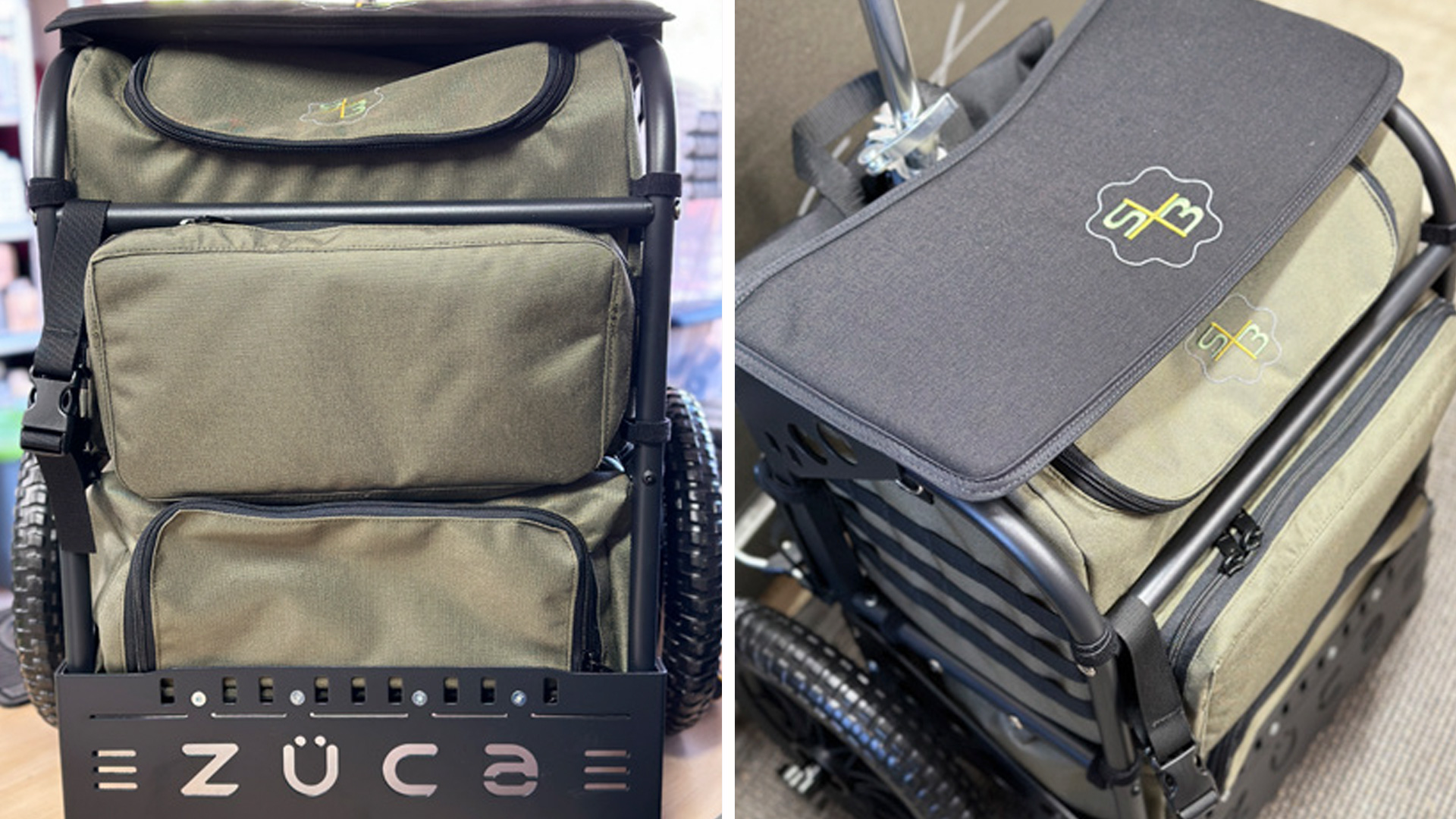 Michael Libertucci, the president of Custom Sewn Products and Saratoga Horseworks, LTD, reached out to me about the S3 Range Cart and requested information on the 2023 USPSA Nationals events and advertising. Michael stepped up to sponsor this year's events and sent along a cart sample for review.
At the heart of the S3 Range Cart is a Zuca Transit Cart, which has a sturdy frame that doubles as a portable seat that is able to support up to 300 pounds. Designed for Disc Golf, it can hold a bag and 25 discs with additional storage space.
Well, when you own a company called Custom Sewn Products that specializes in several different types of products, including those in the firearm industry, you can see how the S3 Carts came to be—create range bags that work with the heavy-duty Zuca frame that can be used to transport everything you need for a long range day, including your chair.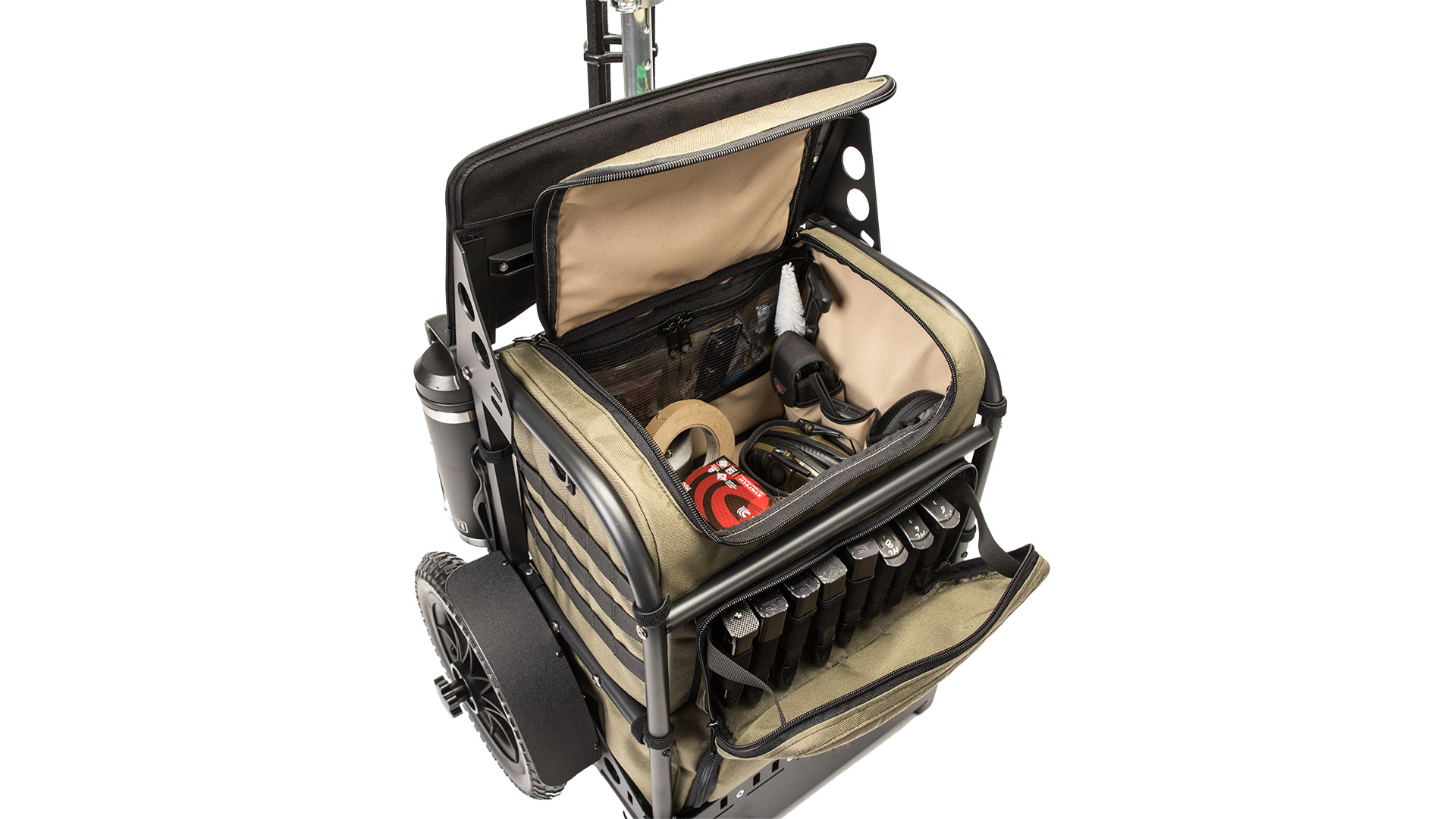 The Zuca frame has tubeless foam performance tires on the removable wheels. I was able to easily load the cart into the trunk of an Audi S4 without taking the wheels off. The cart rides smoothly with sealed wheel bearings and has two adjustable water bottle holders. In addition, there is an adjustable 51-inch telescoping handle to make moving the cart easy.
The two 1,000-denier nylon range bags that are designed to fit and work perfectly with the Zuca cart offer ample storage for everything needed to get you through a match. Once open, the wide zippered top range bag exposes a large cavity with mesh zippered pockets and side pouches for accessories. The front of the top bag has a drop-down zippered storage spot for easy access to magazine storage. Under that is another deep and wide storage area, the Low Rider bag, with zippered front pocket.
The top bag dimensions are 14 by 13 by 10.5 inches, and the exterior pocket holds eight 140 mm double-stack magazines. The lower range bag measures 14 by 11.5 by 6 inches, and can easily carry 500 rounds of ammunition. According to the website, there are 3,150 cubic-inches of storage space. There are also two Molle fields on either side of the range bag that allow for accessories to be attached. The bags are available in several colors.
To really maximize the S3 Range Cart, there many optional accessories, including a drop bag that can be attached to the back of the cart for more space. At 12 by 12 by 12 inches, with a webbed carry handle and hook and loop flap closure, this is a great add-on for quick and easy access. (Also, it's the perfect place to stick rain gear.) For the top range bag, the Four on the Floor Cart Organizer is also a solid add-on—a flat-bottom bag with four compartments with hook and loop dividers. Also available for the range cart is a seat cover that provides some cushion and hold the lid up out of the way when gearing up. The pistol-caliber carbine scabbard and shotgun sleeve are sold with the required attachments to hold the padded nylon sleeve or scabbard. The frame for the sleeve of the scabbard is an additional inch of plastic-coated tubing with industrial strength brackets that I installed in about 10 minutes. Additionally, the PCC scabbard comes with a retention strap and rain cover.
The S3 Range Cart offers a slick system with plenty of storage in a sturdy and compact package that will definitely be welcomed at anyone competing at all-day-long matches. The cart with bags starts at $359, and from there you can accessorize it or even personalize your cart. The entire line of products and accessories can be found at s3rangecarts.com.
Article from the May/June 2023 issue of USPSA's magazine.