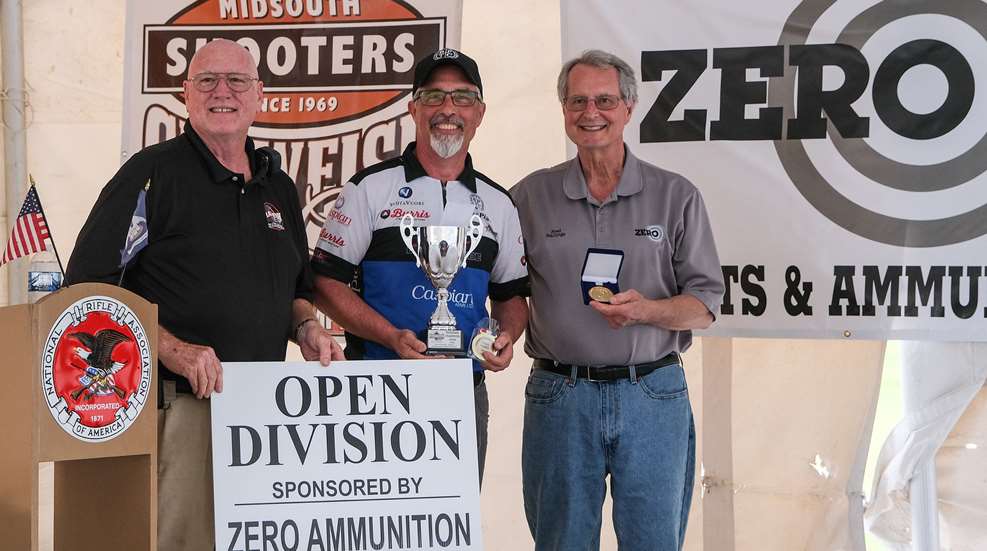 Bruce Piatt took top honors at the 2022 Crawfish Cup NRA Action Pistol Regional and Louisiana State Championship, walking away from both events with perfect 1920 scores. This year's slate of matches were held April 22-23 at the Southwest Louisiana Rifle and Pistol Club in Lake Charles, Louisiana.
Julie Golob's bulletinX action pistol newsletter shares details from the competition.
The Lowdown in Louisiana
After taking time off with covid and devastating hurricane damage to the Southwest Louisiana Rifle and Pistol Club, George Mowbray and Gary Yantis, with the help of dedicated staff, made the 2022 Crawfish Cup bigger and better than ever. Creating a double-match weekend, the event started with the Louisiana State Match on Friday, followed by the NRA Action Pistol Regional Crawfish Cup on Saturday.
With more than 70 competitors and even some international shooters, the competitions marked the beginning of the major match season. The Border Patrol National Pistol Team, Customs and Border Protection National Marksmanship Unit, Army Shooting Team and the Marine Reserves were all in attendance. Where many shooters, including multiple Bianchi Cup Champion Bruce Piatt, shared it was their first matches of the season, members of the Army Marksmanship Unit hit the circuit early this year. Seen attending local club matches in Columbia, Missouri, and in Lake Charles, Louisiana, the AMU also arrived early in Louisiana to train on the course.
The Louisiana State Championships kicked off on Friday, April 22 with Bruce Piatt taking the Overall and Open with a perfect 1920-176X score. The AMU's Walter Johnson took second place and Grand Senior Champion, while Vance Schmid finished in third.
In addition, the AMU's Ryan Frank, with a score of 1904-149X, edged out Customs and Border Protection National Marksmanship Unit's Robert Vadasz for the win in Metallic, with Kyle Wolfe rounding out the top three in the division.
For Production, Chris Hudock (AMU) took the top honor with 1883-134X. Jeremy David and Brett Sullivan finished second and third, respectively. In Production Optics, the AMU Team was once again victorious with Anthony Heinauer's 1904-155X, along with Joseph Neuroth taking second and Adam Kovatch in third.
As for the Rimfire division, the top three finishers were Gary Yantis with 1782-107X, Michael Duke and Jay Madison.
For many, the Crawfish Cup NRA Action Pistol Regional on Saturday, April 23 was a rinse and repeat with the same top three standings.
In Metallic, Franks with 1910-114X, Vadasz and Wolfe finished first, second and third.
The Production division results stayed consistent, with Hudock (1884-124X), David and Sullivan securing the top three spots.
In Rimfire division it was Michael Duke (1750-103X) taking the win, followed by Susan Irving in second and Charles Gasser in third place.
The Production Optics Louisiana State Champion, Anthony Heinauer, secured his back-to-back win (1918-149X) with Neuroth once again the runner-up, followed by Taylor Holmes.
Open division saw the most changes in the top three. Dominating with another high score of 1920-169X, Piatt won the title, with Michael Gasser in second place and Joey DeLeon of the Customs and Border Protection National Marksmanship Unit in third.
Awards From Julie Golob
Leading up to the 2022 Crawfish Cup, Julie Golob decided to add an aggregate award for these back-to-back events. Enlisting the skills of local shooter and photographer Dennis Creech, she designed laser engraved medallions attached to crawfish Mardi Gras beads celebrating the top combined scores for both matches.
Here are the 2022 Crawfish Cup Top Claw winners:
Open: Bruce Piatt 3840-345X

Metallic: Ryan Franks 3814-293X

Production: Chris Haddock 3767-258X

Production Optics: Anthony Heinauer 3822-304X

Rimfire: Michael Duke 3416-196X

Junior: Max Itzstein 3494-201X

Woman: Sally Talbott 3814-318X

Senior: Tony Holmes 3823-324X

Grand Senior: Vance Schmid 3789-308X

Law Enforcement: Joey DeLeon 3832-305X
Be sure to subscribe to the bulletinX action pistol newsletter.
Learn more about the Crawfish Cup at thecrawfishcup.com. You can also view photos of the 2022 match from Dennis Creech here.