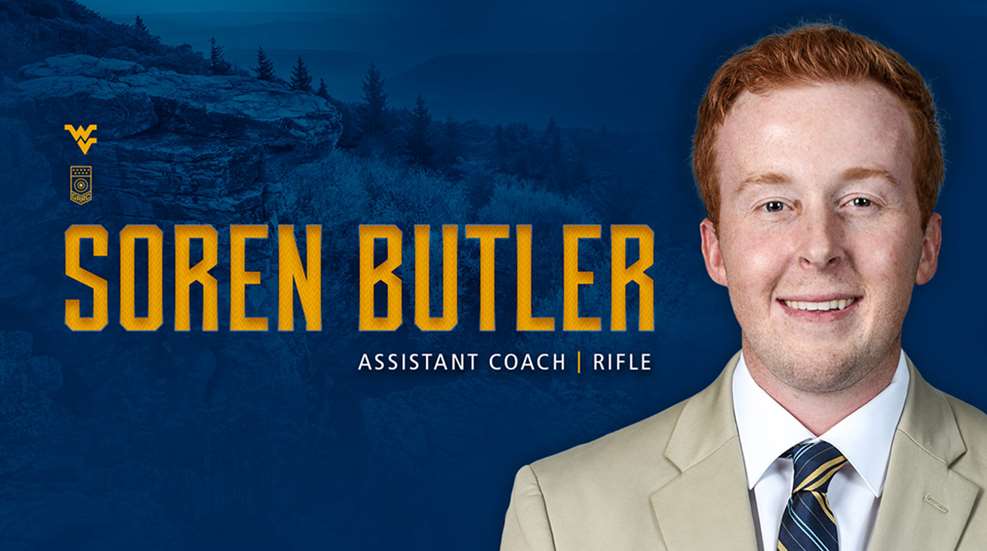 West Virginia University (WVU) rifle team coach Jon Hammond has promoted Soren Butler to assistant coach, effective for the upcoming 2019-20 season.
The WVU rifle team hasn't lost a regular-season match since Butler arrived in Morgantown.
"[We're] very excited to have had this position created," said Hammond. "This is something I have wanted to do for a long time, and we're eager to add to our program.
The Casselton, ND, native joined the team at the beginning of the 2017-18 season as a graduate assistant. With his help, WVU rifle secured back-to-back runner-up finishes at the NCAA Rifle Championships (2018, 2019) as well as consecutive Great America Rifle Conference (GARC) regular-season and championship titles. Additionally, he coached Morgan Phillips, the 2018 NCAA National Champion in smallbore.
After two seasons at WVU, Butler has coached six student-athletes to 26 All-American honors, four individual GARC titles and three GARC postseason honors.
"I want to thank my family, my friends, the WVU Athletics Department staff and the Hammond family for this unbelievable opportunity," said Butler. "I cannot wait to continue to build on the last two years of work on the line with Jon and (performance consultant) Raymond (Prior). I'm ready to make Morgantown my home."
A four-year letterman at the University of Alaska-Fairbanks, Butler was a two-time NRA All-American with the Nanooks, competing at both the 2016 and 2017 NCAA Rifle Championships. Butler also claimed the Patriot Rifle Conference Championship smallbore title as a senior—shooting a career-high 589.
The 2016-17 team co-captain and MVP, Butler won the Nanooks' Joe Tremarello Sportsmanship Award in consecutive seasons (2015-16 and 2016-17). He finished his collegiate shooting career with personal best scores of 594 air rifle and 589 smallbore.
Butler earned his bachelor's degree in general business from the University of Alaska-Fairbanks in May 2016, also receiving his Masters of Business Administration a year later. He earned a master's degree in sport management from West Virginia University in May 2019.

Word on the street is that Butler was also responsible for the eclectic music playlist that played during the 2019 NCAA Rifle Championships, conducted at the WVU Coliseum.
"We're happy to welcome Soren on board," concluded Hammond. "He's been our graduate assistant the last two years, and we know what he brings to this team—his personality, his work ethic and his excitement for the sport. We're excited to keep him within the program, and I believe the continuity will help this team excel."
Story and photo courtesy of WVU Athletic Communications
---
See more: