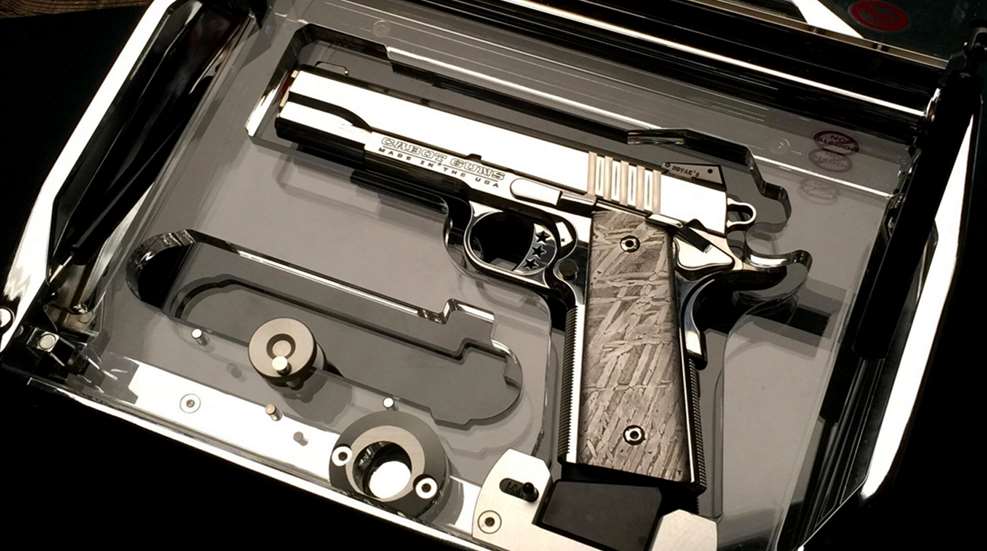 Since 2011, Cabot Guns has been producing state-of-the-art 1911 style pistols constructed to aerospace precision standards. Building on their success from setting a world record earlier this year for the highest price ever paid for a new pistol, Cabot is now set to offer a mirror image set of pistols constructed from a 4.5 billion-year-old meteorite.
"We wanted to raise the bar again," says Cabot founder and President Rob Bianchin, "The pistol set will be a modern work of functional art and the ultimate set of luxury guns." The out-of-this-world pistol set consists of twin right and left handed 1911 style semi-automatic 45's. Cabot previously introduced pistol grips constructed from meteorite, but the idea of constructing a complete set of guns from a meteorite is unprecedented.
Earlier this year, Cabot acquired a 35 kg portion of the prized Gibeon meteorite which met the size characteristics for the project from famed meteorite hunter and expert Robert Haag. The meteorite was first discovered in the sub-Saharan part of Africa now known as Namibia in 1838. It is believed to have landed on Earth during pre-historic times. The Gibeon meteorite is considered the Cadillac of meteorites in large part because of the aesthetic Widmanstattten pattern exhibited in the grain once acid etched.
Cabot will display a sampling of gun components made from meteorite at the SHOT Show in Las Vegas, NV, in January. The new guns will make their public debut during the NRA Annual Meetings in Louisville, KY, next May.
Prized meteorites such as the Gibeon are sought out by collectors and traded by the gram. The use of the material to this extent of making a high precision functional firearm has never been attempted before.
Meteorite is not the ideal material for firearms, so numerous technical matters have been overcome to construct the pistols using advanced aerospace techniques to make the pistols fully functional.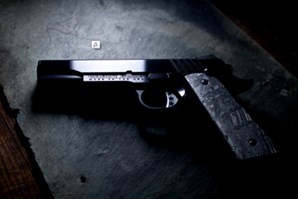 To merely cut the meteorite, a three-dimensional laser scan of the meteorite was created to plan the cuts required to make each component of the pistols. The process is analogous to cutting a rare diamond. George Dante, a world renowned taxidermist and environmental artist who has been called the "Michelangelo of Taxidermy" by National Geographic, has been retained to create a special gun case and display for the pistols. Additional details about the pistols will be revealed by Cabot over the coming months.
Cabot pistols have already garnered an elite following of owners who include royalty, prominent foreign heads of state, celebrities, rock stars, competitive shooters and 1911 enthusiasts alike. As a precision shooting instrument, Cabot 1911's have been employed by Brian Zins to win two consecutive NRA National Pistol Championships and the Cabot NRA National Center Fire Championship.