There seems to be a misunderstanding about plugged, or gauged shots. We've heard comments from scorers and shooters alike saying that a plugged shot cannot be regauged. That thought is not entirely accurate. Remember that plugged shot holes may be regauged. In conventional smallbore rifle any shot may be regauged as necessary. In NRA air rifle, shots may be regauged if a two-person scoring team is not used, or if the shot is not scored correctly.

Prevent misunderstandings by making sure you are reading the correct rulebook for the tournament at hand, and that you review Section 14, Scoring and Marking, and Section 16, Challenges and Protests.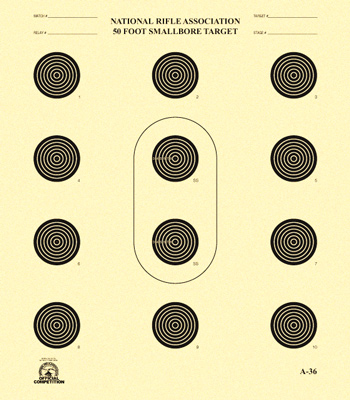 On another note, in the smallbore and air rifle shooting disciplines two scoring gauges are used when scoring paper targets. The only time an outward gauge is used in smallbore is on the NRA A-36 indoor target, to score only for a 10. The smallbore rifle outward gauge has no other purpose.

Two gauges, the outer gauge and the inner gauge, need to be used when scoring air rifle targets. The outward gauge is used for scoring all shot values, except for ones and twos. Since the scorer is looking at the outside of the outward gauge, it cannot be used to score a shot value of a one or two―there are no more scoring rings. The inward gauge is used in this case.

The outward gauge is always read to the outside, away from the center. If the plug passes into the black beyond the scoring ring―the seven-ring for the A-36 target―the shot is scored the lower value. If the gauge lies on top of the scoring line and tangent to the black―touching the black, but not intersecting the black―or it is clearly inside of the scoring line, then the shot is given the higher value. Keep in mind that the shot value is scored the higher value if the shot does not exceed the outside edge of the scoring ring.