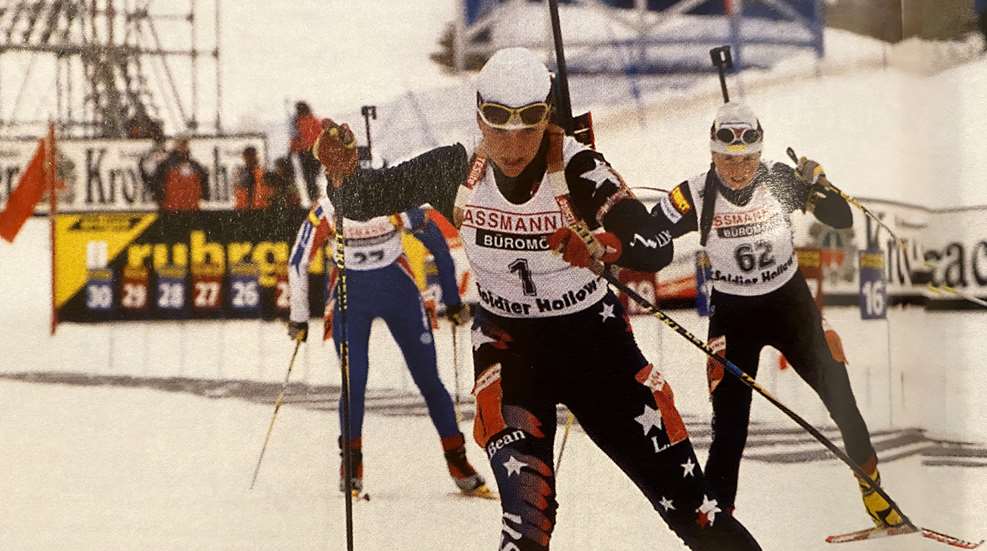 From the vault: Our competition report from the 2001 International Biathlon Union World Cup, held in March of that year at Soldier Hollow in Midway, Utah. Read below the article by Scott Engen as published in the May 2001 issue of Shooting Sports USA.
---
2001 IBU Biathlon World Cup
Story and Photos by Scott Engen
Soldier Hollow in Midway, Utah, played host to the 2001 International Biathlon Union World Cup in early March. Warm spring weather, gusty winds and soft snow made for heated competition in the six challenging races, three each for men and women. The elevation of the Utah course is among the highest in the world at well more than 6,000 feet above sea level—making these demanding events even more taxing due to the thin mountain air.
The first two races at Soldier Hollow were the grueling long-distance events, 20 kilometers for men and 15 kilometers for women. Norway's Ole Einar Bjoerndalen, standing second in the IBU World Cup rankings, pushed aggressively from start to finish and shot well, toppling 18. Both misses were from the standing position. Germany's Sven Fischer lost only one target, but could not match the Norseman's frantic skiing pace. France's Julien Robert, not even ranked in the world top 50, made a quantum leap onto the third step of the podium by cleaning all 20 targets—the only male competitor of the day to do so. Numerous observations were made on the much improved quality of the French athletes' marksmanship skills, being carefully polished under the tutelage of their rifle coach Jean Pierre Amat, the 1996 Olympic gold medalist in Men's Three-Position Rifle.
America's Robert Rosser of Bend, Ore., dropped three targets to finish in 51st, more than five minutes behind the leaders. Hometown favorite David Gieck finished in 65th with four misses, while teammates Lawton Redman of Florence, Vermont, and Alaska's Jay Hakkinen both with a half-dozen or more misses finished a distant 72nd and 73rd, almost eight minutes off the pace.
The women's 15-kilometer win went to Sweden's Magdalena Forsberg, with all targets cleaned and a stellar skiing performance in the increasingly slushy snow. A pair of Germans, Martina Zellner and Martina Glagow, each with a single missed plate, took the remaining two spots on the podium. America's Andrea Nahrgang of Wayzata, Minn., was 49th with four misses, more than six minutes off the winning pace. Rachel Steer of Anchorage, Alaska, also dropped four targets to finish in 51st, while New Hampshire's Stacey Wooley, the first racer out of the starting gate, ended the day in 61st after three misses.
After a day off for training, the men battled in the 10-kilometer sprint event, a lung-burning, flat-out run right from the opening bell. The wind gusted with enthusiasm and light rapidly changed to make shooting difficult. Bjoerndalen made his second appearance upon the winner's step, followed by countryman Frode Andresen and Germany's Frank Luck in third. Only two targets and a hair more than a half-minute separated the top three finishers.
Team USA's Hakkinen missed a single target to finish a little more than a minute-and-a-half out of the lead in 33rd position. Teammate Jeremy Teela of Anchorage, Alaska, missed three plates to pick up 47th, while Redman took 78th and Rosser 83rd with four misses each.
The women sprinted for 7.5 kilometers to decide that Uschi Disl of Germany, known as "Turbo Disl" to her legions of fans, would take home the top honors with a clean shooting performance. Liv Grete Skjelbreid-Poiree, of Norway, missed a single plate to take the silver just 7.4 seconds behind the leader, while countrywoman Andrea Henkel picked up the third slot with a clean shooting performance.
America finished the day with Steer missing a single plate to take 29th, the best U.S. showing of the week, but almost three minutes behind the leader. Nahrgang dropped three targets to finish almost five minutes back in 60th, while Wolley started and finished in 62nd, also missing a trio of targets.
The final day of competition would contest the Pursuit events. Fresh snow had fallen overnight, dramatically changing track conditions. Bjoerndalen made it three-for-three, skiing like a man possessed for the full 12.5 kilometers and ending up with a single missed target to take home yet another gold. He was followed by Vadim Sashurin of Belarus, who shot clean but lagged a half-minute behind, and Russian Pavel Rostovtsev missed one target for the bronze. The USA's Hakkinen dropped four targets to finish 43rd and Teela finished 47th, also with four dropped shots.
The women pursued their glory at the 10-kilometer distance, where Sweden's Forsberg won her second gold, even with a pair of missed plates. A disappointed Skjelbreid-Poiree added another piece of silver to her collection, due entirely to six missed targets. France's Corinne Niogret went clean on the range, but finished a half-minute behind to take the bronze. Steer missed two to end the day in 35th, while Nahrgang missed only one plate to take 43rd, more than six minutes behind the leaders.
The 2001 IBU World Cup races at Soldier Hollow were a full-dress rehearsal for the Biathlon events of the 2002 Winter Olympics, offering the athletes, coaches, event organizers and volunteers, and the international sports media a chance to carefully evaluate the venue and conditions a year prior to the Salt Lake City Games. Several European TV networks carried the event live in prime-time to their international audiences. Race organization was first rate, the venue spectacularly pristine and the world can expect some very exciting skiing and shooting next year. SSUSA will be there to bring you every exciting detail of the 2002 Olympic Biathlon.