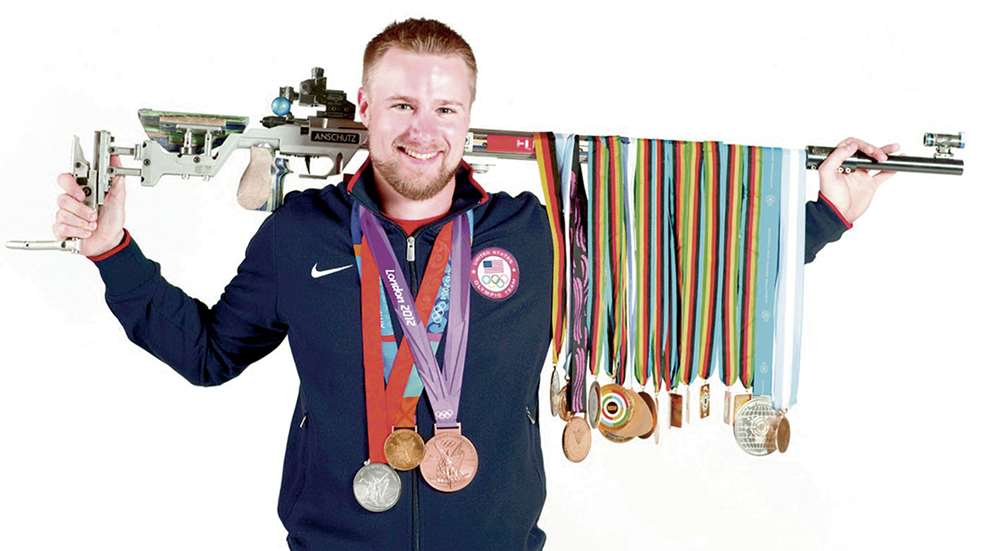 From the vault: Our match report from the 2001 NCAA Rifle Championship, where the University of Alaska-Fairbanks swept the individual and team aggregates. Read below the article written by Joseph B. Roberts, Jr., published in the May 2001 issue of Shooting Sports USA.
---
A Powerhouse Is Building as the Third Decade of NCAA Rifle Competition Begins
By Joseph B. Roberts, Jr.
The University of Alaska-Fairbanks (UAF) rifle team—the team that ruled the individual and team championships of 1999 and 2000—extended its Cinderella-story streak with a sweep of the 2001 matches. Among individuals, UAF shooters filled the top four slots (as well as six of the top 10) in the smallbore rifle championship and three of the top 10 in the air rifle championship.
UAF teams, led by Coach Dave Johnson, won both the smallbore and air rifle team matches and the coveted overall team aggregate—the 2001 NCAA Rifle Championships. The championships were conducted at the University of Ohio's Lt. Hugh Wylie Rifle Range, March 8 to 10. Altogether, there were 49 competitors shooting as individuals or team members (or both), plus six alternates.
Eight four-member teams competed for the smallbore crown and eight four-member teams for air rifle—UAF, Kentucky, Xavier, Murray State, Nebraska, West Virginia and Tennessee Tech each had two teams. The United States Naval Academy had a smallbore rifle team and Jacksonville State had an air rifle team.
The limelight may be new to UAF, but not rifle competition. The school's program dates back to before World War II. Since rifle marksmanship gained recognition by NCAA, UAF shooters have won seven individual national titles, had 38 shooters named to NRA All-American Rifle and Air Rifle teams, qualifying 13 rifle and 13 air rifle teams for the NCAA Championships.
On this team of stars, the brightest for 2001 was a sophomore accounting major from Browns Mills, N.J., Matt Emmons. At this year's NCAA matches, Emmons won the top slot in both smallbore and air rifle individual contests and paced his victorious team in a sweep of the team championships.
Emmons started his personal run for the championship just slightly off the pace. In the prone stage of the 120-shot smallbore aggregate, he shot a 399 against perfect 400s fired by Bradley Wheeldon of Kentucky and William Tolson of Navy. But the deficit didn't last long. After the standing stage, Emmons, whose standing score was 391, held a commanding lead at 790 of 800 points possible. His nearest challenger, teammate Per Sandberg, was six points back. Wheeldon was nine points behind the leader. And it never changed. Emmons' 388 kneeling gave him a championship aggregate of 1178 plus 76 tie-breaking hits—"Xs" in NCAA parlance. Sandberg picked up five in the final kneeling stage, to finish second at 1177. And Wheeldon retrieved one point—a 389 kneeling that left him in fifth overall. Third and fourth places both went to UAF shooters, freshman Karl Olsson in third at 1174 and senior Melissa Mulloy in fourth at 1171.
It was much the same story in the air rifle championship, with the same player in the starring role. Emmons again led the field at 392 with 30 tie-breaking hits at the end of the standing position-only, 40-shot contest. Amanda Trujillo from Nebraska laid claim to second with an equal 392-point tally, but only 27 tie-breakers. Third place ended in an unbreakable tie. Thrine Kane from Xavier, and Maxim Shub from Tennessee Tech, each finished with 391 and 23 tie-breakers. Fifth went to West Virginia's Liz Smith with a 388.
In the team championships, UAF posted a 4710-point smallbore win, a 1573-point victory in air rifle competition and a 6283 total team tally that won the 2001 NCAA Rifle Championship hands down. Runner-up Kentucky posted a 6175 team aggregate. Third place went to West Virginia University at 6174.
Success in collegiate smallbore and air rifle shooting—both disciplines are gateways to world and Olympic teams—combines the need for extraordinary skill on the part of an individual and extraordinarily sophisticated equipment.
In the smallbore ranks, choice of rifle was unanimous— Anschütz. Emmons' top-of-the-line Model 2013 is representative. The most recent variant on the Anschütz firm's epochal Model 54 (it uses a relatively new, flat-bottom receiver adapted to take the Model 54 bolt), Emmons' 2013 features a 69 cm (27-inch) stainless steel barrel and an eight-inch front sight extension tube. Emmons praises the tube, which he says extends the sight radius for more precise aiming, enables him to better focus on the front aperture as well as improving the balance of the rifle.
Emmons has tried both traditional wood and skeletonized aluminum stocks on his Anschütz 2002 air rifle but prefers wood. Other shooters echoed a preference for wood stocks. There were a few aluminum stocks on the line, but not many. "[The aluminum stock] shot okay for me, but it wasn't wood," he said, when asked about equipment preferences. "The wood stock just felt better to me, so I kept [the aluminum] for a spare." That turned out to be a blessing. His teammate, Per Sandberg, had mechanical troubles with his own air rifle so two shooters assembled a school-owned air rifle action on Emmons' aluminum stock that Sandberg shot in the air rifle team match. He posted the second-high individual score in the match, both on the UAF team (a 394 behind Emmons 398) and among all the team shooters.
The champ's air rifle reflects another technology that is relatively new at the highest levels of air rifle competition—the use of SCUBA compressed air as a propellant. Emmons' own experience tells the story. He shot a compressed CO2 rifle for a while. "It takes special equipment to fill the tanks," he said. "And you are never really sure that they are full. It's just (more trouble than it's worth). I had a spring-piston rifle, too." He liked it but it didn't seem to give uniform shot-to-shot results, so he tried compressed air. "Compressed air is great," he said. "We take our tanks to the campus fire station to have them filled. The [gun's mechanism] meters air uniformly and shot-to-shot performance is extraordinary. The first three times I shot mine, I shot in the 590s (of 600). I wouldn't shoot anything else."
Emmons is an immediately likeable young man. A lifelong hunter and informal shooter, he entered into formal competition at the urging of an FBI agent who works alongside his father. He demonstrated natural aptitude for air rifle competition, and it helped him gain admission to UAF.
"I picked UAF because they offered the major field of study in which I was interested and they have a great shooting program—I really enjoy hunting and fishing, too," he said.
"I shoot because I like it," he continued. "That's the number one reason. Shooting did get me into college, then I learned that I could make the Olympics if I worked hard and wanted to, so that became a goal—I almost made the 2000 team. I'm looking forward to 2004 and international and world events in between. Meantime, I'm going to work on being a member of the team and do the best I can to leave a team that is as good as the one I joined."
As constituted, the UAF team has all the earmarks of a team at the start of a dynasty such as that mounted by West Virginia University in years past. UAF's new athletic director is the school's former rifle coach so the program has the administration's ear. Johnson, the new rifle coach, is a graduate of WVU during its rifle competition heyday. A veteran shooter and coach, a member of U.S. International and Olympic teams and a winning team captain with the U.S. Army Marksmanship Unit, Johnson brings some two decades of experience and success to his position at the University of Alaska-Fairbanks. He is enthusiastically proud of his team.
"I have six shooters here with the team," Johnson said. "This year, I would have put any of them on the four-man team and I'm confident that we would have done well. All year long, we switched folks in and out to give them experience, and it's been a luxury to have that kind of depth—six shooters, any four of whom can step into the team and win the national championship. I will lose two shooters in June—team captain Grant Mecozzi and Olympic team member Melissa Mulloy—but those who remain are skilled and dedicated to the sport, and there are new shooters in the wings to fill the empty spaces."
Johnson's shooters do work hard at their sport. The team practices a total of 20 hours each per week, as a team or as individuals, both shooting and working on physical and mental conditioning. They have two team sessions each week during which each shooter fires once over the course under match conditions. The team spends a lot of time working on goals for both performance and out-come. "We spend a lot of time, too, working on functioning as a team—on getting along with each other, working together and providing mutual support for one another," he said.
When not training specifically for shooting, all of UAF's team members are active outdoor sportsmen and women. Emmons is also a cross-country skier. Others on the team are rock climbers or runners. All spend time in the gym, working on aerobic conditioning or strength and flexibility training. With this kind of dedication, we're sure we'll see them try on the glass slipper next year.
2001 NCAA Rifle Championship Team Leaderboard
University of Alaska-Fairbanks, 6283
Kentucky, 6175
WVU, 6174
Xavier, 6160
Murray State University, 6143
Nebraska, 6135
Tennessee Tech, 6079
Navy, 4567
Jacksonville State, 1544