From the vault: A retrospective on the first 25 years of the Bianchi Cup, the premier action pistol event that began in 1979. See below the first half of the article as published in the August 2003 issue of Shooting Sports USA.
---
Bianchi Cup Reflections (Part 1)
By Joseph B. Roberts, Jr.
Sometime in 1977 or 1978, a pioneering holster maker from Temecula, Calif., decided a pistol match could be used to promote both the shooting sports and the product he manufactured. He was John E. Bianchi, then-president of California-based Bianchi Gunleather, one of the country's largest manufacturers of holsters, belts and police leather accessories. Bianchi sought to establish a prestigious international pistol tournament to combine the spectator appeal and action of competition, such as that sponsored by the International Practical Pistol Confederation (IPSC), the precision of NRA Police Pistol Combat (PPC) and the controlled, safe conditions under which NRA three-gun bullseye pistol matches are held. He wanted a torunament people would watch, the news media would report and the shooting industry would support. With the help of 1975 IPSC World Champion Ray Chapman, he got exactly what he wanted.
Chapman began by supplying a facility for the event—his own Chapman Academy in Hallsville, Missouri,, a firearms training facility some 10 miles northeast of Columbia. The time was set for the end of May, to follow graduation at the colleges and universities in Columbia and still avoid the stiflingly hot weather that can accompany a summer in central Missouri. Chapman then devised four matches adapted to the ranges at his training facility and a set of targets to be used in those matches.
As he was devising the contests, Chapman also drafted a provisional set of rules, among which were provisions for six-shot strings of fire to avoid reloads in the middle of a string, thus making both revolvers and semi-automatic pistols equally competitive. He developed minimum power levels for ammunition based on bullet weight and velocity to ensure the guns used would be practical for law enforcement, military or defensive use. Those acquired with Chapman will appreciate the reason why 25 years later, the NRA Bianchi Cup National Action Pistol Championship is essentially unchanged from its beginnings.
If the championship has not changed in a quarter-century, the circumstances and the facilities certainly have. The first Bianchi Cup Tournament had 100 contestants. Chapman did the squadding, drew up the firing schedules and saw to it they were followed. Regardless, timing was everything. On the Practical range, four competitors could shoot in a squad, on the Barricades and Falling Plates, two. On the Mover, only a single shooter could compete at a time. By 1981, when attendance neared the 250-mark, things were crowded. Chapman responded, with NRA's help, by installing a second course for the Mover. To cut down on confusion caused by four sets of start and stop signals sounding simultaneously, he changed the signals themselves—a horn for one event, a whistle for another, a bell for a third, and the sight of the target on the Mover. In addition, he added a third lane to the Barricade range. In 1986, Kyle Bateman and Addison Sovine, youthful proprietors of Action Target in Provo, Utah, installed compressed air-operated turning target mechanisms on the Practical and Barricade ranges. Then the resourceful pair returned to the drawing board, designed and developed a system to operate the falling plates automatically and installed it on Match IV for 1987. Today, four competitors shoot the plates in a single squad. Things go much more quickly.
NRA's interest in the Bianchi Cup Tournament, and in the discipline it represented, was nearly immediate. Then-Executive Vice President Harlon Carter attended the 1980 contest and returned to headquarters with a glowing report. An exploratory committee, already formed to develop a new pistol shooting discipline akin to PPC competition, but not limited to police and security officers, studied the situation and an agreement was struck with Bianchi to make the Bianchi Cup Tournament the national championship for what is now known as NRA's Action Shooting program. Bianchi and Chapman ran the tournament under NRA sponsorship in 1982 and 1983. In 1984, Brian Enos became the NRA's first National Action Shooting Champion. Finally, in 1985, NRA took formal custody of the Bianchi Cup, making it an official NRA championship trophy.
Since then, the NRA Action Shooting program has grown tremendously. From a single championship, held annually, Action Pistol shooting has expanded to encompass a set of local and regional contests; the National Action Shooting Pistol Tournament; and a world championship. In 1999, an NRA Action Pistol Distinguished Program was instituted. Though only 13 badges have been awarded so far, efforts are underway to confirm more than a dozen applicants. Now, there is a set of Action Pistol courses for .22-caliber handguns, enabling the program to grow in areas where full-size facilities are impractical—including on indoor ranges.
Originally, Bianchi Cup participation was by invitation. Richard Nichols and Paul Black, who managed the tournament for Bianchi and—one supposes—Chapman, put together a list of the top national and international practical pistol shooters, including law enforcement, IPSC shooters and whomever else from Chapman's experience, and sent invitations. Like a golf tournament, there was a score-based cutoff if one wished to be invited back. There was a behavioral cutoff, too. Bianchi wanted a first-class tournament. Shooters and families and guests were expected to conduct themselves like ladies and gentlemen. Dress codes for various social functions (and there was one each evening) were set and enforced—all except for "Mr. B."
Mr. B was John Bianchi's dad, and a grand old man he was. It was his goal to upstage the younger Bianchi—in a nice way—every year. Usually this was done through a costume, or a stunt of some sort, or both. No one will ever forget the year Mr. B hired a group of pipers, and led them, a-skirling, into the opening reception. His own dress that evening included a kilt improvised from a red and white checked tablecloth and a sporran made from a whitewash brush. Mr. B's annual leaps into the swimming pool during the Western BBQ (usually on Thursday evening) are legend. Mr. B is gone now, but Bianchi Cup veterans will never forget him.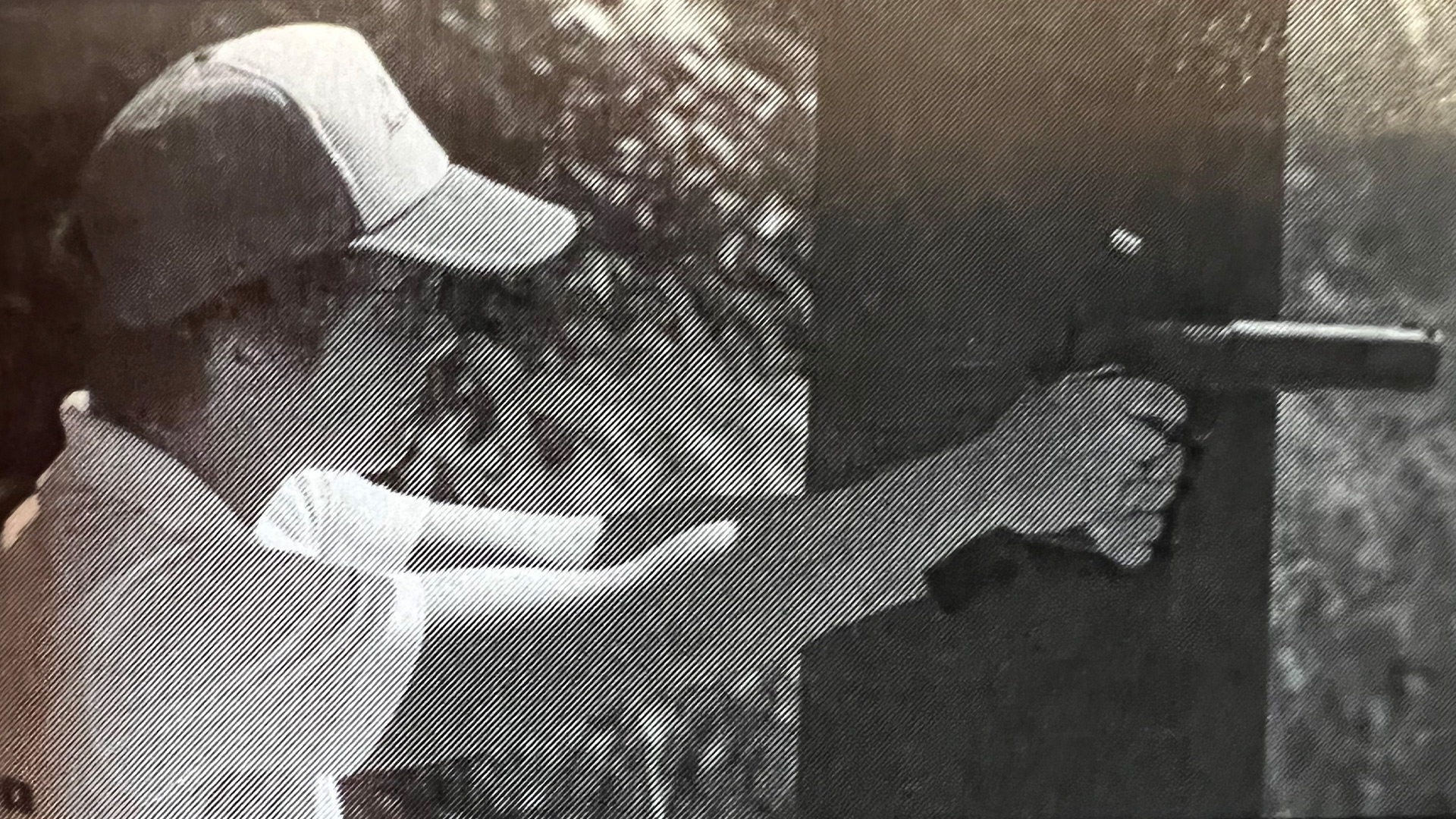 International shooters have always been a big part of Bianchi Cup. In 1979, individuals came from the United States and 11 other nations to take part in the festivities. South African teams, led by Gavin Carson, dominated the international category and Edith Almedia and Walli Louw, both from that country's Transvaal region, dominated the women. Mickey Fowler introduced a number of Japanese shooters, led by Ichiro Nagata, to the tournament, beginning about 1982. In 1989, one of Nagata's teammates, Yoko Shinomura, won the women's title. Over the years, shooters have journeyed from other locales as widely separated as Australia, Canada, the Philippines, Germany, Papua-New Guinea, Switzerland, Thailand, Italy, New Zealand and Zimbabwe. On two occasions—Australia's Brian Kilpatrick in 1993, and Ross Newell in 1996—an international shooter has won the Bianchi Cup, but because of rules then in effect, the National Action Shooting Championship went to an American.
International women have done a little better than their male counterparts. In addition to Almeida and Shinomura, Australians Robyn Ostrich, Dewi Hazeltine, Anita Mankiewicz, and Janina Tenace and Canada's Lorna Pavelka have all won the Women's Category Championship. In fact, it was Bianchi Cup IV (in 1983) before an American claimed the top spot on the women's leaderboard. Sally Van Valzah of Columbia, Maryland, was the first American to hold that honor, followed by other intrepid women like Lee Cole, Christie Rogers, Judy Wooley, Sharon Edington and most recently, Vera Koo.
Since 2003 represents the 25th annual firing of what began as the Bianchi Cup International Pistol Tournament, it seems appropriate to look back and recall some of the highlights. And, one should start at the beginning. What allows are a few of the things that I remember.
Ron Lerch won the first Bianchi Cup in 1979 simply because he didn't make any mistakes. Fowler, who was at the threshold of legend status, did. Fowler forgot to secure the magazine in his .45 as he moved back from one firing line to another in the Falling Plate event. The magazine fell clear of the gun as he began his string of fire. The loss of targets took his aggregate down below Lerch's 1816 and gave him second place in the tournament. Fowler returned in 1980 and, remembering to seat all his magazines fully, won Bianchi Cup II. His score that year was 1890-85X. American Rifleman Field Editor, Col. Charles Askins, who wrote the 1980 match report, called the score "scorching." 
In 1981, folks "in the know" thought that it would be a long time before anyone would win two Bianchi Cup Tournaments, much less two consecutively. Fowler not only thought otherwise, he proved otherwise, winning a second cup and making it two in a row. His winning score was a point better than his 1981 victory—an 1890-88X that was a tournament record at the time. 1981 was also the year Nick Pruitt from California became the fourth competitor to shoot a clean 480-point score on Match IV. Even Fowler, as he won a second Bianchi Cup, had not gone clean on the plates.
Fowler's third-time charm came in 1982. He went into the final day with victory in his grasp, but not with an insurmountable lead. He had to clean the plates to win. It was something he had never done in competition, though he had shot perfect scores in practice. What Fowler did was to shoot a practice round for record. Displaying the sort of calm only champions' champions display, Fowler stepped to the 10-yard line and began pummeling plates. One by one they fell, in regular cadence, six, then six more, then back to the next yard line to start again. Only once did he pause. When the 47th plate had fallen and only the 48th remained, Fowler looked at it for half a second, centered it int he sights of his pistol—then a custom Colt .45 built by Don Nygord and George Breskovich—and slammed it down. Forty-eight plates up, 48 down, 480 points; an unprecedented third consecutive championship was in the bag. The crowd went wild with enthusiasm; so did Fowler. I had a picture of him taken as the last plate clanged onto the rack. He is about three feet in the air, amidst a jubilant war-whoop with his pistol brandished skyward. It looked unsafe to the editors at the time, though, and was never used. I looked for it in our archives to see if it had survived. No luck.
We have already noted Enos, a peace officer then from Phoenix, Arizona, won the first NRA National Action Shooting Pistol Championship. When he showed up in 1982 with a revolver topped with an Aimpoint sight, one bona fide authority on what was then known as the "Practical Pistol" game, took a look at Enos's rig and declared it unusable. "He won't be able to get on target quickly enough," was the pronouncement. That was the only occasion I'm aware of, on which Chapman misjudged the situation. Enos, who was able to get on target fast enough, went on to become the first competitor to top the 1900-point mark (though Fowler exceeded Enos' score, won the 1982 Cup and took home the prize for breaking the 1900-point barrier). By the next year, the pendulum had begun to swing away from self-loading pistols and towards electronic or optically sighted revolvers.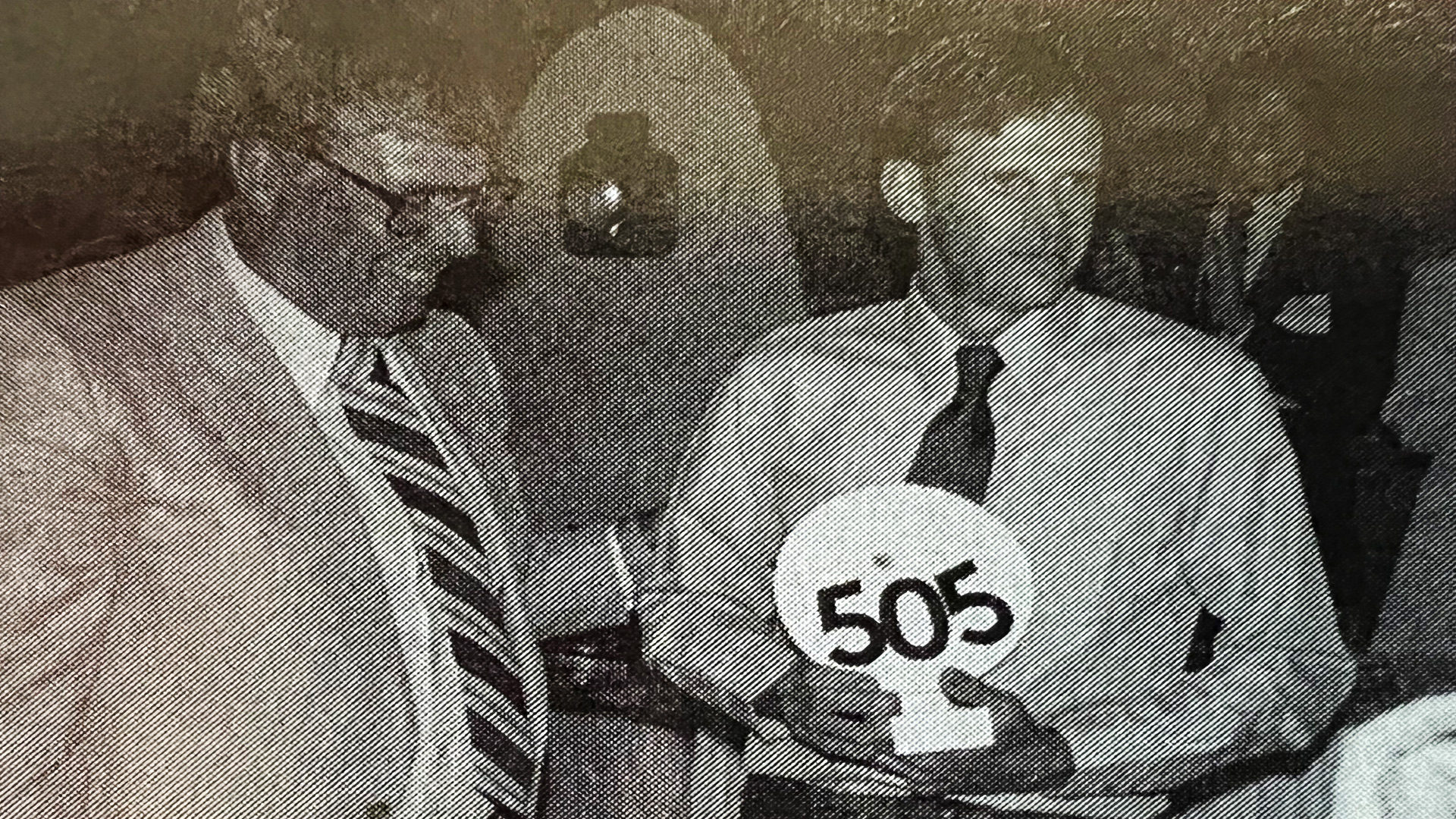 Denied immortality in 1982, Brian Enos set a pair of benchmarks the following year. Enos won the Bianchi Cup for 1983, again with an Aimpoint-sighted, police-competition modified Smith & Wesson revolver Frank Glenn built. That year, three of the top five finishers used wheelguns. Only Tom Campbell and Bill Gambill used autoloaders—and Campbell's Smith Model 59 was topped with an Aimpoint. In addition, Enos, by joining a growing roster of those who had cleaned the plates (one could still count them without removing his shoes), put himself in position to set what became an unbreakable record. Trying (successfully) to win the event, Enos downed 505 steel plates in a row. Range Director John Gordon saved the plate, had the record number painted on it, and presented it to Enos at the awards ceremony. Time constraints brought a change in the tie-breaking procedure for the Falling Plate Event that took effect in 1984. Enos' record will stand for all time.
Enos pioneered a shift in equipment, too—a shift away from pistols to revolvers. Prior to his victory in 1983, the .45 automatic and iron sights ruled. True, many NRA PPC competitors, who in those days fired only revolvers in that discipline, bough their highly modified revolvers to the Bianchi Cup. Many did quite well. But, Enos won the Bianchi Cup and his secret was the electro-optical sight on his revolver. By the next year, many who had started out with autoloaders had switched to revolvers. It would be several years before a workable system of attaching an optical or electronic sight to a semi-automatic pistol could be devised.
Revolver shooters dominated for the next several years, adding their own evolutionary changes to Col. Colt's tried and true mechanism. Riley Gilmore, Bianchi Cup champion in 1986 and again in 1991, introduced the key change. It was a shroud surrounding an interchangeable barrel. The shroud—Gilmore's own idea and creation—served several purposes. Sliding over the barrel and held in place by a threaded locking sleeve, it was a mounting point for the Tasco sight that Gilmore used. It bore against the frame and established cylinder clearance. And, it had a front sight that served as a safety guard. Truth of the matter was that Gilmore also pioneered the still-used technique of laying two fingers against the barricade and two over the pistol barrel to hold it steady.
Read the second half of this article.