What a day the Akron rifle team hotshots had with its first road trip of the season at Morehead State in Kentucky on Saturday, October 15.
Ranked No. 12 at the time, Akron lined up next to the then-ranked No. 16 Morehead Eagles to test each team's limits. When match day came to an end, the Zips outlasted the Eagles 4709 to 4685. Morehead State put up a good fight equaling their school record. However, Akron started the match with a new school smallbore record of 2339. When combined with the air rifle score of 2370 (only three points off the Akron high mark), the combined score of 4709 shattered the old school record of 4705 set last January at Nebraska.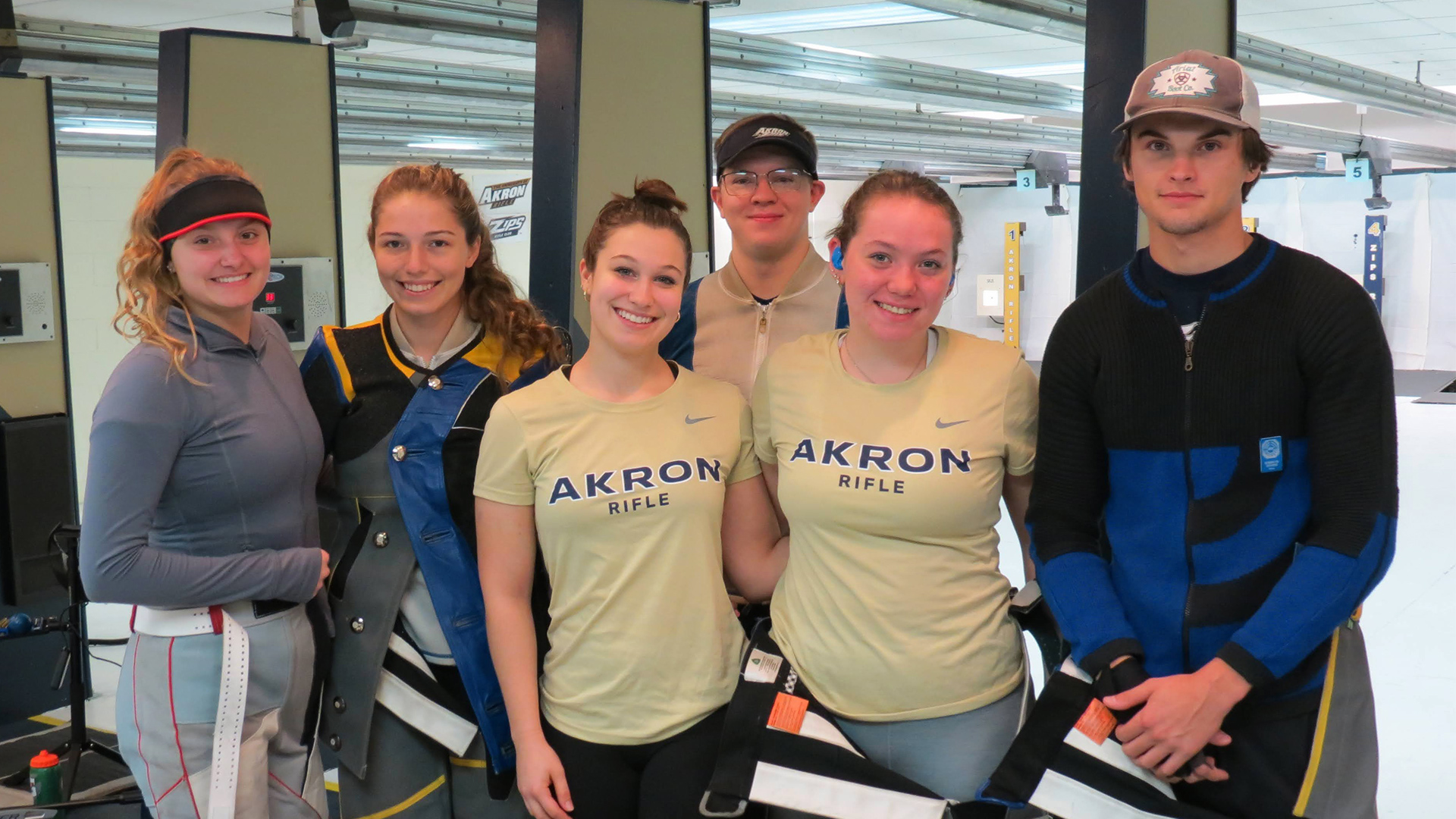 Not one, not two, but five Akron shooters finished smallbore in the elite 580s. Leading this success story was freshman Andrew Duross, who continued his winning ways with a score of 588 out of the possible 600. This earned Duross the match top-gun award for smallbore. Right on the heels of Duross was senior Andre Gross (587), while junior Gavin Perkowski (584) rounded out the top three for the Zips. The depth of this team was evidenced by sophomore Rachel Engels setting an impressive personal-best mark of 583, which earned her the No. 4 slot on the team.
In air rifle, another five Akron athletes broke into the 590s. This time, sophomore phenom Lex Kirk led the charge with her match top-gun award winning score of 594. With identical 593 scores, Perkowski and Duross completed the top three for Akron. In addition, freshman Rachael Paddock set a new personal-best mark and pushed her way into the top five with her 591.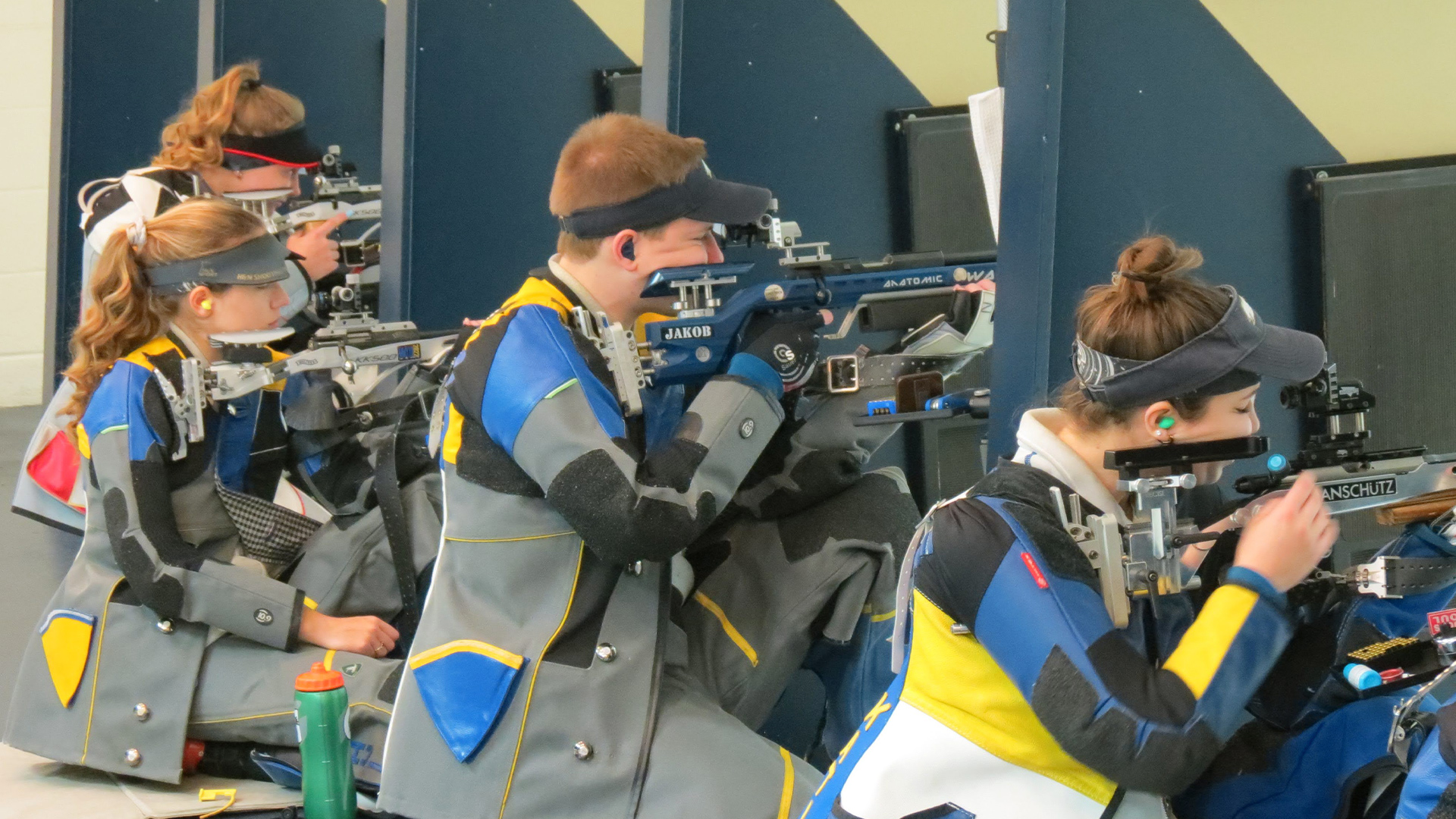 As for the top shooters for Morehead State, it was Adrianna Beard leading the way with an aggregate score of 1174, placing her in the top five individual rankings at the match. She was followed by Bryce Ward with a 1173 aggregate score.
Akron's victory over Morehead State gave it a six-position jump in the CRCA top 20 rankings to No. 6, while Morehead State moved up four spots to No. 12.
Up next for Akron after a weekend break will be a road match at the U.S. Military Academy at West Point, N.Y., on Saturday, October 29. Akron will participate in a three-way match with Army and N.C. State. On the following day Akron will have a head-to-head match with N.C. State. As for Morehead State, the rifle team next faces North Georgia on Saturday, October 22.

Collegiate Rifle Coaches Association Top 20 Rankings
1          Alaska-Fairbanks
2          Ole Miss
3          Texas Christian University
4          Murray State
5          West Virginia University
6          Akron
7          Navy, Ohio State (tie)
9          Army
10        Kentucky
11         Air Force
12        Morehead State
13        Nebraska
14        Memphis
15        Georgia Southern, North Georgia (tie)
17        The Citadel, Univ. of Tennessee-Martin (tie)
19        North Carolina State
20       Jacksonville State University
Above rankings are current as of Tuesday, October 18.
See the full results of the Akron vs. Morehead State match on October 15 at the NCAA Rifle website.
Learn more about the Akron and Morehead State rifle programs.
All photos by Newt Engle/Akron Rifle.