For what we called the "Academy" weekend, No. 10 Akron hosted No. 7 U.S. Naval Academy and No. 9 U.S. Air Force Academy on Saturday, November 19, for a three-way competition. With the Collegiate Rifle Coaches Association's poll rankings that close, it was evident this match would be hotly contested. At the end of the day, Akron (4688) finished in the middle of the final standings between Air Force (4702) and Navy (4684).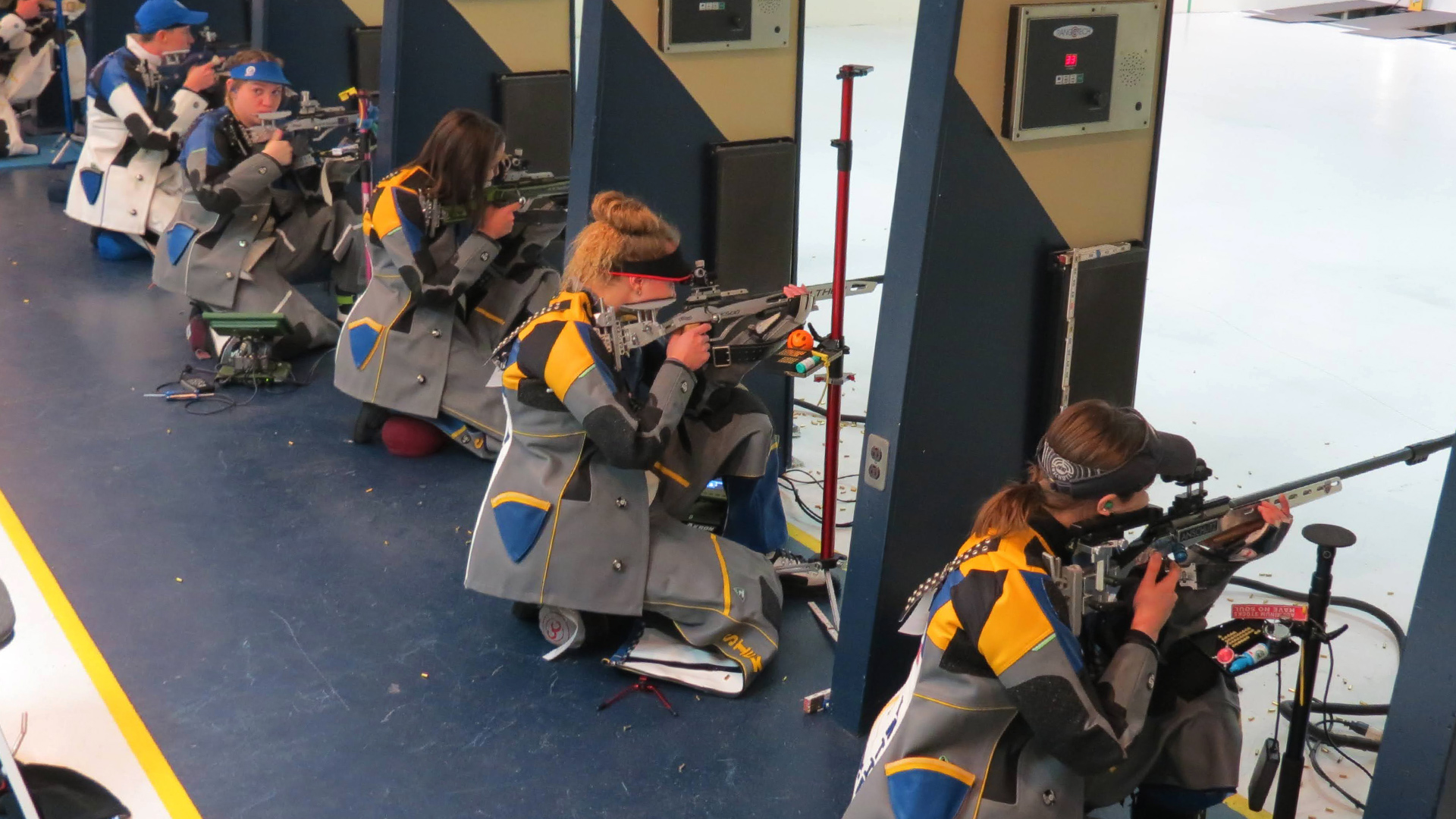 On the smallbore range, when the smoke cleared, Akron stood atop the hill by outshooting both service academies. Akron junior Gavin Perkowski tied his career-best smallbore score of 587 (out of the possible 600) to lead the rifle team. He was backed up by sophomore Lex Kirk, who garnered an equally impressive 585 score. As for freshman Rachel Engels and fifth-year senior Andre Gross, each contributed a 580 score to round out the top four competitors for Akron rifle.
Air rifle, on the other hand, was a little flat for Akron. Many of our consistently contributing team members were simply slightly off the mark. They didn't shoot bad, but did not perform at expected levels. However, no one told sophomore Rachel Engels this, as she absolutely smashed her career-high mark with an outstanding score of 595. Kirk also jumped in the mix with a fine score of 592. We know now what we need to do over our winter break—I am betting every one of our team members will be dreaming of sugar plums as well as center 10s.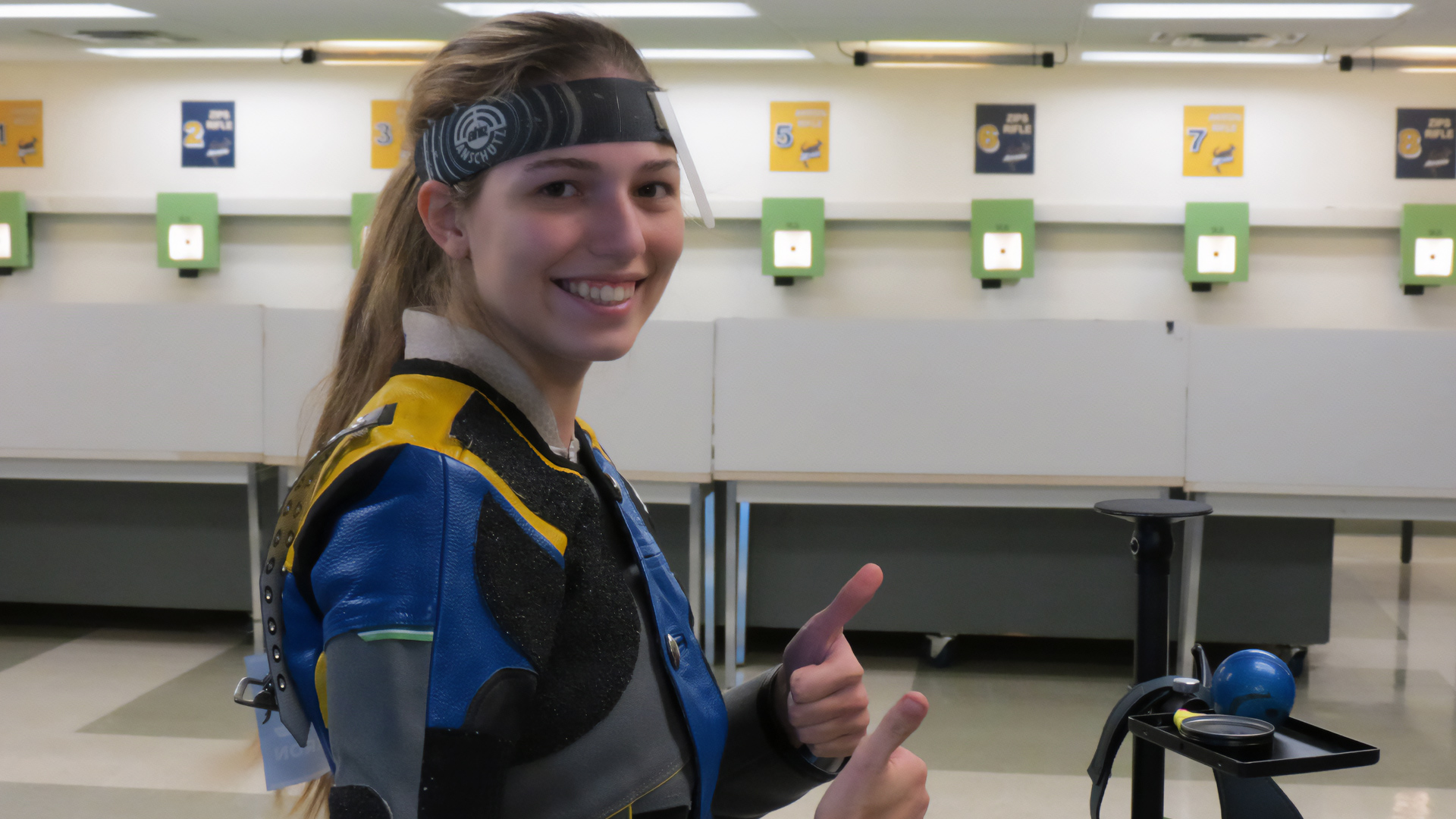 The two top competitors in the individual aggregate were both from the Air Force Academy. Jordan Williams was the top-ranked shooter with a 1181 aggregate, followed by Morgan Kreb with 1178. The high Naval Academy shooter was Marleigh Duncan, who walked away from the match in fourth place after posting a 1175 score in the individual aggregate.
2022 Academy Weekend Leaderboard
Air Force Academy, 4702 (air 2373, smallbore 2329)
Akron, 4688 (air 2356, smallbore 2332)
Naval Academy, 4684 (air 2356, smallbore 2328)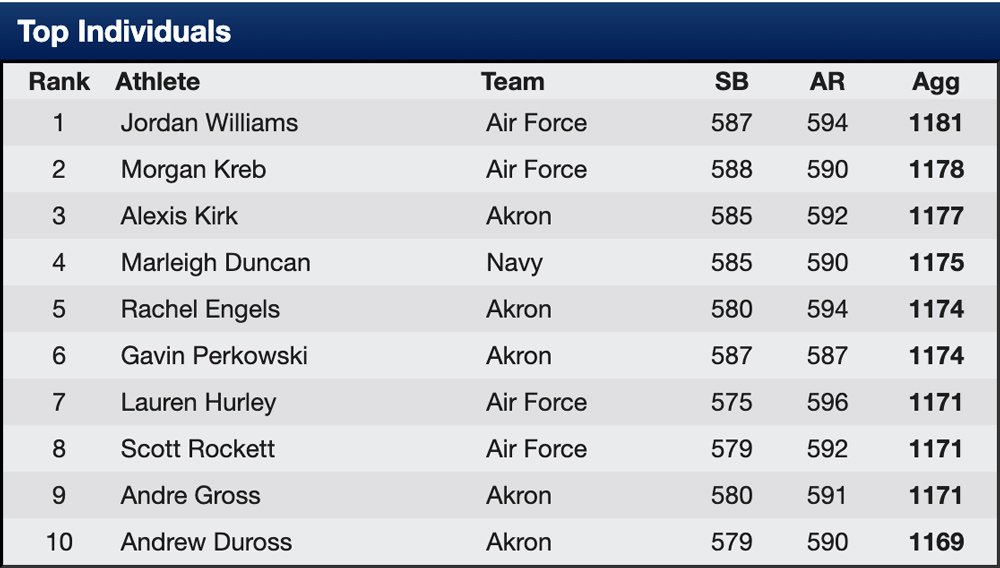 You can view the full match scorecard at the NCAA website.
Most collegiate rifle teams have now wrapped up the fall portion of the 2022-23 season.
With a few weeks of winter break ahead for Akron rifle, the squad will still be training hard for some out-of-season personal matches. This will keep them tuned up as they return in early January 2023 for the first match of the second half of the season. On January 14, Akron rifle will travel to Annapolis, Md., to meet up with the U.S. Naval Academy again—as well as Ole Miss—for a three-way competition.
In addition, be sure to check out the latest CRCA rankings below. The poll was last updated a few days prior to Thanksgiving on Tuesday, November 22.
Collegiate Rifle Coaches Association Top 20 Rankings
1. West Virginia University
2. University of Alaska-Fairbanks
3. Kentucky
4. Ole Miss, Texas Christian University (tie)
6. Nebraska
7. Murray State
8. Air Force
9. Navy
10. Memphis
11. Akron
12. North Carolina State
13. Ohio State
14. Jacksonville State
15. Georgia Southern, Morehead State (tie)
17. Army
18. North Georgia
19. The Citadel
20. University of Texas-El Paso
Above rankings are current as of Wednesday, November 30.