Traveling on October 14 to Annapolis, Md., to visit the U.S. Naval Academy, the Akron Zips rifle team went head-to-head with the Midshipmen. At the end of the smallbore division, Akron led by one point. Then, setting down the smallbore rifles and picking up the air rifles, the Zips widened the gap en route to a 4695-4682 win over Navy.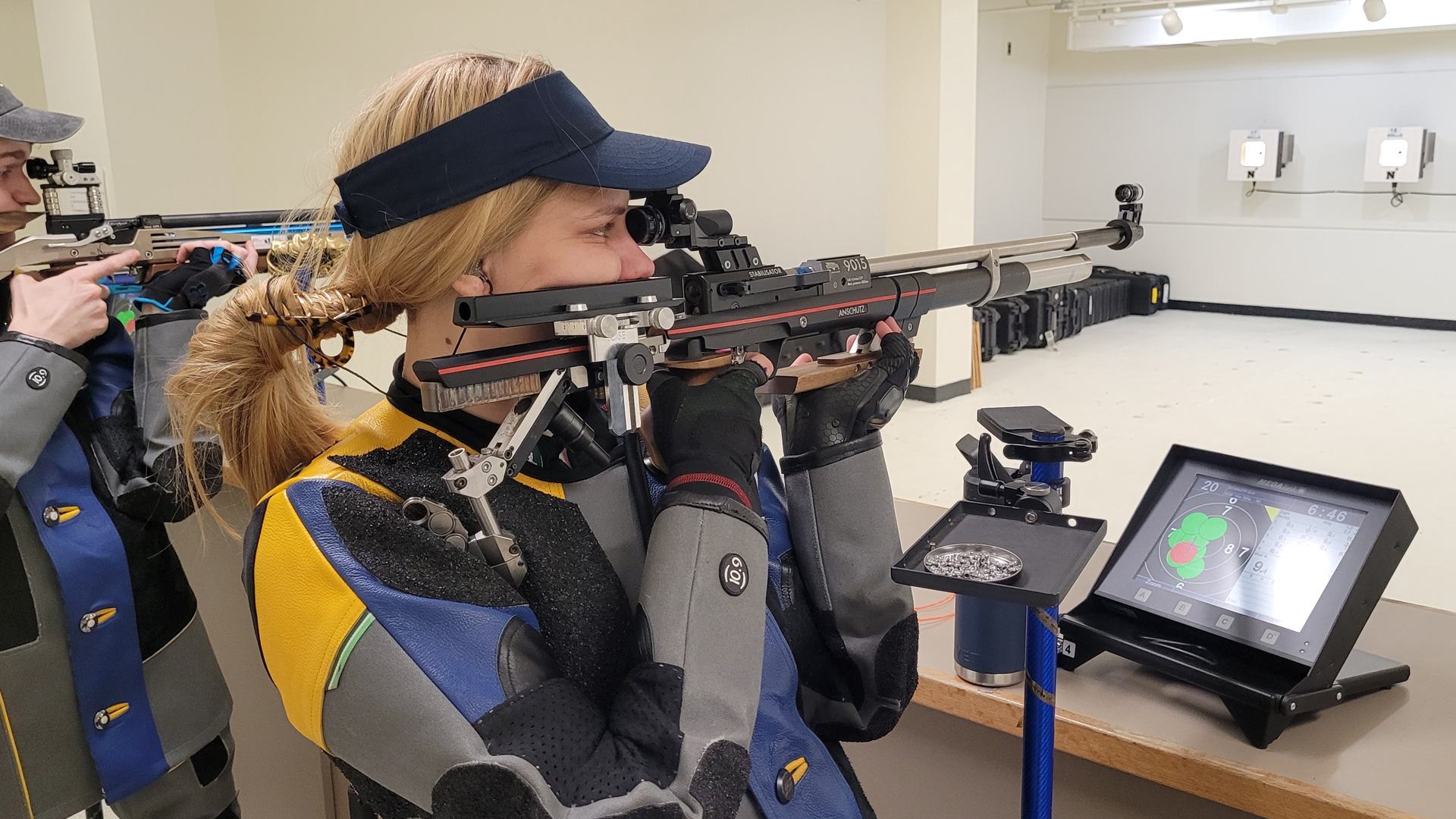 For those who maybe don't know, in collegiate competition we shoot two rifles. First, we compete with a smallbore rifle, then an air rifle and add the two scores together. A week ago, at West Virginia University in Morgantown, W.V., Akron posted solid smallbore scores, but were a little flat with the air rifles. This week, Akron flip-flopped and shot stellar air scores and were flat in smallbore. Once Akron starts firing on all cylinders with both rifles at the same time, the team will turn some heads.
Speaking of smallbore, sophomore hotshot Andrew Duross led the Zips by posting an excellent 585 out of the possible 600. This landed him in second place behind the 592 fired by Navy's Isabella Baldwin. A total of four other Zips had scores in the elite 580s. Worth noting is upcoming freshman Tyler DeKruger, who premiered his college career with an amazing 582. Even though these scores are respectable, everyone on the team could see points that could be picked up.
Senior Gavin Perkowski proved there is a good reason he is on the U.S. Olympic Futures Team by setting a new school record in air rifle. For the 60 shots fired in the match, Perkowski managed to hit the center of the target an amazing 57 times, yielding a score of 597. Additionally, those shots perfectly centered are called "center" shots, of which Gavin had 50. This broke the old record of a 597 with 47 centers. His performance earned Gavin the top-gun award for this match. Additionally, finishing in positions two through four was a three-way tie involving a trio of Zips with like scores of 593. Fifth-year senior Brendan Seitz, junior Lex Kirk and sophomore Natalia Seik each posted a new career high of 593.
On the Navy side, freshman Isabella Baldwin was the top shooter with 591 in air rifle and 592 in smallbore, garnering her an aggregate score of 1183. Baldwin's score placed her at the top of the individual aggregate leaderboard at the match.
You can view the full results of the October 2023 Akron vs. Navy match at the NCAA website.
After a weekend off, the Akron squad will next host the Memphis Tigers on October 28 for the Akron home opener. The match will start at 9:00 a.m. and will be live streamed at this link.
Learn more about the Akron Zips and U.S. Naval Academy rifle teams.