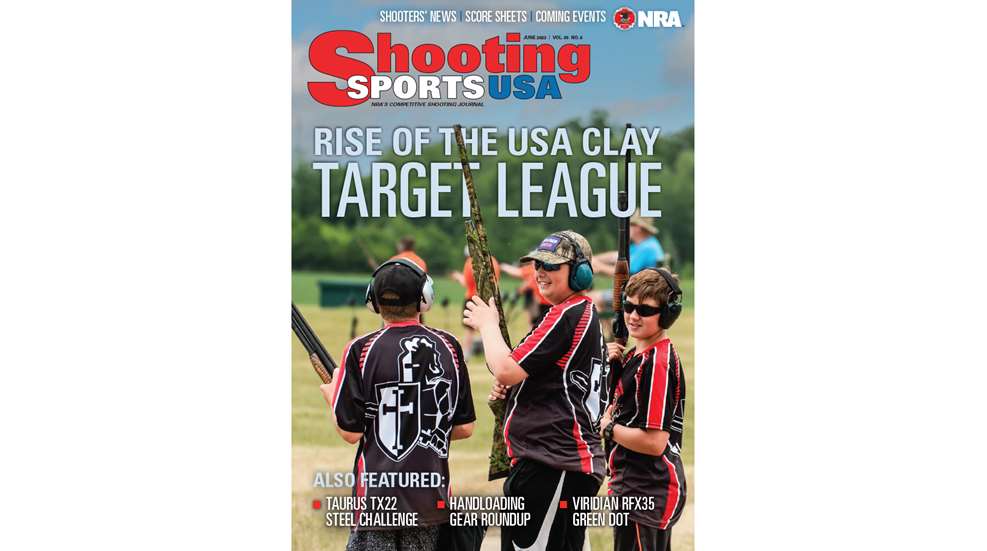 June's cover feature highlights the meteoric rise of the USA Clay Target League, which now has teams in 34 states. Last year, a record-breaking 39,255 student-athletes participated in the league's different programs for high school, homeschool and collegiate competition. Later this month, approximately 8,000 competitive shooters are expected to attend the 2022 Minnesota State High School Trapshooting Championship in Alexandria, Minn. Be sure to read author Serena Juchnowski's article about how the USA Clay Target League rose from humble Midwest origins to one of the top youth clay target programs in the country (page 22).
Taurus has been on a roll the last few years with rimfire pistols, specifically the TX22 Competition series, and now they have done it again with the TX22 Competition Steel Challenge Ready .22 LR. By adding a Tandemkross compensator and other new features, this pistol is ready for Steel Challenge rimfire competition right out of the box. Field Editor Chris Christian recently tested the TX22 Competition SCR and shares his thoughts in this month's Product Focus (page 12).
With inflation at levels not seen in decades, many competitive shooters are reloading to train without having to spend a small fortune on ammunition. And while it may not always save as much money as reloading (often costing much more than factory), handloading ammo will always be a solid way to get the most out of your gun setup. Either way, you don't want to miss Josh Honeycutt's roundup of great new handloading and reloading gear for 2022 (page 28).
Frank Melloni says that when it comes to firearm training, it pays to do your homework before registering for a course with a new instructor or company. The cartoon "G.I. Joe" tagline "Knowing is half the battle" comes to mind. In his article this month (page 34), Melloni shares some of his experiences as an instructor, along with tips on what to expect (and what to ask) while taking a training course.
Green-dot optics have rapidly gained acceptance with competitive shooters, with many finding that the green color is easier to track. Manufacturers were quick to notice the trend, with several companies adding green-colored dots to their lineups. Viridian recently entered the green-dot fray with multiple reflex sight options, including the RFX35, which sports a big view window and is made from lightweight aluminum. Check out Chris Christian's evaluation of the Viridian RFX35 (page 38).
Excitement is already building for the 2022 NRA National Matches at Camp Atterbury next month. Earlier this year, NRA Publications released a special-edition magazine covering the 2021 championships at Camp Atterbury, with help from our friends at Federal Ammunition. Not long after that, the NRA announced that Silver Mountain Targets electronic target systems will be used at the NRA National Matches for the High Power Championships. The debut of e-targets at Camp Atterbury this summer during the 2022 High Power Nationals should make it one for the record books. If you haven't registered yet, go to competitions.nra.org.
John Parker
Editor-in-Chief, Shooting Sports USA
Are you a subscriber?
Not receiving the monthly digital magazine announcement in your inbox? Become a subscriber. Not only is it completely free, it only takes a minute to sign up and it guarantees you'll never miss a single issue of the NRA's competitive shooting journal. Subscribe here.