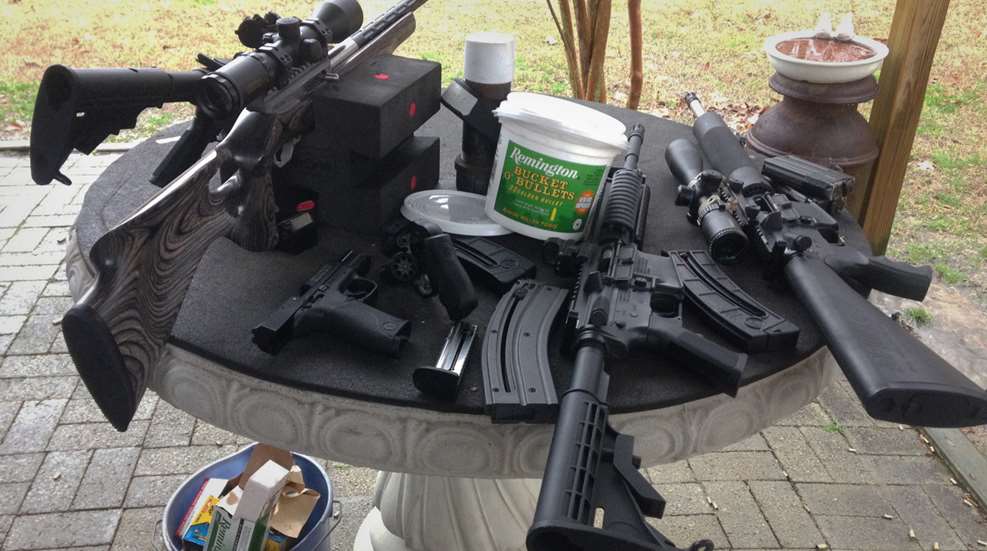 Readers may want to check out Chris Cerino's previous articles on training yourself and the difference between training and practice.

I was out with some friends for a range day, and we intended to try some new guns and ammo as well as revisit some old favorites. The day started in an orderly fashion. However, as guns piled up and tables got cluttered, I had to step back. A firm reminder had to be stated that although this is fun, this was still dangerous work and we needed to keep mind of all firearms safety rules. So everyone stopped and regrouped. We cleared the clutter and began to tighten up the reigns on what was going on.

It's not that we were being reckless or unsafe, but things started to get sloppy. With piles of ammunition, guns and gear in various states, it just didn't look like we had control over what was going on. This is when accidents can happen.

If at the very least we treated every gun as if it were loaded we would be safe. Yet, what if we had failed to point it in a safe direction and it were loaded? What if one of us had taken the first two for granted and forgotten to keep our finger off the trigger and outside of the trigger guard? Still we could have a safe accidental discharge. Right? But what if we neglected those three and failed to be sure of our target, backstop and beyond? A surprise round cranked off into the dirt is one thing, but what if we missed the backstop and sent it into the sky?

Fortunately, nothing had happened yet nor did it happen afterward. However it could have if we allowed confidence and comfort to turn into complacency. Does this make sense?

Having been a trainer and police officer for many years you can bet I've seen, heard of and been dangerously close to firearm accidents. Shooters who violated just one and sometimes more of the four firearms safety rules are all around us. Unless something expensive was destroyed or it included a trip to the emergency room, it's often hushed and quickly forgotten. If you forget what happened in the past, you are doomed to repeat it.

Therefore, having that pile of guns and ammo in front of us was a disaster waiting to happen. We were all supposedly competent and seemed to have control over our own section. However, the problem was that I was only assuming this. No one can afford an accident.

In addition, some of the guns we were firing didn't have a bolt hold open latch and others had obscured ejection ports and chambers. Also there were no chamber flags. We needed to recognize this and slow down. Comfort and complacency have taken more than one machinists' or woodworkers' finger. You probably know one.

So the next time you are at a match or shooting range, take a look at what you're doing, as well as what's going on around you. Don't take anything for granted and certainly don't assume those around you are doing the right thing. If you're getting too comfortable or someone near you appears to be, stop, step back and remind yourself and the others about what you're doing. Although fun and generally harmless, it is inherently dangerous. Your full time attention needs to be focused on operating safely and consciously in order to keep the shooting sports in a shining and favorable light.