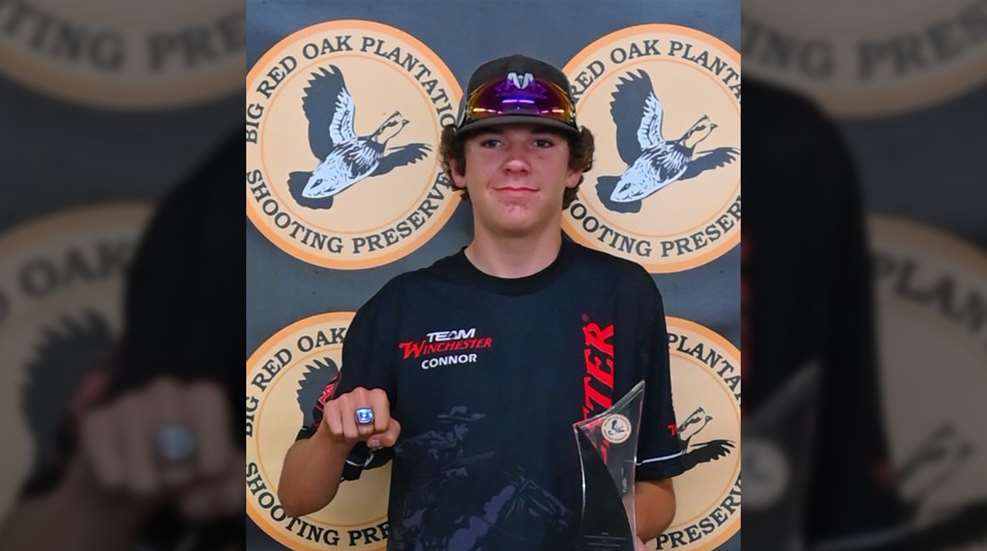 Team Winchester's Connor Daniel outshot a crowded field of highly competitive sporting clay shooters at the recent NSCA Southeast Regional. The 2023 Southeast Regional event was held May 31 to June 4 at Big Red Oak Plantation in Georgia, which is widely recognized as one of the most beautiful venues on the NSCA Championship Tour, Powered by Winchester.
Daniel, at age 15, won the FITASC slam event outright, a feat that has never been done by a Sub-Junior. His final score in FITASC was 187 and he earned a $1,500 payout.
He claimed top honors while two of his best friends and fellow Team Winchester members, Zach Kienbaum and Joe Fanizzi, finished in second and third places with scores of 186 and 185, respectively. Across the board, Team Winchester performed well in all events, but particularly in the FITASC Parcours ones.
Team Winchester sporting clay shooters continue to represent the Winchester brand using AA shotshells at the highest level. Daniel rolled through the Southeast Regional crushing clay targets primarily using Winchester AA, Lite-Handicap shotshells, a one-ounce, 1,290 f.p.s., No.8 shot load.
Including Connor Daniel, Team Winchester placements at the 2023 NSCA Southeast Regional included the following shooters.
Connor Daniel: FITASC High Overall, Super Sporting Runner-up, Sub-Junior Main Event Champion, Preliminary Sub-Junior Third Place
Zach Kienbaum: FITASC Runner-Up
Joe Fanizzi: FITASC Third, 5-Stand Junior Runner-Up
Kayla Wilgus: Preliminary Sub-Junior Champion, 5-Stand Sub-Junior Third Place
Desi Edmunds: Main Event Lady Third Place
Anthony Matarese: Main Event Third Place, Preliminary Runner-Up
Mike Wilgus: Make-A-Break Third Place
The 2023 NSCA Southeast Regional was also one of the stops for the yearlong Winchester Ladies Cup.
Champion: Haylyn Hanks
Runner-Up: Karen Miles
Third Place: Shelby Moon
"Congratulations to Connor on a remarkable achievement. His hard work and training certainly paid off at one of the most competitive shoots in the country," Jason Gilbertson, director of marketing for Winchester Ammunition, said. "The NSCA Tour, Powered by Winchester, continues to show the excitement and growth of the shooting sports at remarkable facilities across the United States."
The Southeast Regional is the third of five total regional shoots which make up the NSCA Championship Tour, Powered by Winchester. You can view the full results at the Score Chaser website. The season finale will take place this October in San Antonio, Texas, at the 2023 NSCA National Championship where a new National Champion and Winchester Ladies Cup Champion will be crowned.
Learn more about NSCA and Winchester.