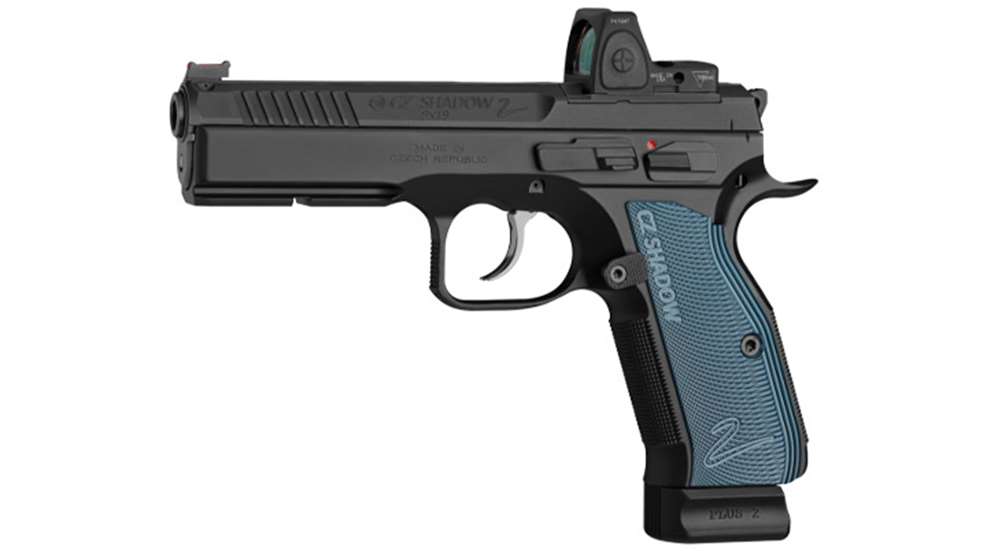 When it comes to USPSA Production division, the CZ-USA Shadow 2 has proven to be very popular with competitive shooters. Now, the newest addition to the line, the CZ Shadow 2 Optics-Ready (OR) 9mm includes a slide cut to accept a plate system for mounting popular handgun optics, ideal for the USPSA Carry Optics division. (The CZ-USA Custom Shop produced a Shadow 2 OR model last year, read about it here.)
Similar to the original Shadow 2 9mm, the new Optics-Ready version keeps the highly regarded SA/DA trigger mechanism, plus a steel slide and frame that are hand-fit. The cold hammer-forged barrel is 4.89 inches long, overall length of the pistol is 8.53 inches and the height is 6.2 inches. Additionally, the sight radius is a bit longer and there is an increase in weight to a hefty 46.5 ounces, which should help mitigate recoil during competition.
Also retained is the highly ergonomic grip profile that first debuted 45 years ago with the CZ 75. Prominent checkering on the  frontstrap and backstrap should help keep this gun securely in the hand(s), while a swappable magazine release is extendable with three settings to accommodate differences in reach. Magazine capacity is 19 (10) rounds.
All CZ Shadow 2 pistols are resistant to corrosion, weather and mechanical damage, thanks to a nitride coating. Frames receive an additional coat of CZ's proprietary Polycoat, which is also used on the company's line of service pistols.
MSRP for the CZ-USA Shadow 2 Optics-Ready is $1,549. Learn more at CZ-USA.com.
---
See more:
How David Miller And Team CZ-USA Set A Guinness World Record