by
posted on September 3, 2020
Support NRA Shooting Sports USA
DONATE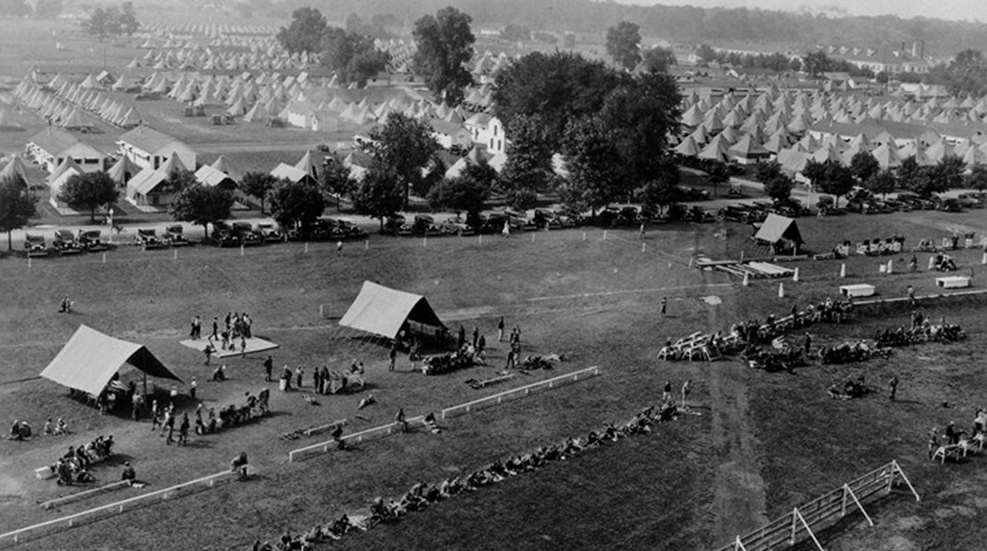 Unstable arrangements and difficulty in getting funding for Camp Perry maintenance were recurring problems for the National Matches, particularly throughout the 1960s. The situation recalled earlier thoughts of possible moves to more favorable locations. References were made to Camp Atterbury in Indiana as an alternate National Match site. Camp Atterbury was mentioned as a National Match contender in 1954 as well, when DCM (Dept. of Civilian Marksmanship) Director Charles Rau presented a list of substitute sites during discussions on the condition of post-war Perry.
By 1957, Camp Atterbury was recommended as an alternate National Match site by the CONARC Board (U.S. Continental Army Command). It was described as having more housing than Camp Perry, but with south-facing ranges that required complete renovation and removal of possible live munitions in the range area (gunnery practice, etc.).
Subsequently, Irvine C. Porter (NRA President, 1959-1961) vowed to work for Camp Perry lease negotiations, and some of his correspondence was sent directly to President Dwight D. Eisenhower for approval.
In 1967, Merrill W. Wright (NRA President, 1973) wrote to Porter about his continuing thoughts of "an ultimate range." One of his suggestions was forming a land committee to seek a piece of land in the continental United States, located under 1,000 miles from the midway point between the centers of heavy NRA population on the West and East coasts. Additionally, the location was to be under 500 miles of the midpoint North and South U.S. borders.
The next year, NRA officials visited Little Rock, Ark. (Camp Robinson), Camp Gruver in Oklahoma and the Black Canyon Range in Phoenix, Ariz.
In 1971, one of the NRA Long-Range Planning Subjects was a National Shooting Center that listed previous actions of possible sites in Missouri, Arkansas and Oklahoma. Additionally, reinvestigating a Tulsa proposal, as well as strip-mining areas in southern Illinois were explored.
By 2016, the NRA would announce that its High Power Rifle Nationals would vacate Camp Perry, and move to Camp Atterbury the summer of 2017. The Precision Pistol and Smallbore Rifle Nationals were to follow suit in 2020, but the coronavirus pandemic put a swift end to those plans. Next year will mark the debut of the newly-reunified NRA National Championships—Pistol, Smallbore and High Power—at Camp Atterbury.
---
See more:
Excellence in Competition Rifle: Then and Now