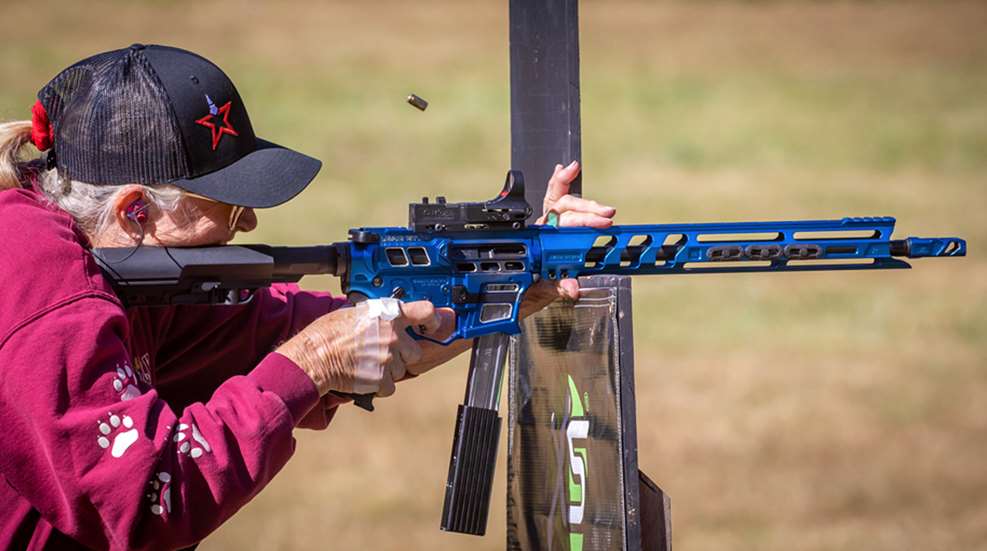 Earlier this month, 80 women traveled to Missouri from 17 different states to participate in shooting clinics, stage walkthroughs, social activities and two matches.
The three-day Team Pistol Challenge and Multigun Challenge took place September 27 to October 2 at the Lucas Ranch in Cross Timbers, Missouri. The aforementioned 80 women competitors took on 14 challenging stages at the tournament.
A Girl & A Gun shared the results of the 2022 Fall Festival, which included the only all-ladies 3-gun match in the United States.
More than $106,000 in prizes was provided for the competitors at the 2022 Team Pistol Challenge and Multigun Challenge.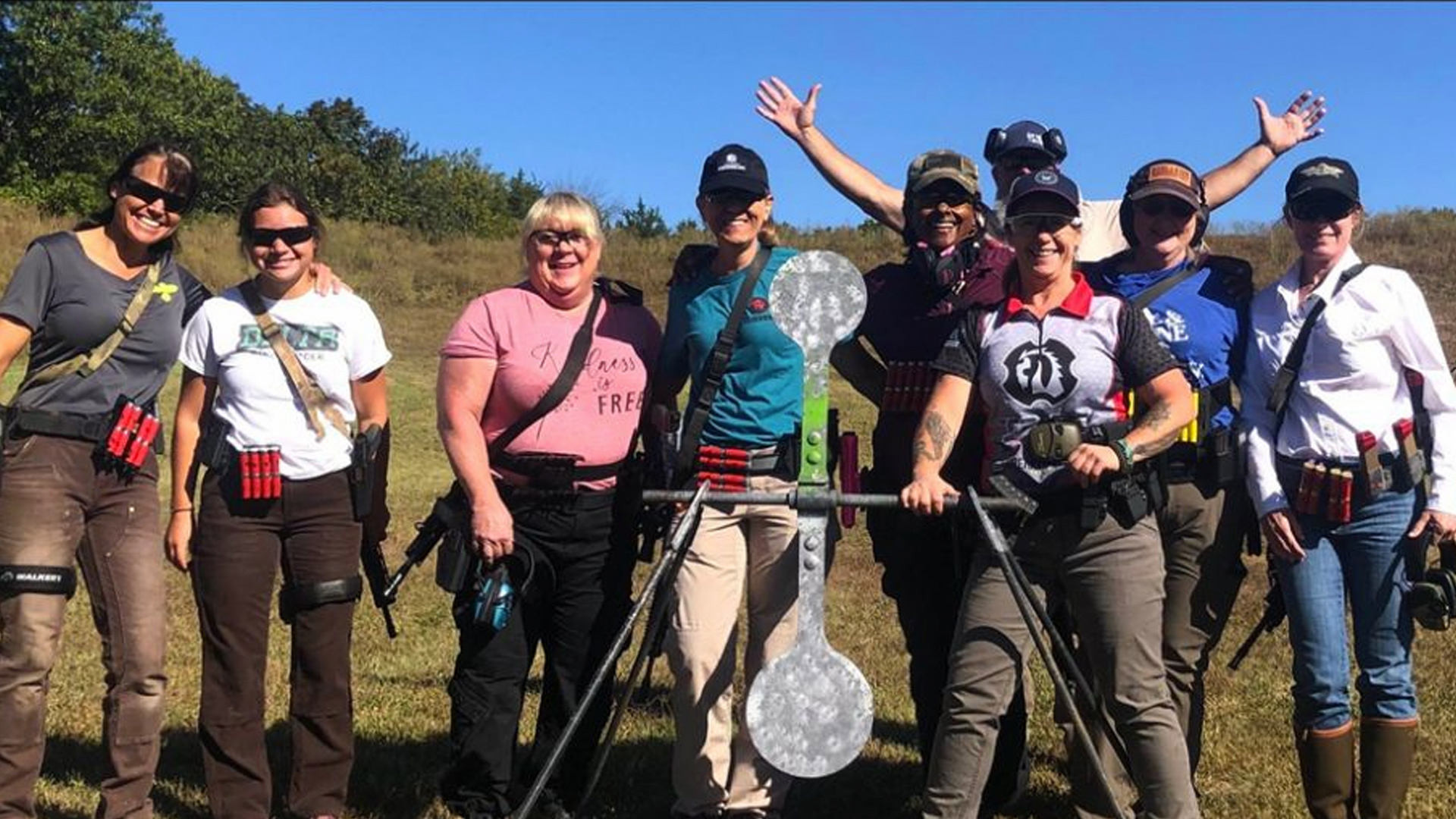 Match Director Larry Goedhart designed stages with fun and technical maneuvers in mind. The Team Pistol Challenge included six stages that competitors faced in two-women teams. As for the Multigun Challenge, this competition was true to its name, with different types of 3-, 2- and single-gun stages in square bays and natural terrain throughout the Lucas property. In addition, an exceptional squad of Range Officers made sure that the event was fun and safe.
While several competitors were sponsored professionals, many participants were shooting their first major match.
"It was such a pleasure to train and coach this young lady at her first major," said Eileen Kerlin about Corrin Burner, one competitor who had been shooting for less than two years before garnering third place in Limited division. "She put in so much hard work prior to and at the match. She has a future in shooting. I'm so proud of her."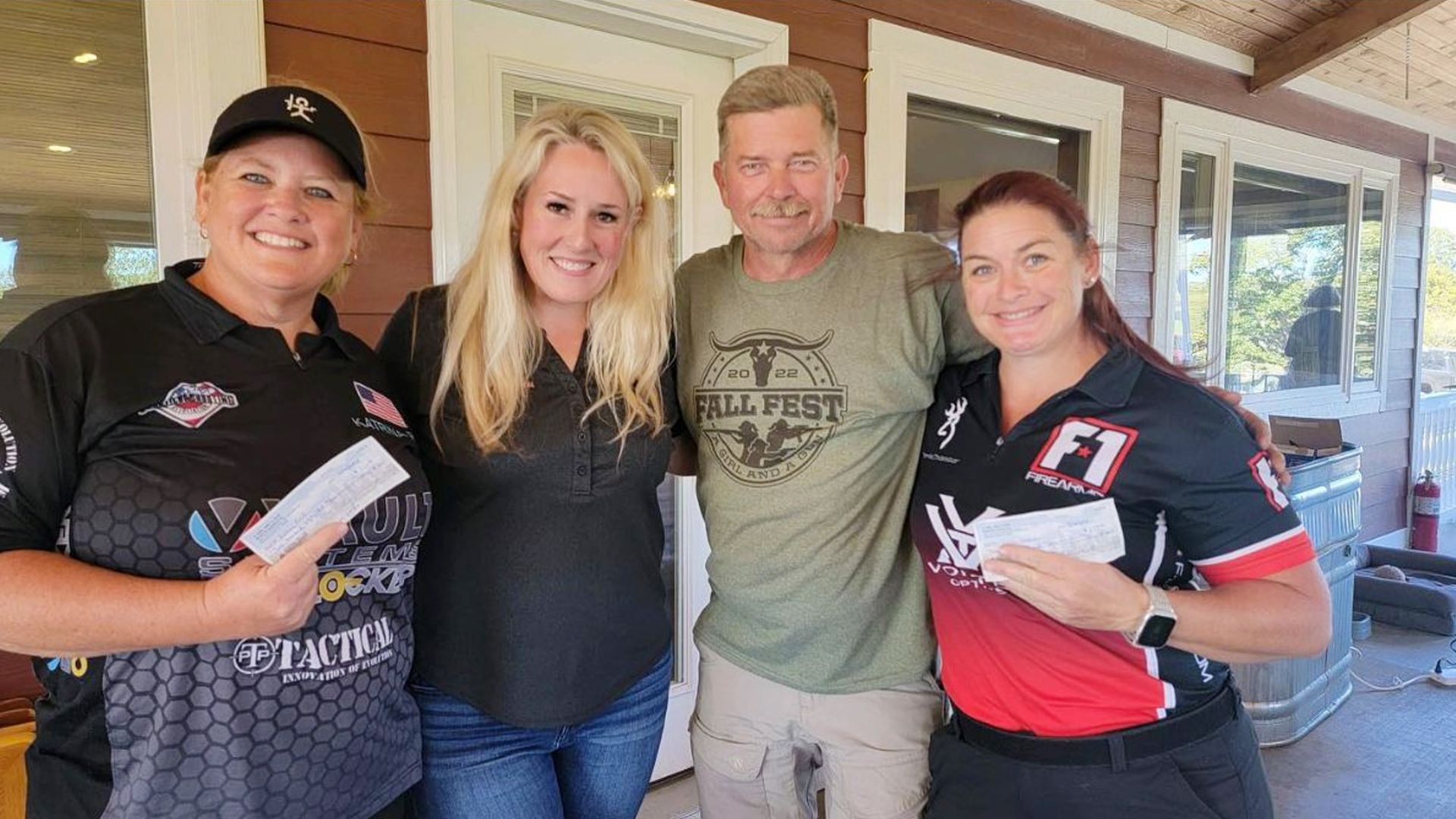 In the Team Pistol Challenge, each team fired more than 300 rounds throughout the day. The Multigun Challenge had competitors fired more than 175 rounds each of rifle and pistol, more than 150 rounds of birdshot and nearly 10 slugs. Carbine targets ranged from as close as 10 yards to as far as 800 yards.
The occasion also marked Larry Goedhart's first event with A Girl & A Gun which, by all measures, was a tremendous success.
2022 Team Pistol Challenge Leaderboard
Iron Sights
Katrina Reed, Tennille Chidester
Cindy Coker, Ursula Williams
Open
Dianna Muller, Ashlynne Thomas
Eileen Kerlin, Jenifer Pirrone
Split
Cheryl Fordyce, Chelsie Creps
Sue Wasserman, Tammy Parks
2022 Multigun Challenge Leaderboard
Open Winner: Dianna Muller, 923.42
Tac Ops Winner: Reanna Kadic, 903.41
Limited Winner: Cindy Coker, 1201.48
PCC Winner: Tina Martin, 1002.07
High Senior: Nancy Grunnet, 1209.31
High Super Senior: Patricia Johnson, 1176.35
"We were honored to offer two great match experiences to these incredible ladies," Robyn Sandoval, executive director of A Girl & A Gun, said. "In addition to the camaraderie of women coming together to enjoy a sport they love, the event had challenging stages, talented staff and a wonderful prize table thanks to the generosity of our sponsors." Vortex, Walther, Magpul, Daniel Defense, Streamlight, Stag Arms, Glock, Gun Goddess, and many other industry leaders were among the 2022 Fall Fest sponsors.
Learn more at agirlandagun.org.