Paul Phillips is like a mad scientist, and we often sit on the edge of our seats to see what screaming velocity long-range cartridge recipe he's cooked up next. His latest uses the 33XC, a brand new .338-cal. cartridge designed by David Tubb, and in one of the latest tests Phillips has it running at a blistering 3,556 fps from the muzzle. The rifle is the same one he plans to use at the NRA Extreme Long-Range National Championship at Camp Atterbury later this month.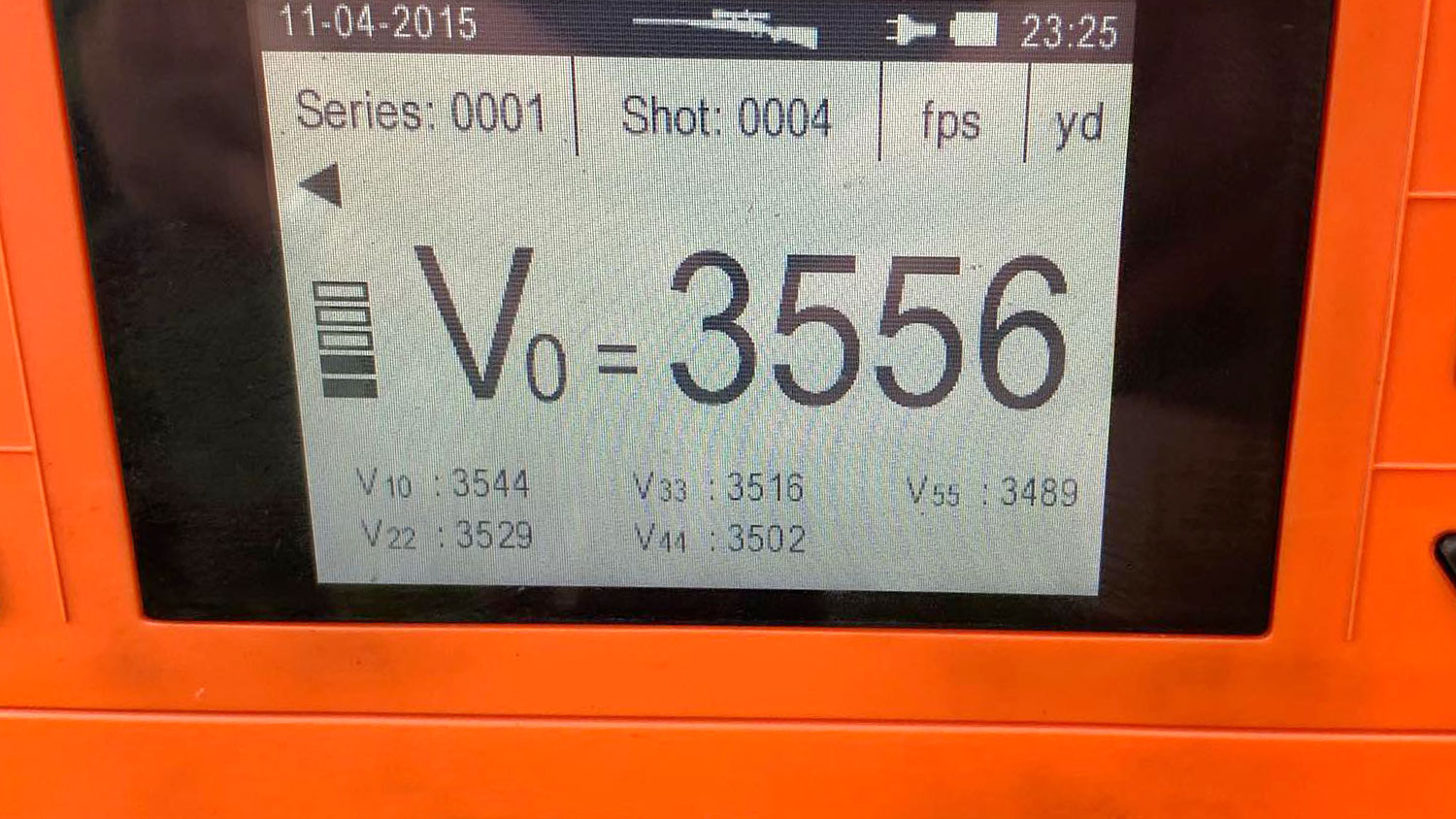 Some background on Paul Phillips, not only is he the reigning NRA ELR National Champion, but he's also the current King of 2 Mile champion. Phillips has also won numerous F-T/R titles, and he owns 45 NRA National Records. In short, he knows long-range, and he has the experience to find what loads win matches at distance. Earlier this year, along with Team Global Precision Group, he connected with a piece of steel at 3.4 miles—a shot that took 17 seconds to report.
For this rifle, Phillips wanted to build a sub-25 pounder that can shoot a .338-cal. bullet with the best accuracy and velocity available, and with enough elevation to connect at 2 miles.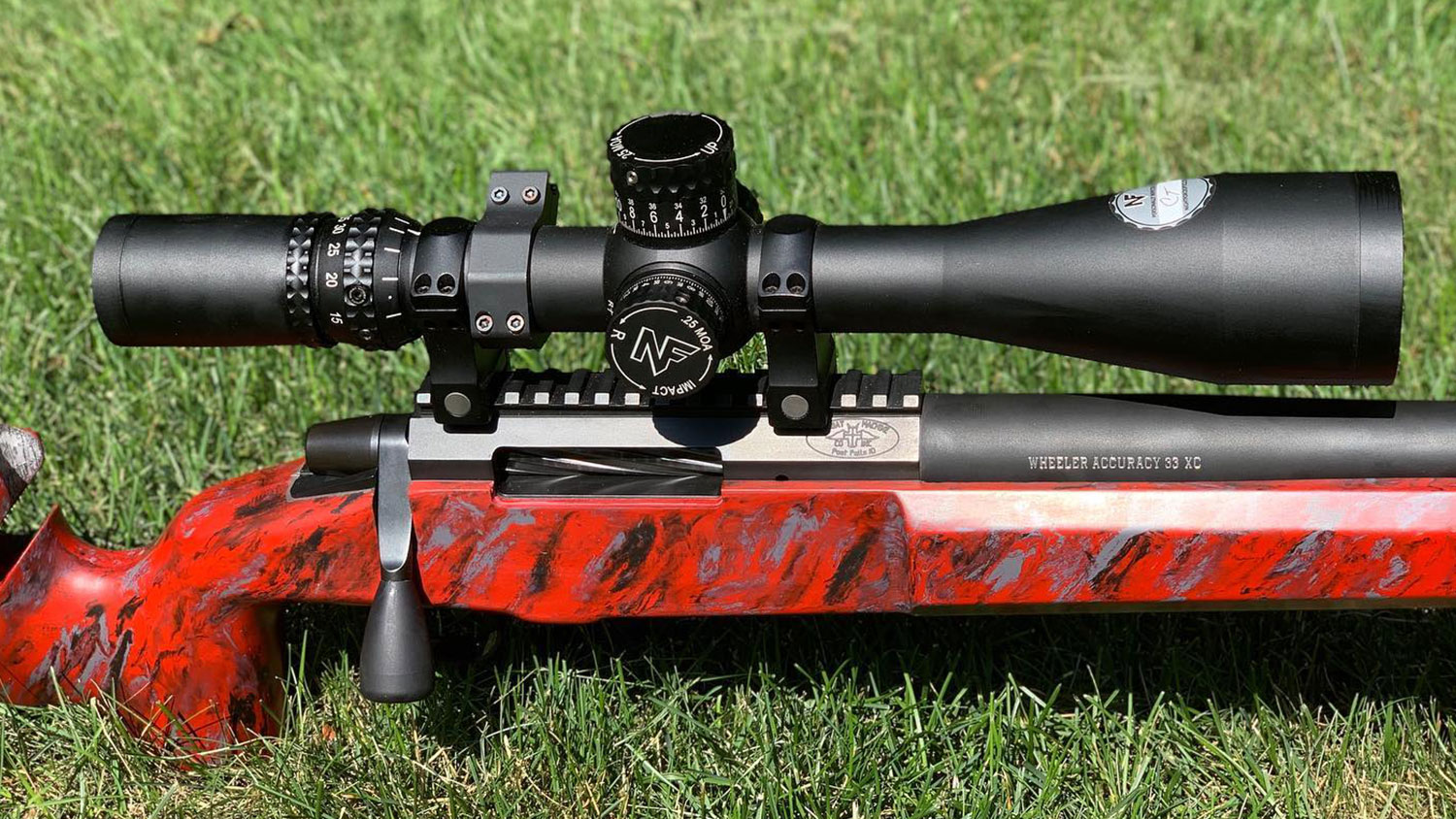 Phillips describes the 33XC cartridge and his custom rifle, which he also uses as his long-range hunting rifle.
"This load for the David Tubb 33XC cartridge with 275-grain Cutting Edge bullets reaches 3,556 fps on the new BAT Machine CTH dual-port action, with a 34-inch Bartlein barrel with 1:8-inch twist, metal work by Alex Wheeler and the bedding performed by Alex Sitman in a A6 McMillan Fiberglass stock. Manson Precision Reamers, who make custom reamers, are also very important to these builds."
This rifle build was designed and built for the under 25-pound class at the NRA ELR Championship. This type of build should certainly appeal to long-range competitors, as well as hunters that shoot at long distances, like Phillips. Helping to make the rifle come in under 25 pounds is the TACOMHQ Charlie. This device can extend the elevation to over two miles.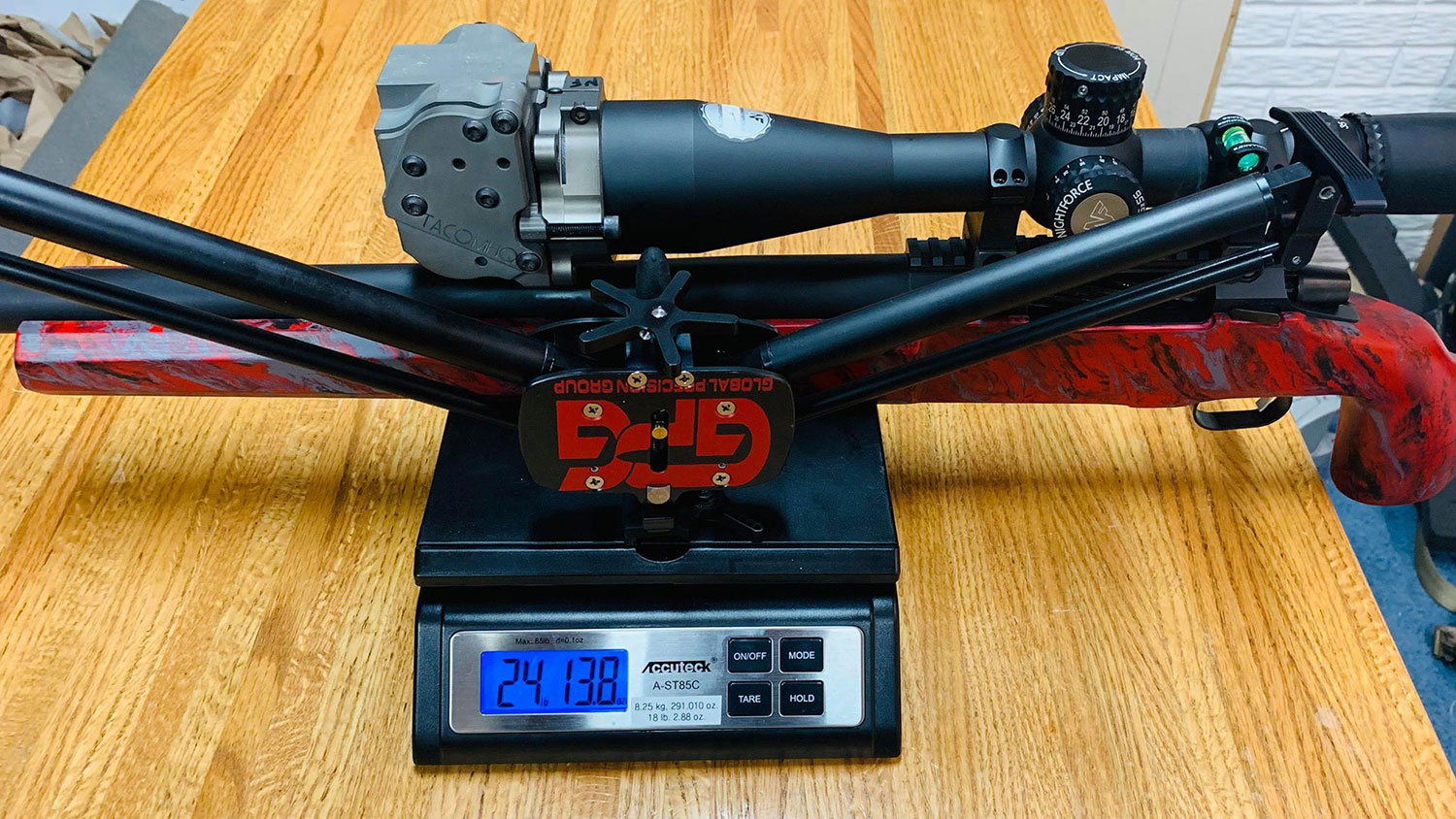 "It seems to be a very accurate rifle in a package under 25 pounds," said Phillips.
Phillips elaborated on David Tubb's 33XC cartridge design, along with details about this load and his testing process.
"Peterson makes the 33XC brass for Tubb. I use the Peterson brass, along with Cutting Edge bullets and Federal 215M primers."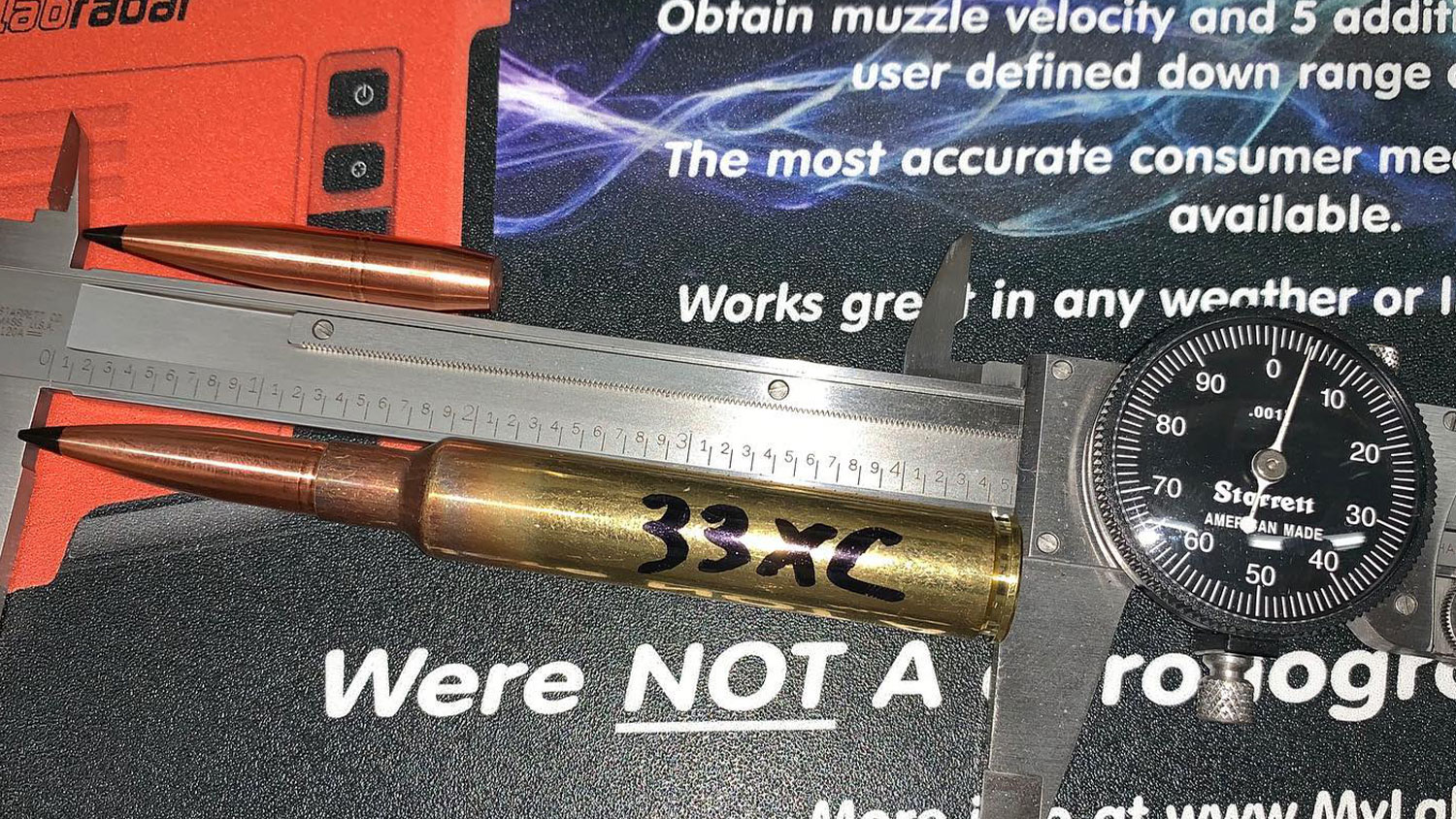 He's not done yet, however. Keep in mind that the reason he is testing loads in the first place is to find a safe, accurate node for this new case design. Phillips wants to see where the pressure signs are.
"I'm testing several powders now, including VVN570, IMR8133 and Hodgdon H50BMG. Understanding where I see pressure signs lets me know where to concentrate my accuracy node. Since the first pressure was seen at 3,556 fps, I know that my best accuracy and safe pressure zone now is 3,200 to 3,300 fps."
Some final advice from Phillips on developing precision long-range loads:
"Warning! Start low and work your way up. Not all chambers, barrels and components are the same—thus, they will not act the same. Everyone should start low and work up very cautiously."
This cannot be overemphasized.
"Other big shooters I consulted with saw pressures at a much lower speed. Every rifle, chamber and component combination could be significantly different. The action, barrel twist and reamer dimensions can make a big difference on pressure."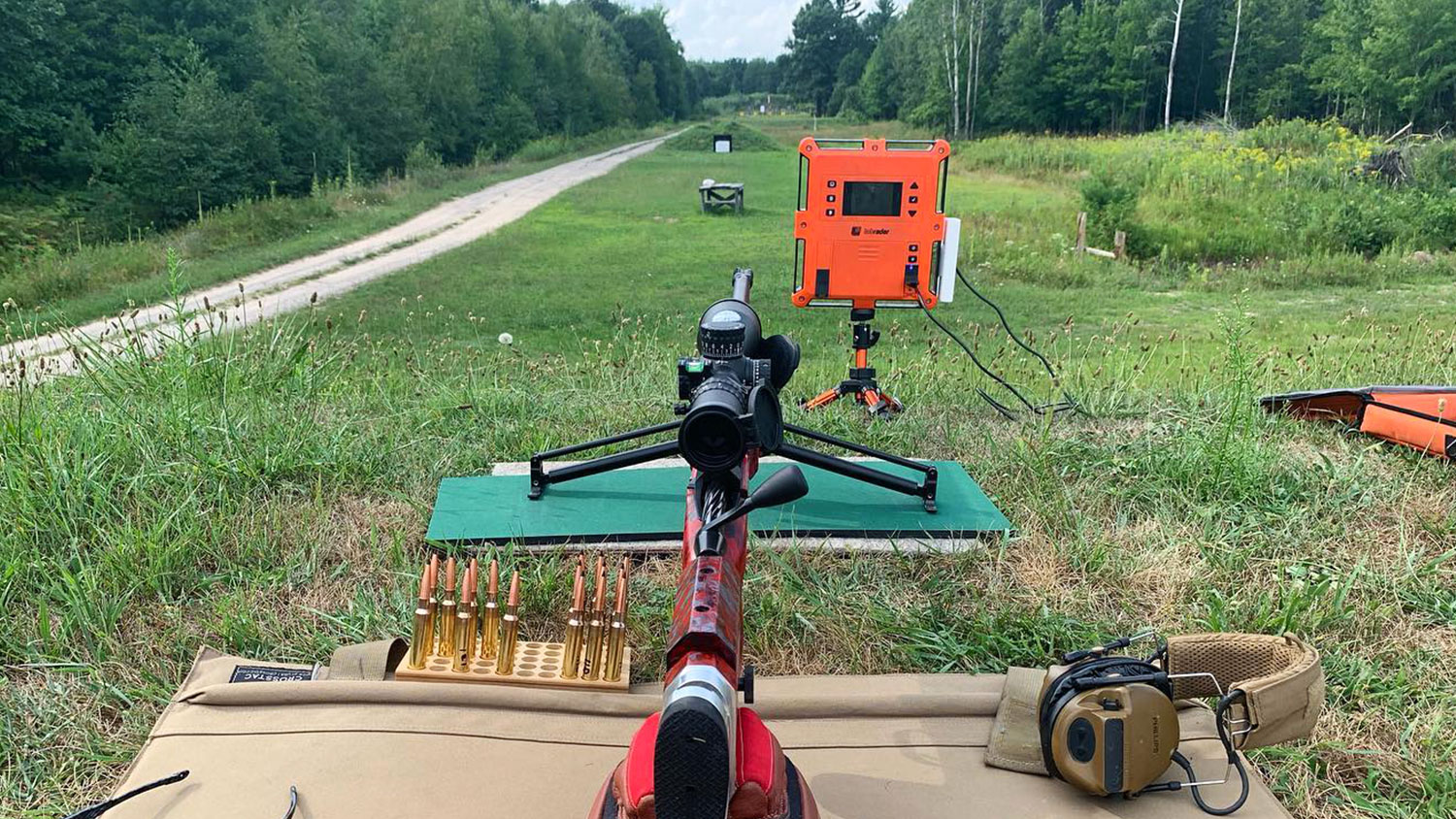 The next stop for Phillips is a date with the Applied Ballistics mobile laboratory and radar testing with a PDM prior to the 2019 NRA Extreme Long-Range Nationals.
Learn more at the Global Precision Group Facebook page.
---
See more:
Extreme Long-Range—The Ultimate Team Shooting Sport