Federal Ammunition isn't wasting any time to begin celebrating its 100th anniversary. While the official date of incorporation for the company is April 27, 1922, the company says the celebration will last all year long, starting now. At the beginning of 2022, you can already find a commemorative magazine on newsstands. Also, if you're near the factory in Anoka, Minn., you will see a 100th anniversary sign on top of one of the silos.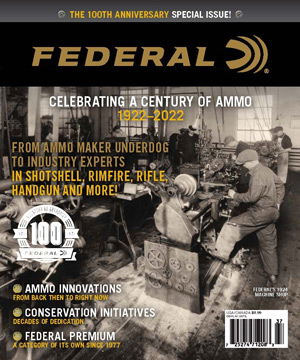 In addition to the special edition magazine, a coffee table book chronicling company history is on the way, along with many recollections online and via social media of fun and interesting facts taken from Federal's history.
Estimates show less than one percent of all companies make it to their 100th year in business. Jason Vanderbrink, Federal's president, offered his thoughts regarding the milestone:
"The entire staff of 1,500 hard-working Americans in Anoka, Minnesota, is extremely proud to celebrate a full century of continuous and successful operation. We appreciate those who came before us to make this possible and look forward to taking Federal into its next century. Our workforce and business have never been stronger than they are today, and we owe it to a century of continuous innovation across every department in the company. Many people and partners have contributed to our success, and I'm proud to join the current team in making sure that tradition of excellence continues."
Federal will also tout its accomplishment with limited availability throwback packaging, special merchandise on the website, an exhibit at the Anoka County Historical Society Museum and more. Stay tuned.
Learn more about Federal Ammunition at federalpremium.com.
---
Read more:
Federal Adds Monthly Ammunition Subscription Service