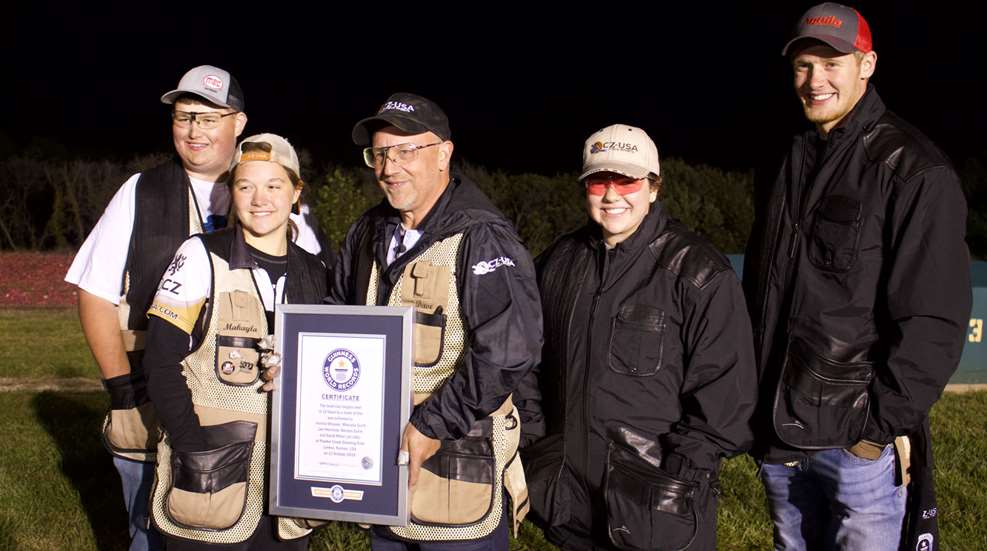 David Miller has done it again. It seems like only yesterday (2015) I stood on a shotgun range in Kansas and watched him dissolve clay targets (shooting from the hip) to set a Guinness Book of World Records of 3,653 in one hour. Yep, you read that correctly—3,653 targets broken—and he has a tattoo on his arm to prove it. I was there to see it, and what a sight it was to behold. After meeting David Miller and watching that event, I was certain it would not be long until he would attempt some new shotgun adventure. Well, it turns out I was right.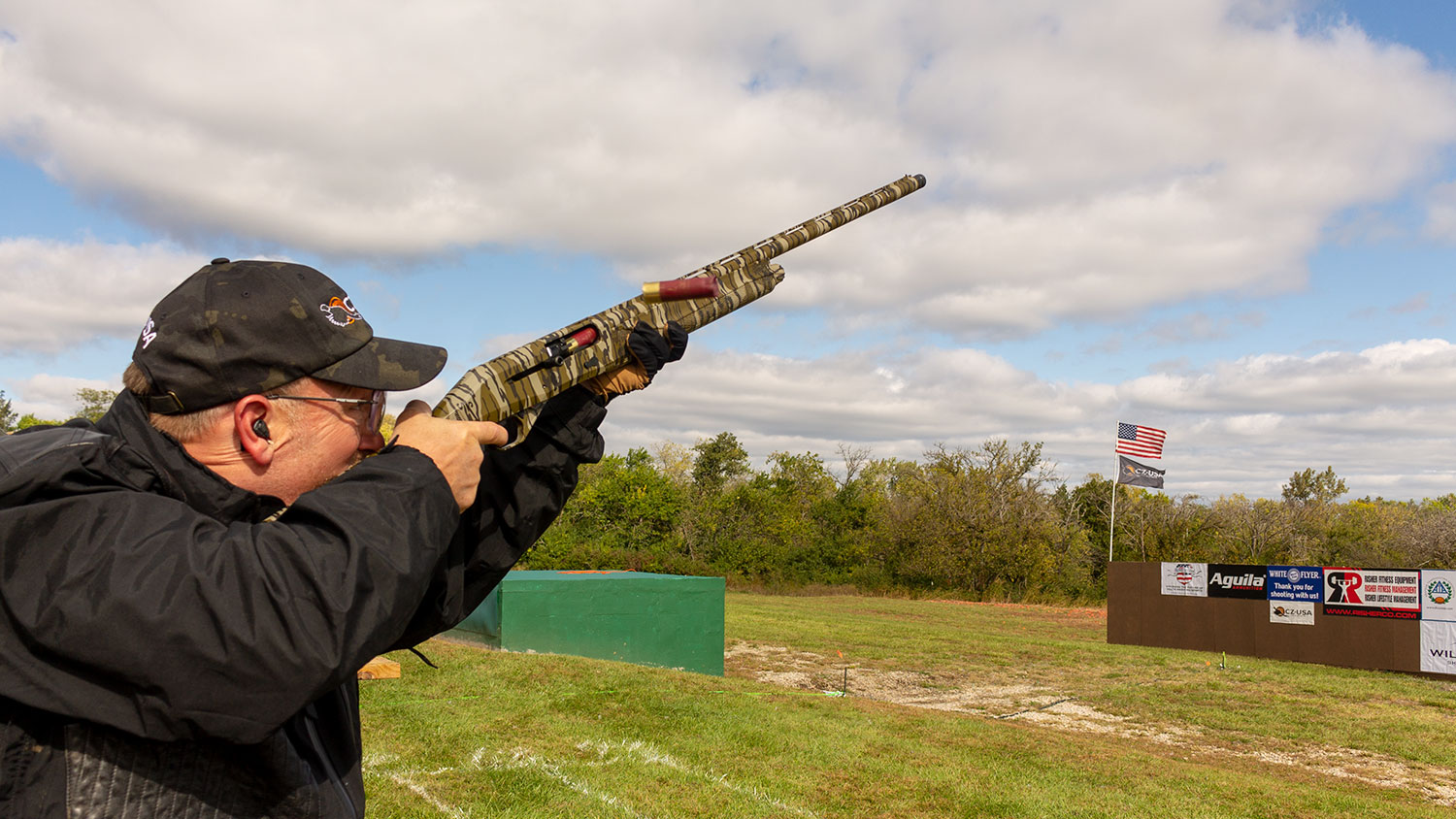 You see, David Miller is really not like the rest of us who think we like to shoot shotguns. David Miller eats, sleeps, breathes and I bet even dreams about shotguns. Fittingly enough, he's the shotgun product manager and pro shooter for CZ-USA—maker of several nice shotguns (more on this later).
About a year ago, Miller started looking at a new record to smash and settled on a different concept. Most number of clays broken by a five-person team in twelve hours. The standing record of 4,602 was set by a five-person team in Kent, England, in 2015. With careful planning and much training by his squad of hot shot young shooters, Miller figured he could easily surpass this record, and boy did he!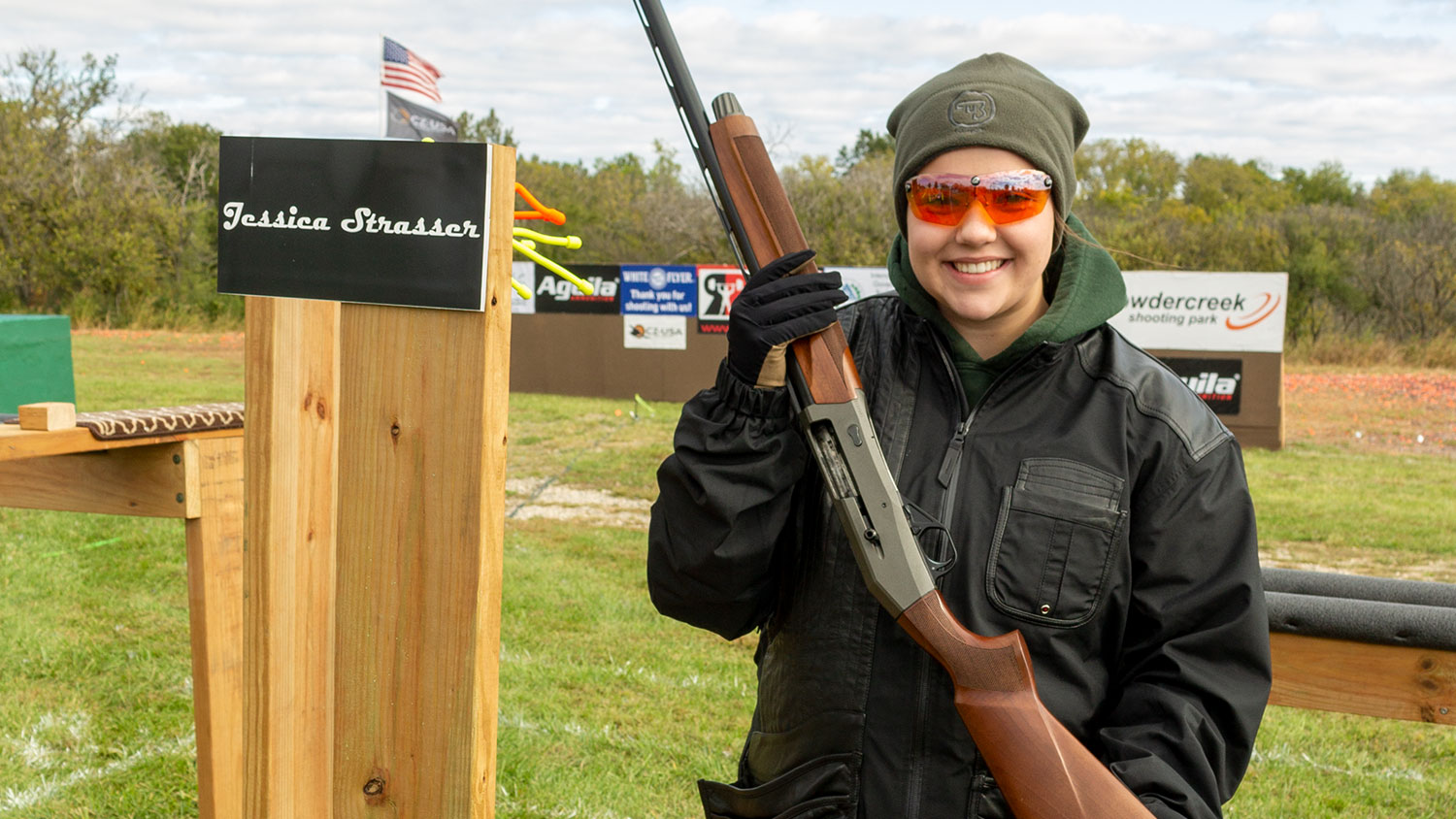 The coolest thing that David Miller did here is that he recruited young shooters from all over the country to be his team mates on this historic record attempt. Two boys and two girls were chosen to accompany him on the firing line on Saturday, October 12 at the Powder Creek Shooting Park at Lenexa, KS. The qualifying shoots for this event were held at the SCTP (Scholastic Clay Target Program) Nationals at the Cardinal Shooting Center in Marengo, OH, July 13-20, and at the AIM Grand Championship held at the World Shooting Complex in Sparta, IL, July 29-Aug 4, 2019. AIM (Academics, Integrity, and Marksmanship) is a division of the American Trap Association for young shooters.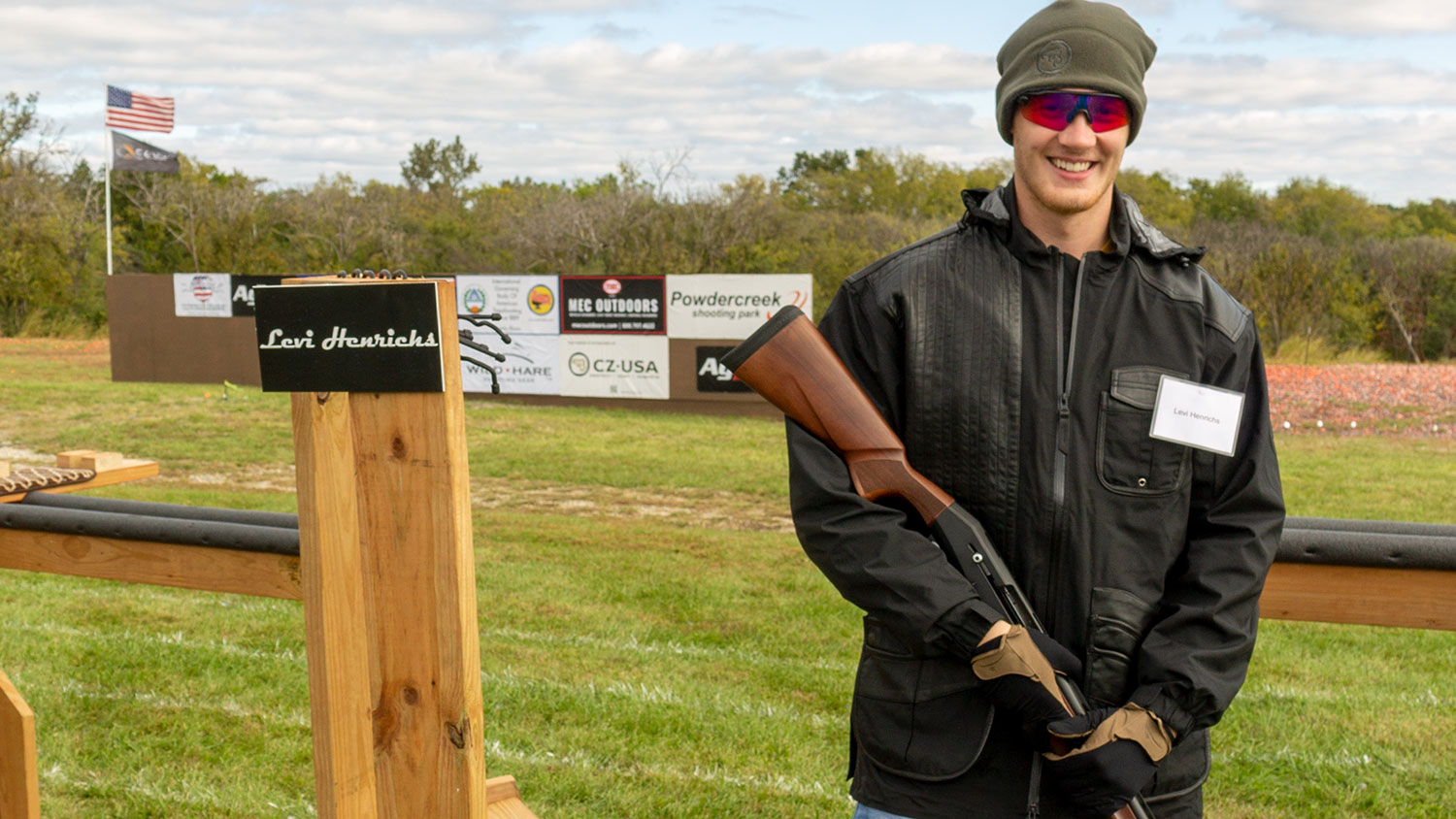 To me, the kicker for the selection process to be part of this event is this: the shooting scores were only 50 percent of the total score needed for these young people to shoot for the world record. The other half of the score was based on an essay that the prospective shooter must write on what the shooting sports mean to them and why they deserve to be on the World Record Team. While there is no doubt that David Miller could have recruited a team of superb adult shotgun shooters to help him with this event, he didn't do that, instead he chose to include young shooters on this team. This is a big win for the shooting sports world by bringing new faces into the mold.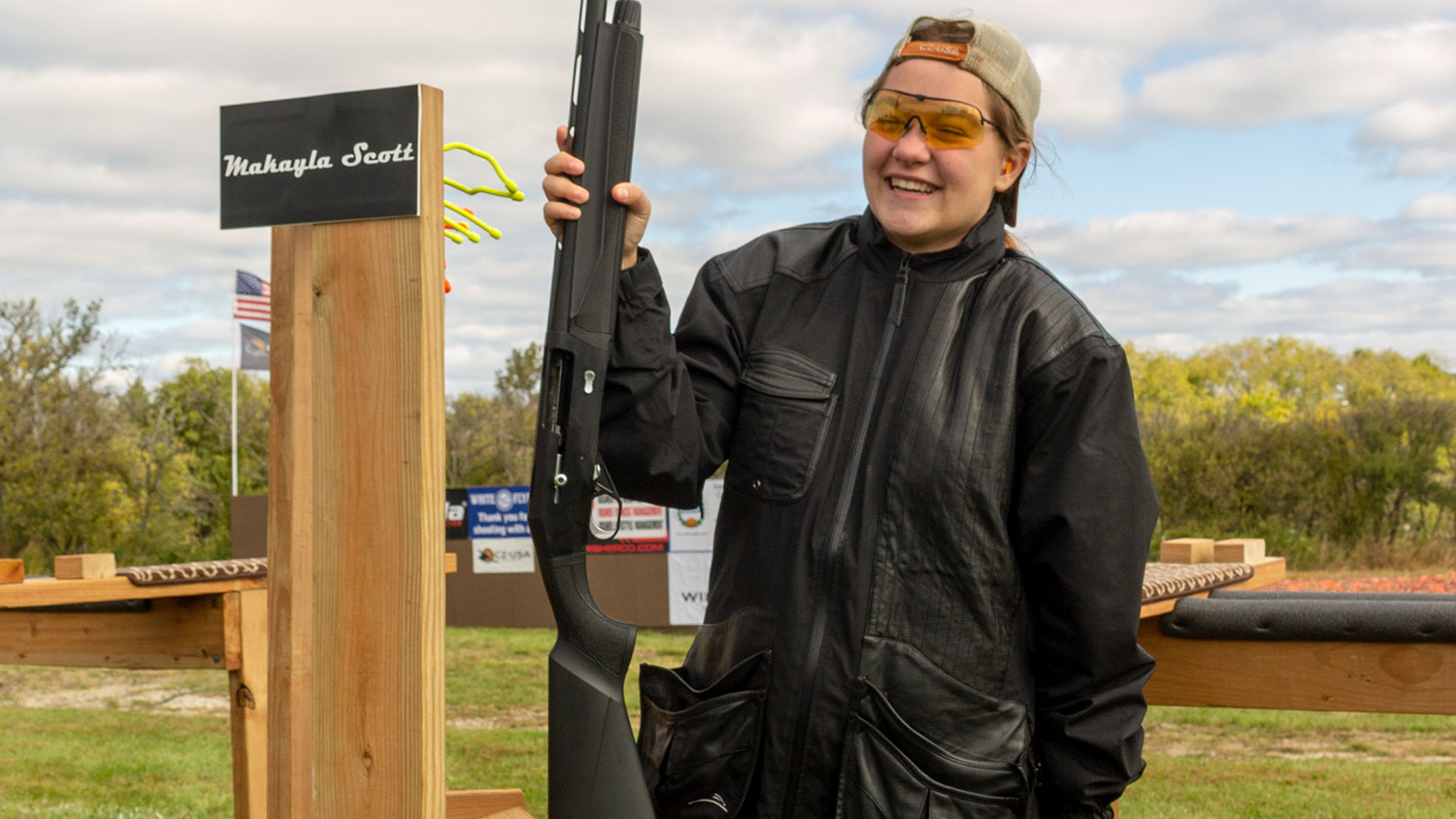 After all the scores had been tallied and all the essays reviewed, four shooters made the grade to join David Miller on the firing line—Levi Henrichs (Sibley, Iowa), Jessica Strasser (Waterford, Wisconsin), Weston Zolck (Herman, Nebraska) and Makayla Scott (White Sulphur Springs, West Virginia).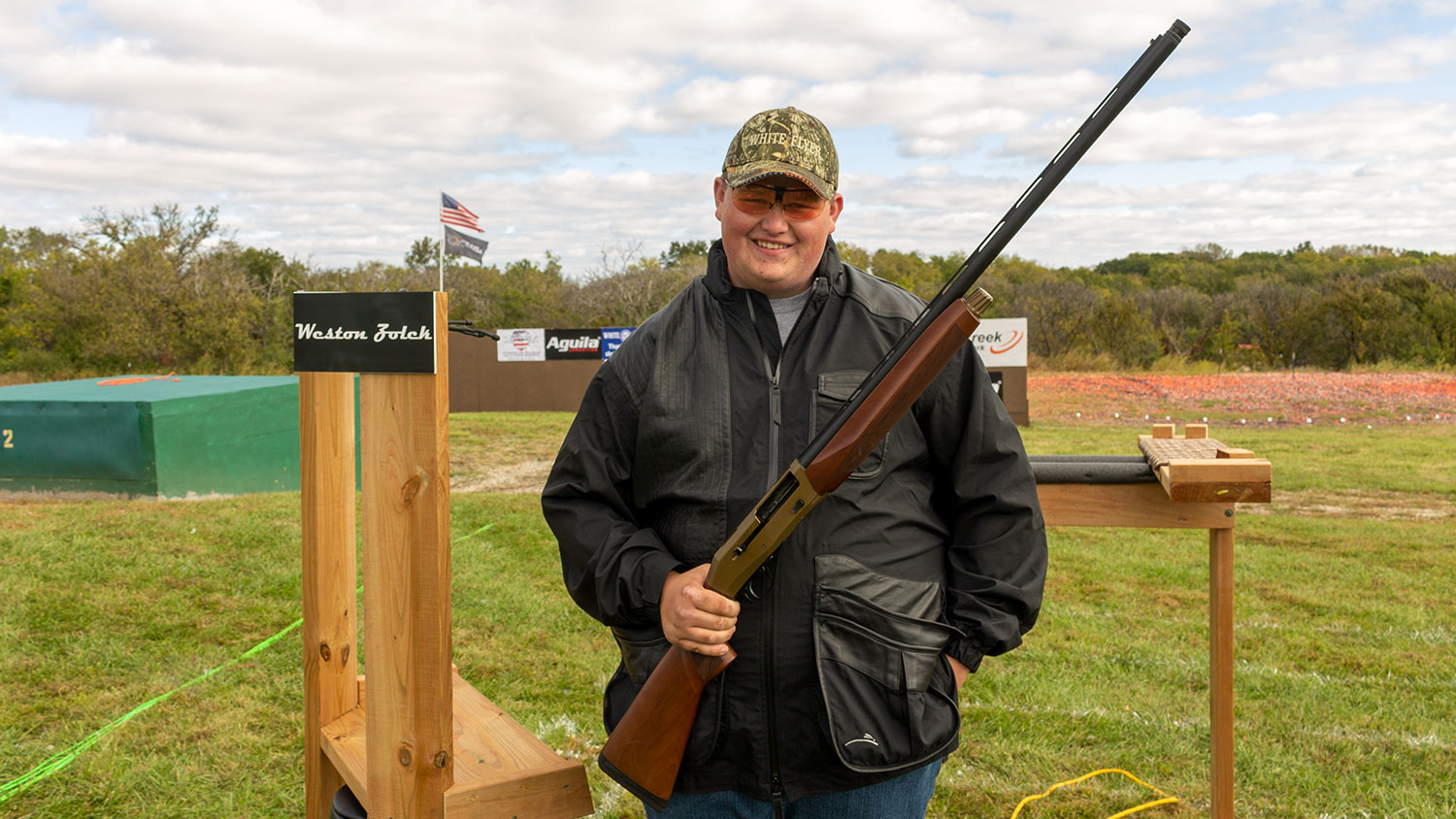 "CZ-USA is once again very excited to provide opportunities to the youth shooting community," Miller said. "Our goal with this event is to provide a new experience for those young shooters who want to test their skills at the highest level. By supporting the SCTP and AIM shooting programs, we are helping with the development of our youth."
Miller and the four young shooters for this event used the new CZ-USA 1012 shotgun. The 1012 uses the energy of recoil to eject the spent shell and load the next round. CZ-USA put the 1012 through the wringer firing over 5,000 rounds without cleaning or any lubricant. It should be noted that the 1012 semi-automatics did not have extended magazines installed for this event, stock guns were used which hold five rounds of ammo, and so frequent loading was part of the equation for the shooters.


At exactly 10:12 a.m. on the morning of Saturday, October 12, shooter Weston Zolck called "Pull!" for the first pair of targets and the team of five intrepid shooters were on their way to making history. When it was his or her turn each shooter would be presented with a double of Chandelle clays, at the report of the second shot another set of doubles sprang into the air. Boom boom, boom boom, except for a series of short breaks. They would do this for the next 12 hours.
Several times I stood and watched and couldn't decide if I was watching a thing of beauty and pure art, or was it a spectacle of grit and determination? Maybe both? I'm still not sure. 
By the numbers
What did this band of shooters actually do on that chilly day in Kansas? Here are some numbers for you:
20,425 Aguila shotguns shells fired. I'm told there were at least 30,000 rounds available for the event.
17,250 White Flyer targets thrown from MEC clay target throwers.
14,167 targets broken by the team.
82 percent of the targets thrown were broken.
9 was the total number of shotguns used (Amazingly, Weston Zolck used the same CZ 1012 the entire 12 hours. The other shooters only switched to another gun once.)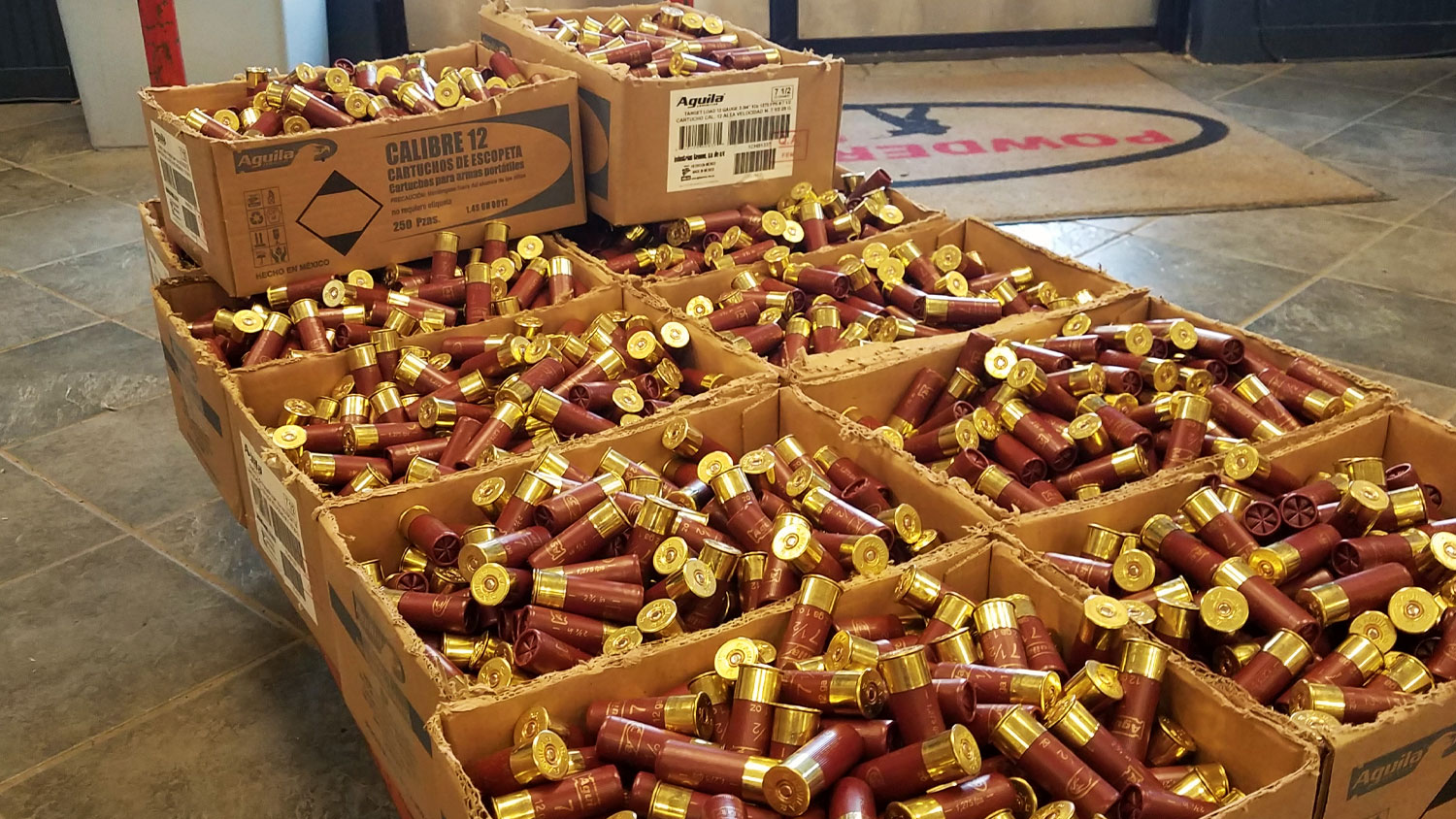 I was grateful and proud to be at this event, the setting of a new bar in the Guinness Book of World Records. I saw young shooters who are now rock stars in the shotgun world, led by a man I believe has no equal in innovation and dogged determination to promote the shooting sports and bring new shooters into the fold. I watched five shooters go for hours with amazing accuracy and the consistency of a well-oiled machine. I saw taped-up fingers on weary shooters who were so pumped at the end of their quest, they refused to recognize their fatigue. I saw tears of joy and admiration from family members and others in the crowd when the final horn blew and they knew they had done it. I saw the future of shotgun sports ensured in those four amazing young people—and the intrepid man who led them.
Remember this number: 14,167. It will be around for a long time.
---
See more:
World Records And The CZ-USA 712 Target