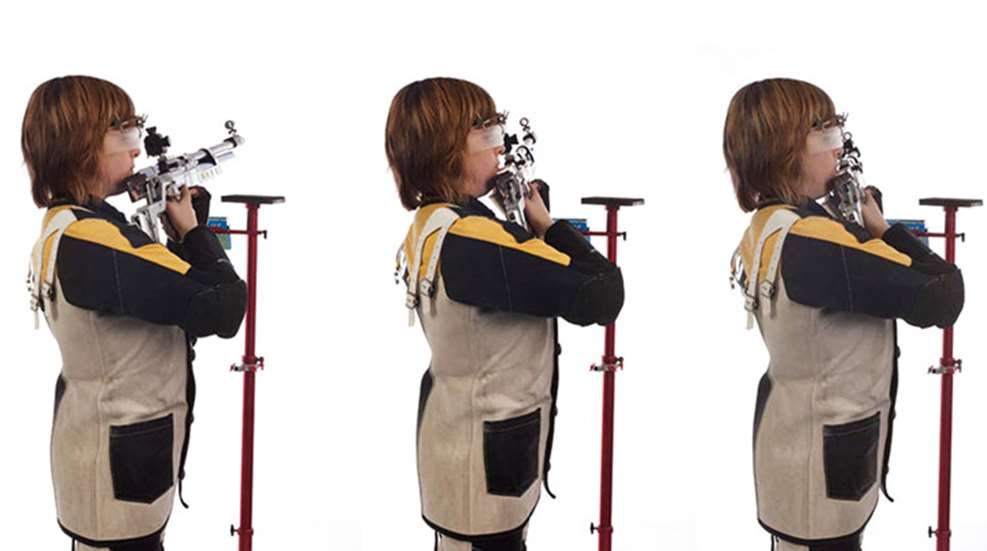 Here are several tips for improving your standing position scores. Many of these hints can also be used in other shooting positions.
Position Review
The first step in improving any position is to go back to what you did when you first learned it. Be sure you are still following that model. To do this, have your coach or another person compare your standing position with the ideal position illustrated in this article.
In standing, the most important position features to check are:
The back bend and twist.
Keeping both legs straight.
Keeping the weight balanced on both legs.
Keeping the left (for left-handed, right) relaxed on the side as it supports the rifle.
Having a fairly erect head position.

If you don't have anyone handy to compare your position position, you can take video of yourself and review it, or look at your position in front of a full-length mirror. Another popular method is to have a fellow shooter take video of you so they can critique as you build the position and review the footage together.
Hold Control
Though correct position is important, what is going on inside your mind and body while you shoot is even more important. This is sometimes called your inner position. When you are trying to fire a shot, you should be thinking about holding the rifle as steady as you possibly can.
Try to feel the inside of your body relax and quietly work to keep you body and rifle still. When you shoot, concentrate on holding the rifle as steady as you can. You may be surprised to find that when you think about holding the rifle steadier, you actually will hold the rifle steadier.
Trigger Control Improvement
The best way to improve your trigger control is to concentrate on hold control and let your finger pull the trigger automatically while you are holding steady. The most important thing about good trigger control is to think about holding steady instead of thinking about pulling the trigger.
Head and Hand Position
A problem sometimes found in standing is that the head must be tipped down too low to see through the sights or the rifle seems to settle above or below the target. In these cases, the head and left hand positions must be corrected. Do this by checking the placement of the buttstock in your shoulder to be sure it is high enough to give you a good head position. After you have the proper head position, try different left hand positions until you find the one that lets you point the rifle at the target naturally without changing your back bend.
Calling the Shot
During follow-through, you must form an image in your mind of what your sight picture looked like at the instant you fired the shot, just like a camera taking a picture. Was your sight picture good? How far from the center of the target were your sights pointed? In what direction were they pointed? Forming this mental picture is referred to as calling the shot. Learning to call your shots accurately will help you check on how well you are shooting. If your shots are not usually where you call them, this is a sign that your sights need further adjustment or that you are making errors in the fundamentals of firing the shot.
Extra Practice
Nothing will improve your shooting faster than extra practice. This is true for any shooting position, but it is especially true in standing. Shoot an extra target or two each time you go to the range. If you have your own rifle, do some holding practice or dry-firing at home for 15 to 20 minutes each day. This will quickly pay off in improved scores.
---
See more:
3-Position By The Numbers