After years of helping others get involved, I will tell you straight up that it's best to go with a Match Rifle if your main interest is in seeing just how well you can do. There are awards and accolades reserved for Service Rifle shooters, but, score and progress advancement heavily favor the Match Rifle, despite rule changes that have made Service Rifle an easier game to shoot well.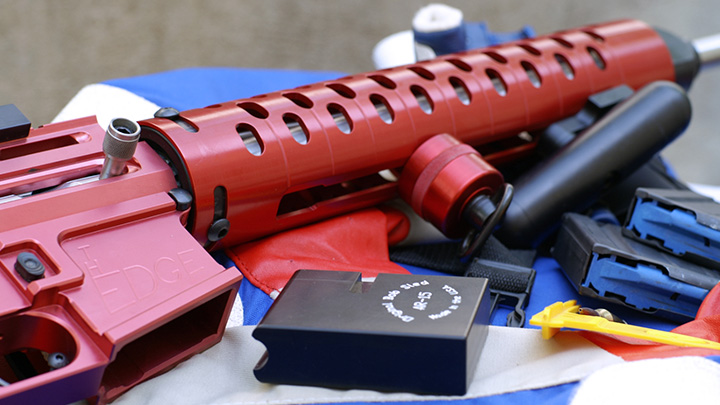 Why Match Rifle?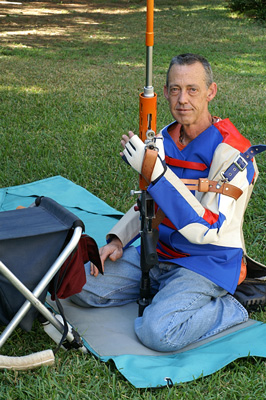 In a nutshell, Service Rifle is all about conformity, while Match Rifle is all about customization and options.
The level of customization you get with a Match Rifle depends on how much you are willing to spend, but what you can get is virtually unlimited adjustability and compatibility. You make the rifle conform to you, not the other way around. Match Rifle custom-fit potential rivals that of the holy grail of adjustable competitive shooting arms—the ISSF Free Rifle.
With a Match Rifle you can get all the obstacles to attaining your best position out of the way and focus only on shooting your best. If you're holding the gun and find you're having to move your head around to get the sight on target, you can get your wrench out and fix it. You can get the sight view you want, change the cheekpiece height, buttstock length, angle and position, or even use a weight to rebalance the rifle. Prefer to hold the rifle with a cant? Install a level reference and crank it over, and adjust the sight mounting angle to accommodate. Trigger pull can be as light as function and personal preference dictates. Have a grip that fits you, find a better sling, add an adjustable handstop to tune supporting hand position—the list goes on.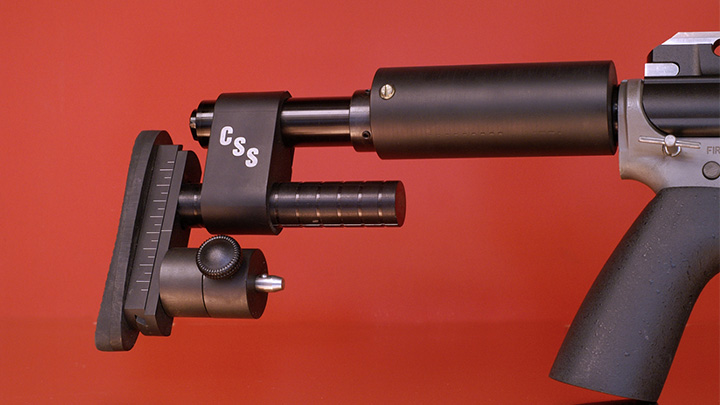 There used to be a wider gap between Match and Service, and a big part of that was the sights. It still is, and once again conformity creates limitation. Service Rifle is limited to a 4.5x optic, however there are no limits for match rifles.
Choices and Recommendations
If you're looking for a match rifle there are two main avenues: AR-15-based or a bolt-action. The AR is the easier fork in the road to follow.
To get the most from a bolt-action, it really needs to be custom built. There's nothing ready-made on the market I suggest starting with, at least not out-of-the-box. To create a match-winning bolt-gun, it will cost you far less money in the long run to start with an action sent to your chosen builder. Right now, I will also say that action should be based on a Remington 700, and that's because of the greater availability of worthwhile additions such as triggers and "chassis" platforms, and also because it's well-understood by builders (and because they can shoot really well).


What do you get with a bolt-action? There are a few "givens" I can make blanket statements. One is that there will be more flexibility in ammunition structure and cartridge choice. Another is that the locktime (time from trigger break to ignition) will be faster. That is a help to better shooting, especially in the standing position. The main difference is that the bolt-action gun is likely to outshoot the semi-automatic—smaller groups. It's true that an AR-15 can shoot well, but it's also true that a bolt-gun can shoot better. My experience having had the better examples of each is that it's about a quarter-minute of angle difference, maybe a little more. And, the learning curve might be steeper because you have to learn to run the bolt in rapid-fire events.
Since it's now very well known and understood, an AR-based rifle is much easier. Another check mark in the plus column comes from the numerous good aftermarket parts available. Plus, because of its modular nature you can even do at least some of the mods yourself. A big advantage to that is easier customization without as much of an impact on your wallet. Start with a "basic" Match Rifle and add a better stock, adjustable gas system and a myriad of helpful doo-dads as your needs and available funds allow.

Regardless of the rifle base, I recommend spending the most money on the barrel.
Regarding cartridge choice, for the AR-based platform, the least problematic option is plain old .223 Rem. It's not that bad—Service Rifle shooters routinely garner clean scores with ARs. However, better performance downrange will come with an alternative chambering. That often leads to an unintentional focus on handloading, so be forewarned. If you run with a cartridge other than .223 Rem., seek one out that has factoryavailable brass and dies, like 6.5 Grendel.
As for a bolt-action gun, 6.5 Creedmoor is very good, as is the 6mm and 6XC variants. By the way, if you choose a large-chassis AR (SR-25, AR-10, etc.), be aware that you're getting into more complexity and the reward may not be as great as you might think. This is not the article to explain all that, but practical advice is to work with a builder with significant experience dealing with the "big guns."
Interested in learning more about NRA High Power Rifle competition? Check out Glen Zediker's books at Zediker.com.
---
See more:
Service Rifle: Advanced Offhand Technique With Dan Lowe