At the conclusion of the 2018 ISSF (International Shooting Sport Federation) World Championship in Changwon, South Korea, Team USA's star shotgun shooter Vincent Hancock won his fourth overall victory in Men's Skeet. A two-time Olympic gold medalist, Hancock also earned the U.S. an Olympic quota spot for the upcoming Tokyo 2020 Olympics.

Here's the most impressive part: Hancock is now the first-ever 4-time Men's Skeet World Champion; eclipsing Abdullah Alrashidi (Kuwait) and Jury Tsuranov (former Soviet Union).

"This has been an amazing match," said Hancock. "I was able to accomplish my goal, which was to come out here and do the best I could."

Now, Hancock is one of only three men in the world to win four World Championships in any shotgun discipline. The other two are Michel Carrega (France) and Giovanni Pellielo (Italy).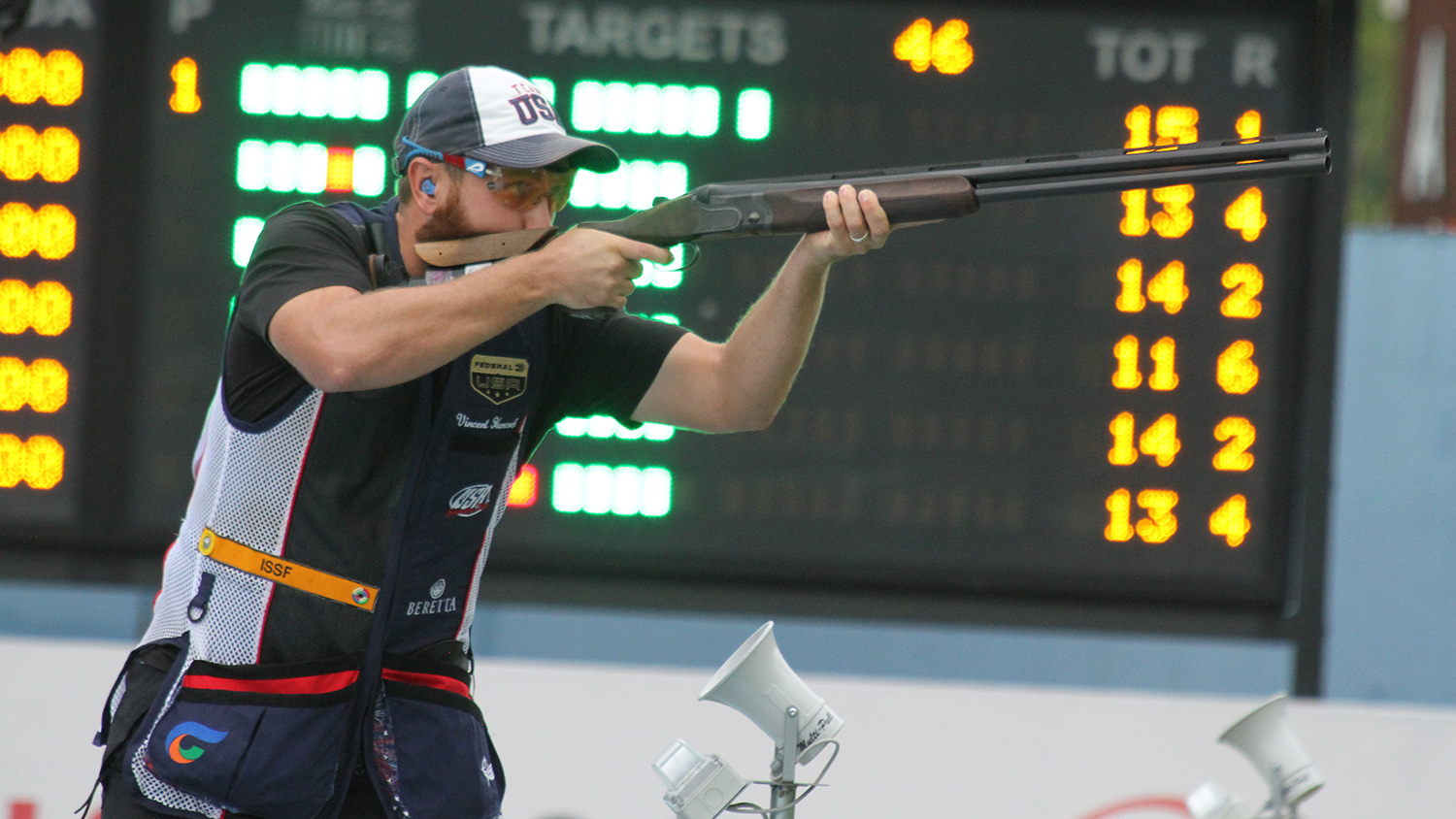 Hancock's performance was by all measures, outstanding. Despite rain and foul weather that marred qualification the first two days, Hancock turned in a perfect 125 score—which matched the world record score for qualification. During the Final, he had his sole miss, dropping the eighth target. This was the third time this year Hancock finished a final with 59/60 targets.

"It was kind of nerve-wracking at first, but I recognized what was going on," said Hancock, also mentioning the high house was moving in and out, as well as up and down.

The rain did not seem to cause Hancock too much trouble. Precipitation is hardly ideal match conditions, but he noted that all he really needs for success is a view of the clay bird.

"Shooting in the rain is not fun, in any conditions," Hancock said in an interview with USA Shooting, adding, "When it's not blowing in your face and getting on your glasses, it makes it a lot easier to see the targets. If I can see the target, I can break it, so with the low clouds and the mountain in the background, the targets are surprisingly bright."

There were 1806 athletes from 91 countries competing in several events across five disciplines at the championship. Team USA finished ninth in the medal count with 19 total, additionally earning four Olympic quota slots. This shows the progress they've made since 2014, when Team USA won 17 medals and two Olympic quotas.

We are inching closer to Tokyo 2020 every day, with the 2019 ISSF World Cup Series kicking off next February in New Delhi, India. Stay tuned to SSUSA for the latest international competition updates.

What are Olympic quotas?
There were 60 Tokyo 2020 Olympic quota slots awarded at the 2018 ISSF World Championship, including the new Mixed Team events recently added to the Tokyo 2020 Olympic Games Program. In essence, quotas present the qualification path for athletes that want to represent their countries by competing on the biggest stage there is—the Olympics. This year, four quotas were distributed for each of the 15 Olympic events in pistol, rifle and shotgun shooting.

Quotas sound straightforward enough, but there is a caveat: Olympic quota slots are awarded to the country an athlete is representing, not the individual athlete. Each country selects their Olympic athletes individually.

Our friends at USA Shooting explain it best:

A quota is essentially a country's ticket to participate in a specific event in the 2020 Olympic Games in Tokyo, Japan. In shooting competition at the Olympic Games, a country can earn up to two quotas in each event—but that doesn't guarantee a specific athlete to compete in the Games, just that his/her country has a spot to do so.

Each athlete can win only one quota spot. The only exception is if an athlete wins a quota in a Mixed Team event, in that case, the shooter would be eligible to earn quota slots in any Individual events they compete in.

Learn more by browsing the ISSF rules website at https://www.issf-sports.org/theissf/rules/amendments_interpretation.ashx

Photos by USA Shooting