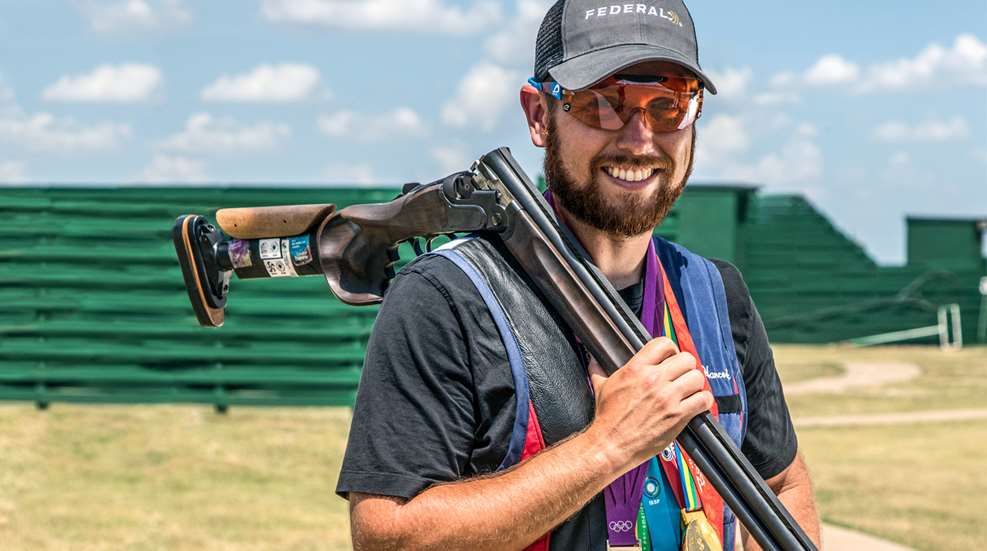 At the conclusion of the 52nd ISSF (International Shooting Sport Federation) World Championship this past September in Changwon, South Korea, Team USA's star shotgun shooter Vincent Hancock received his fourth Men's Skeet gold medal for the year. Hancock also earned the U.S. an Olympic quota spot for the upcoming 2020 Olympics in Tokyo.

After competing at his third Olympic Games in Rio two years ago, where he was unable to win a third straight Olympic gold in Men's Skeet, Hancock placed fifth at the World Cup Final in October 2016. He subsequently made the decision to take the 2017 season off. It certainly was a wise one.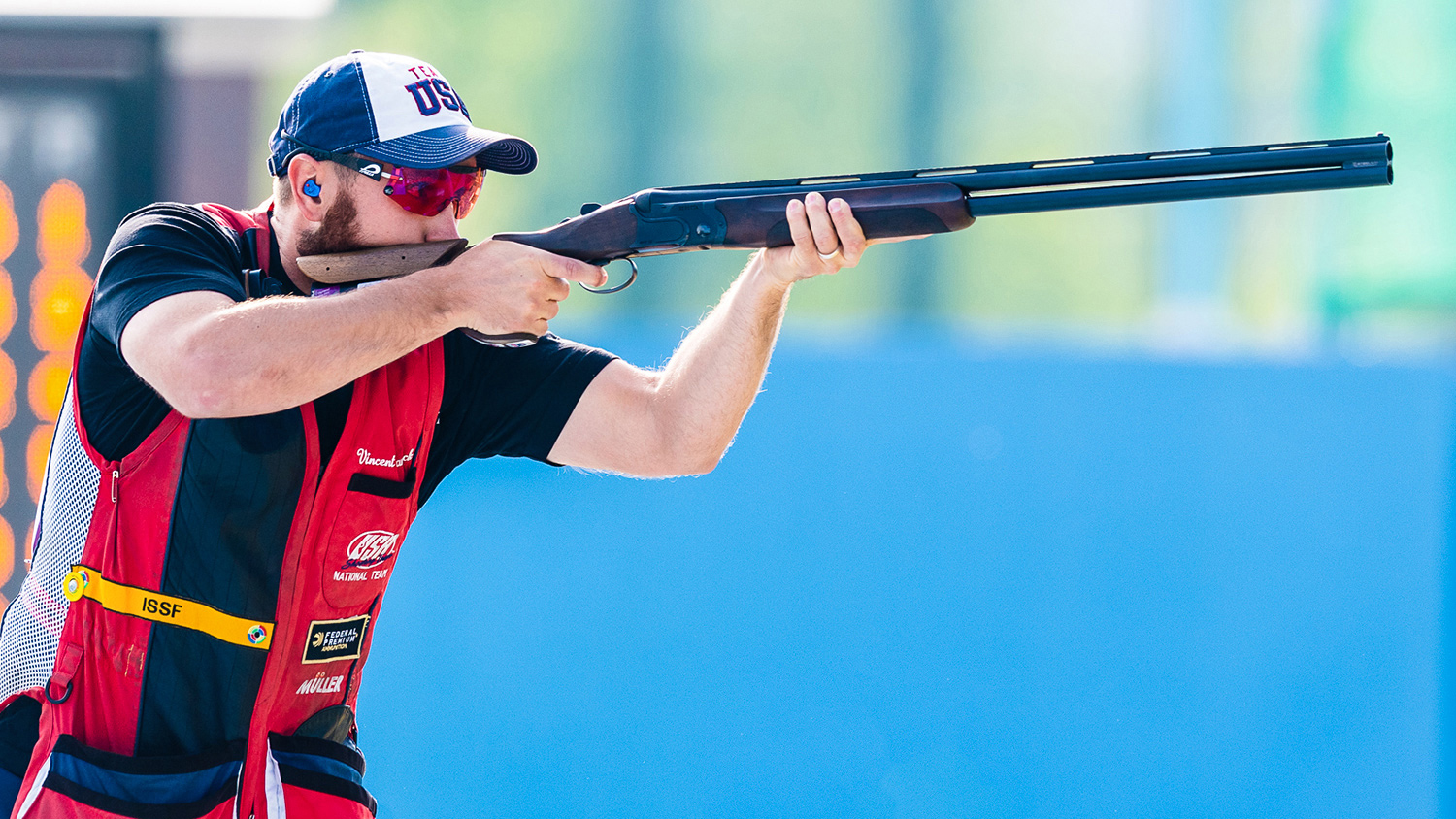 Triumphantly returning to competition earlier this year, the 29-year-old father of two from Forth Worth, TX, was already the first U.S. shotgun shooter to win three world championship titles, and also a two-time Olympic gold medalist. Now heading into 2019, Hancock is the first-ever 4-time Men's Skeet World Champion—eclipsing Abdullah Alrashidi (Kuwait) and Jury Tsuranov (former Soviet Union).

The skeet expert is one of only three men in the world that's won four World Championships in any of the various shotgun disciplines. The other two are Michel Carrega (France) and Giovanni Pellielo (Italy).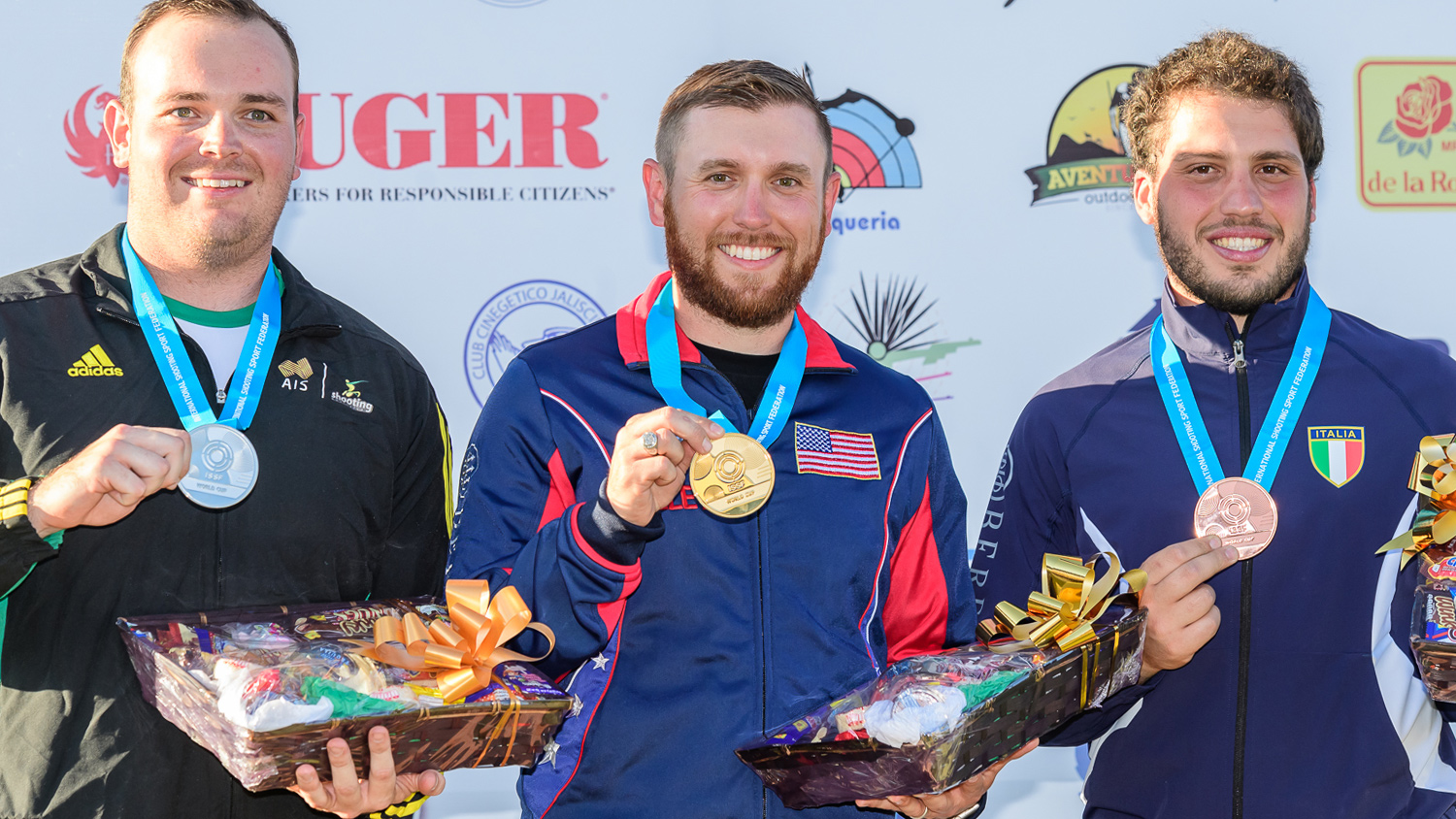 Hancock succinctly answered questions about his feelings and thoughts after winning the 2018 ISSF World Championship in Korea.

"This has been an amazing match," said Hancock. "I was able to accomplish my goal, which was to come out here and do the best I could."

ISSF World Champion
Hancock's performance in Korea was by all measures, outstanding. Despite monsoon-like rain and foul weather that marred qualification shooting for the first two days, Hancock turned in a perfect 125 score—which matched the world record score for qualification. During the final, he had his sole miss, dropping the eighth target. This was the third time this year Hancock finished a final dropping only one target.

"It was kind of nerve-wracking at first, but I recognized what was going on," said Hancock, also mentioning the high house was moving in and out, as well as up and down.

Although four world championships and four gold medals this year are impressive, the Olympic quota Hancock earned for Team USA is what matters the most.

"The whole goal was to make sure that I got a quota first and foreost," Hancock said. "But at the same time, I just told myself that if I can hit every target, I'll be able to get the quota and win a gold medal. So, I was just focusing on trying to do as best I could, and kind of let God take care of the rest."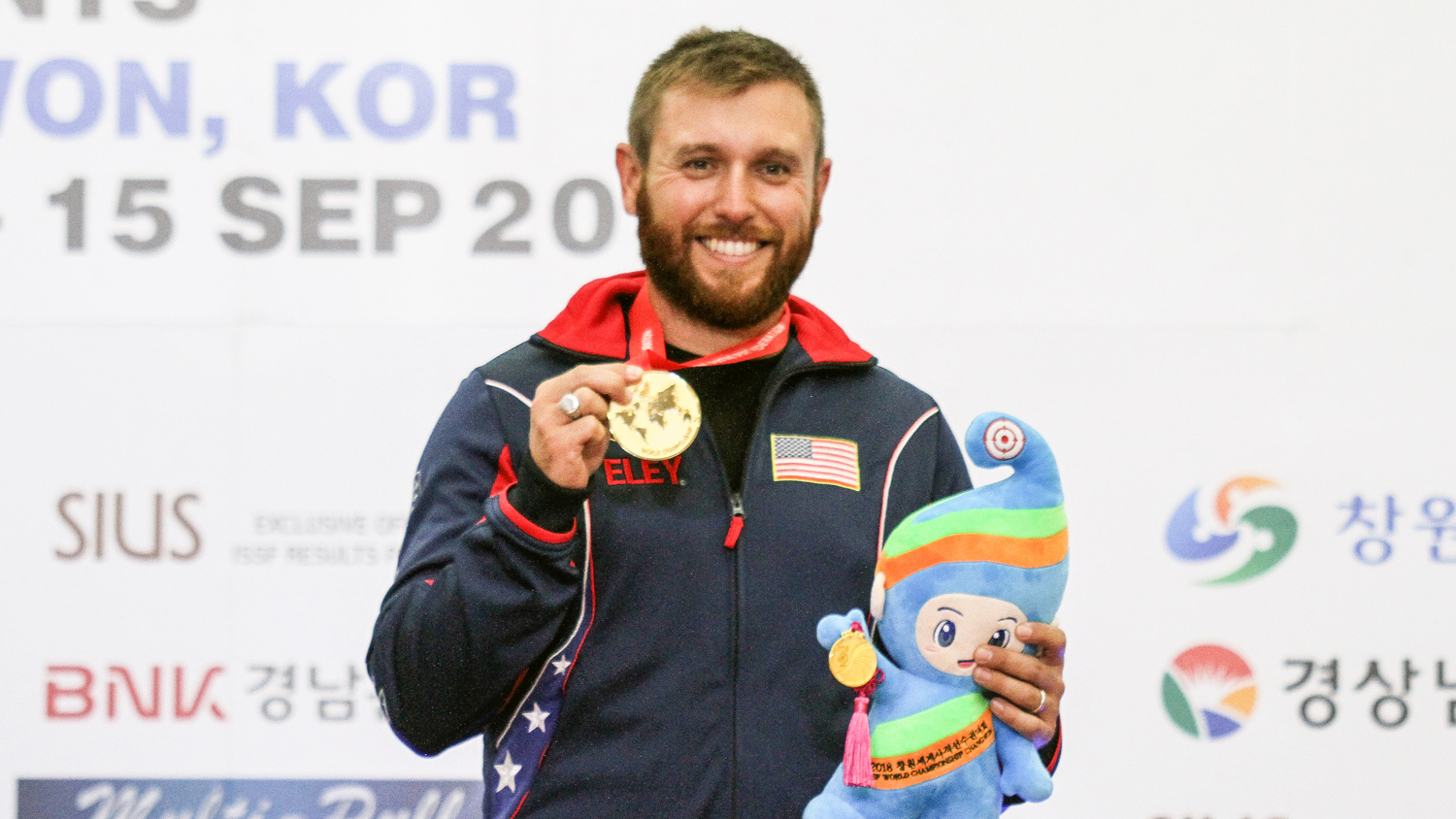 The rainy conditions in Korea did not seem to cause Hancock too much trouble. Precipitation is hardly ideal match conditions, but he noted that all he really needs for success is a view of the clay bird.

"Shooting in the rain is not fun, in any conditions," Hancock said. "But, when it's not blowing in your face and getting on your glasses, it makes it a lot easier to see the targets. If I can see the target, I can break it, so with the low clouds and the mountain in the background, the targets are surprisingly bright."

That last sentence was surprising to me. Apparently, some rain and cloud cover can sometimes help clay bird shooters. I asked Hancock to explain this.

"In Korea, the rain was mostly coming from behind us," said Hancock. "We were shooting into a mountain with a lot of green trees. With clear skies, the targets looked kind of erratic and blended into the mountain. Since it was a low, dark cloud cover, it actually made the visibility 10 times better than it would have been without it."

Keeping Focused
Vincent Hancock is certainly a winner, but thoughts of winning more medals do not consume his mind.

"Making sure I'm having fun and doing everything the right way, that's how I compete now," said Hancock.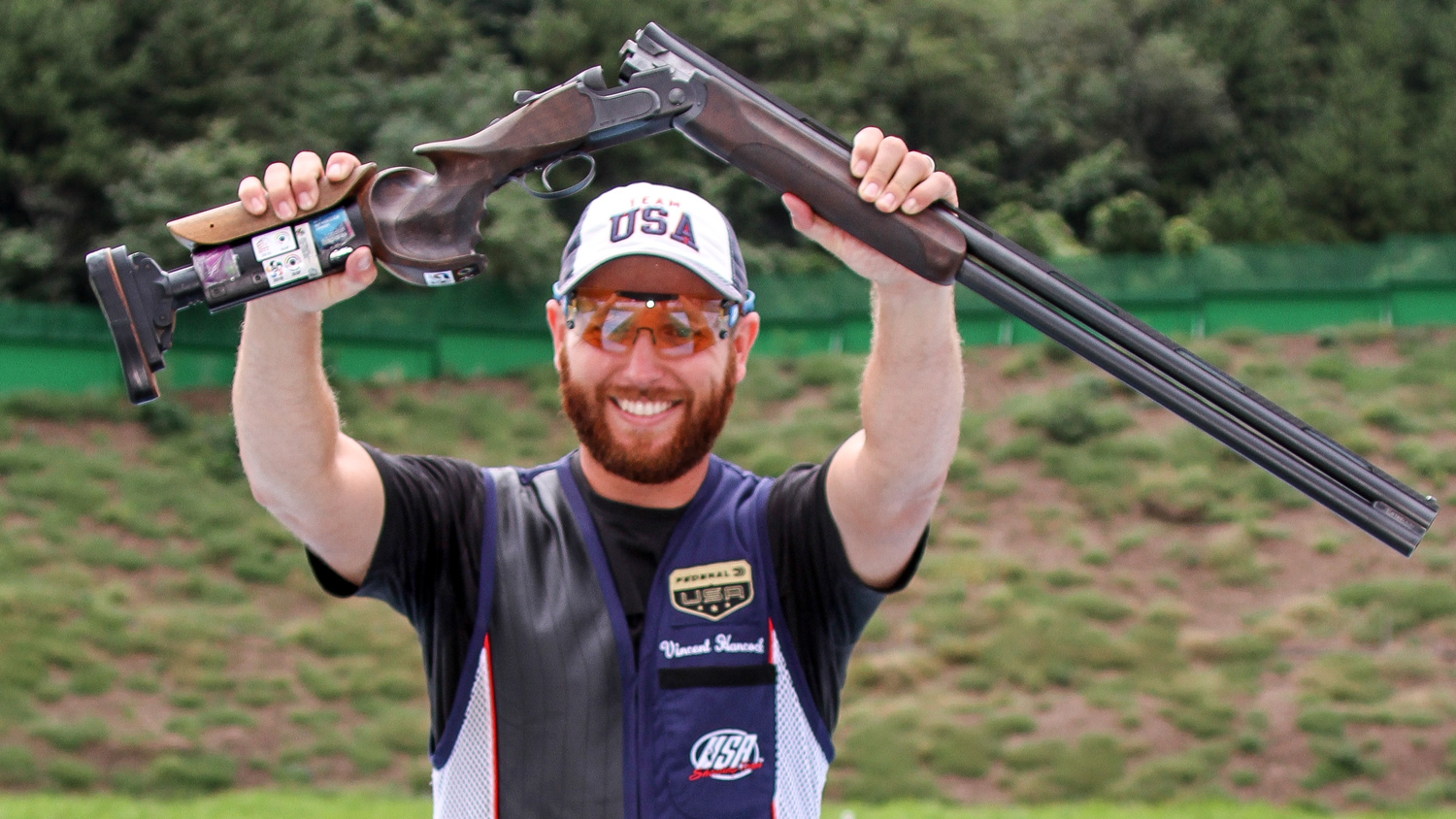 Hancock also mentioned there's a different energy at ISSF events, mostly due to the additional number of athletes competing. More on that later.

Coaching
Not only does Hancock shoot, he also coaches. One of his athletes, Austen Smith, did very well at the 2018 ISSF World Championship, winning a bronze medal in Junior Women's Skeet.

Seventeen-year old Smith, who already won a silver medal in Moscow back in 2017, earned her bronze in Korea just before her coach won his Men's Skeet World Championship. Talk about a pair.

"I was really happy for her," Hancock said. "I tried to watch her match, but then I started becoming very nervous—I had to walk away, [so I could] concentrate and prepare for my match."

As a coach, Hancock is quick to emphasize that it's the athlete themselves—not the coach—that's responsible for successful shooting.

"Coaches can help, and I like to think I've helped Austen a little bit, but she's the athlete and she earned her bronze medal," said Hancock. "She's an awesome shooter, it's nice to see all her hard work come to fruition."

Coming Up
Hancock's next big event is the 2019 USA Shooting Spring Selection Match in Tucson, AZ, in March. This match will decide the team for the last two ISSF World Cups for the year, as well as the Pan American Games.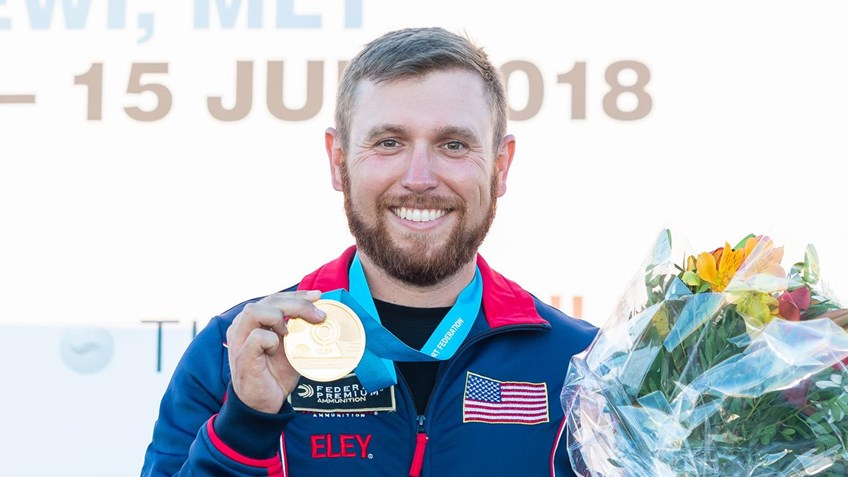 Hancock says the Pan Am Games realistically capture the Olympic spirit—with the same number of people and essentially the "same everything," only in a different location.

"The Pan American Games are basically a mini-Olympics. You can emulate the feeling of the Olympics with the opening ceremonies, athlete village and all 600-plus athletes of Team USA," said Hancock. "You get that experience, and it gets you amped up for the next year."

The 2019 ISSF World Cup Series kicks off next February in New Delhi, India. Next year, USA Shooting will also begin the Olympic selection process during the aforementioned Selection Matches. We'll know which shooters have made the Olympic shooting team by Spring 2020.

All photos courtesy USA Shooting