Two-time Olympic gold medalist
Vincent Hancock
did not disappoint at the 2019 ISSF World Cup in Changwon, South Korea, with a gold medal-winning performance for the ages. This is his second World Cup win of 2019, after a
perfect performance
this past March in Acapulco, Mexico.
This is the second gold medal for Team USA in Korea after Kim Rhode secured the top spot in Women's Skeet with a
historic performance
.
During qualification, Hancock went 123 for 125, tying teammate Sgt. Christian Elliott of the U.S. Army Marksmanship Unit's score, subsequently facing him in a thrilling shoot-off. Hancock triumphed over Elliott in the shoot-off (10-9) to secure the top spot in the final.
Once the final began, it was all Hancock, connecting 57 times out of 60 total targets to win the gold medal. Elliott, in his first open final at age 21, finished with 53 targets for the silver medal. 
Mansour Al Rashedi (Kuwait) won the bronze, unable to repeat the gold-medal performance he previously had last month in Al Ain.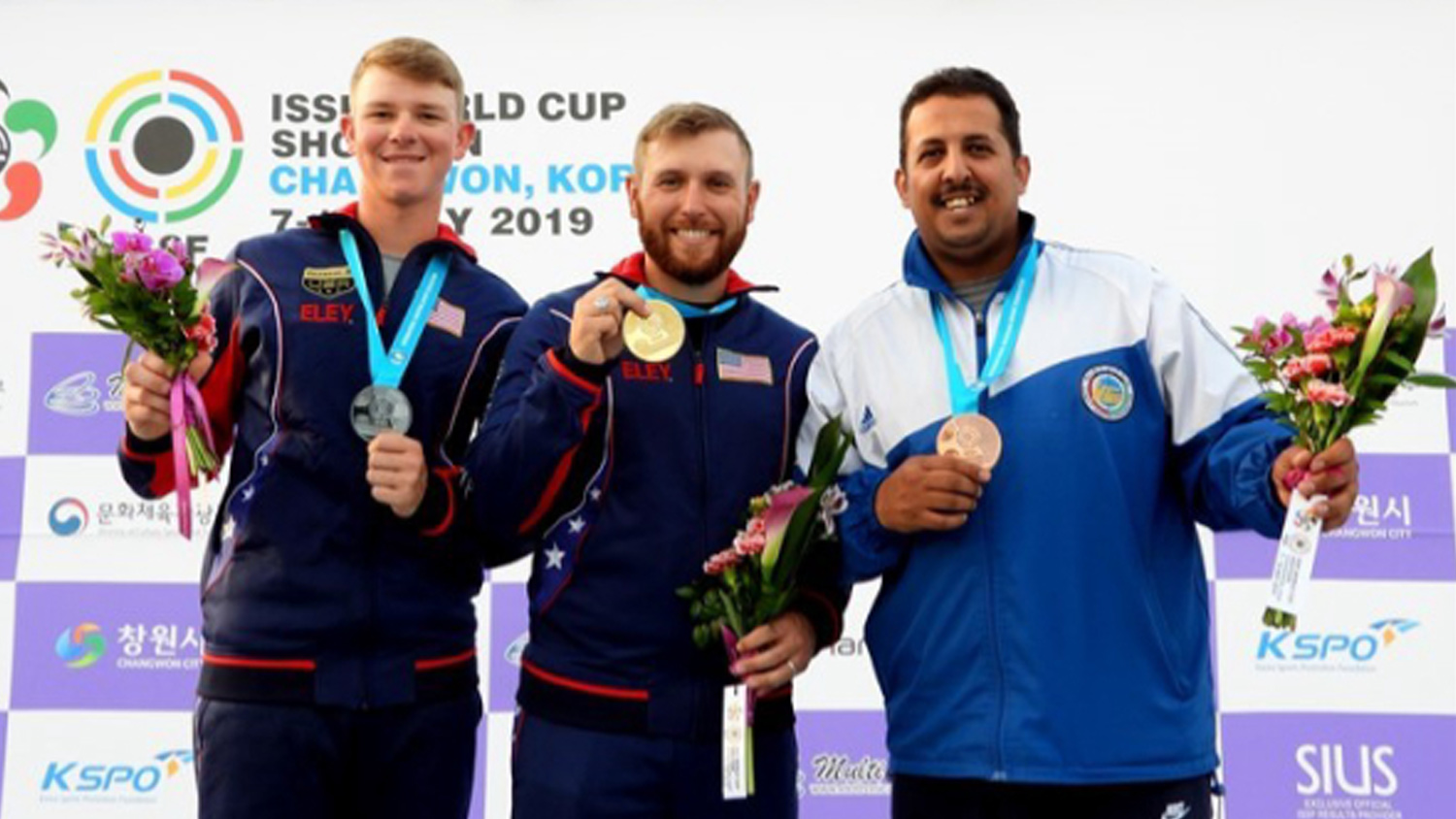 The 30-year-old Hancock, who won the 2018 World Championship at the same venue in Korea, now has 12 overall World Cup titles. Additionally, he has five consecutive ISSF World Cup wins and sixth straight international victories.
"Thank you God for the opportunity to do what I love," Hancock said via his Instagram page. "Thank you to my wife and little girls at home that put up with me being gone so much and thank you to my sponsors that help make this dream a reality. I couldn't do it without any of you!"

Hancock shoots a Beretta DT11

 

Skeet Black Edition shotgun.

USA Dominates International Skeet Circuit

Since the 2016 Rio Olympics, Team USA has been on a roll in skeet shooting. According to USA Shooting:

To fully recognize Team USA's recent skeet dominance including three medals in Changwon, you only have to look at the impressive stats since Rio 2016 and the 15 international events in which the U.S. Team has competed. In those events, the U.S. Skeet team has achieved 41 medals, 26 coming at World Cups including (World Cup Finals and Jr. World Cup events) and 15 coming at the two World Championships (including Junior and Team events). U.S. Women have earned 27 of those medals overall, and let's not forget that Hancock sat out the 2017 season altogether.

Interested in online firearms training from shooters like Vincent Hancock? He is one of the instructors featured on the new OnVirtus training website. Read our article about OnVirtus.com.


Lead photo by USA Shooting.