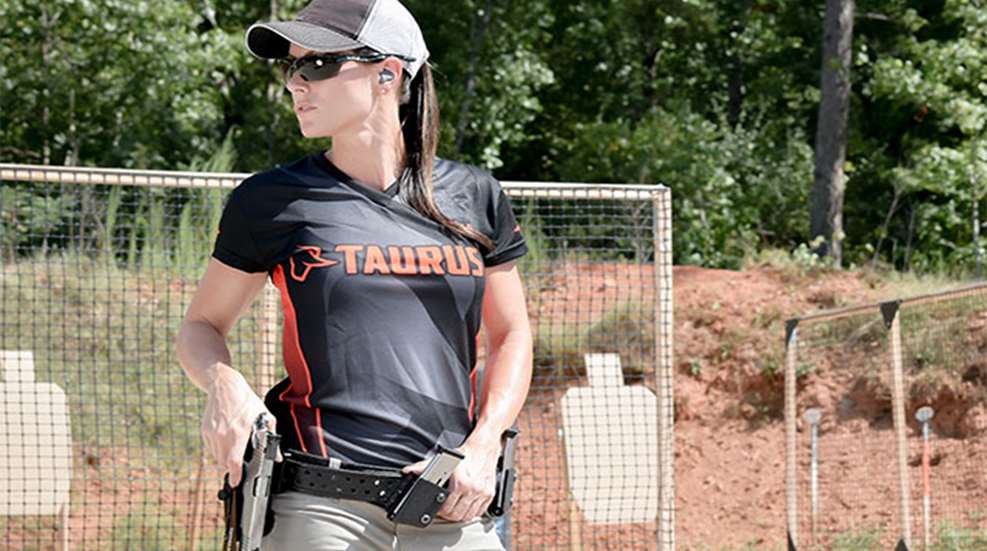 The first female shooter to achieve Grand Master status with the U.S. Practical Shooting Association (USPSA), Jessie Harrison boasts an impressive lists of accolades across five shooting disciplines. Backed by a slew of well-known companies to include Taurus, Leupold, Hoppe's and Hornady to name a few, Harrison continues to knock down barriers and encourage young, female athletes to do the same.

Her career as a shooter started where most people learn, plinking at the range around the age of six or seven with her father as her coach. Through her formative years, Harrison sat on the sidelines of competitions watching her parents, who were match directors for the local Cowboy Action Shooting club. Though her parents were immersed in the world, they never pushed her into competition, letting her find her own path to the sport. Harrison officially made the jump into the competitive shooting arena participating in Cowboy Action Shooting at the age of 15. From there, she was hooked on the excitement of competition shooting.

Refusing to settle for just a single discipline, Harrison quickly progressed from Cowboy Action Shooting into USPSA and Steel Challenge, then followed that up with Multi-Gun and the NRA Bianchi Cup. Every discipline Harrison stepped into, she excelled showing that perseverance and dedication breed success. That success showed up in spades last year as Harrison dominated her competition schedule, pulling in more wins than any of her previous years.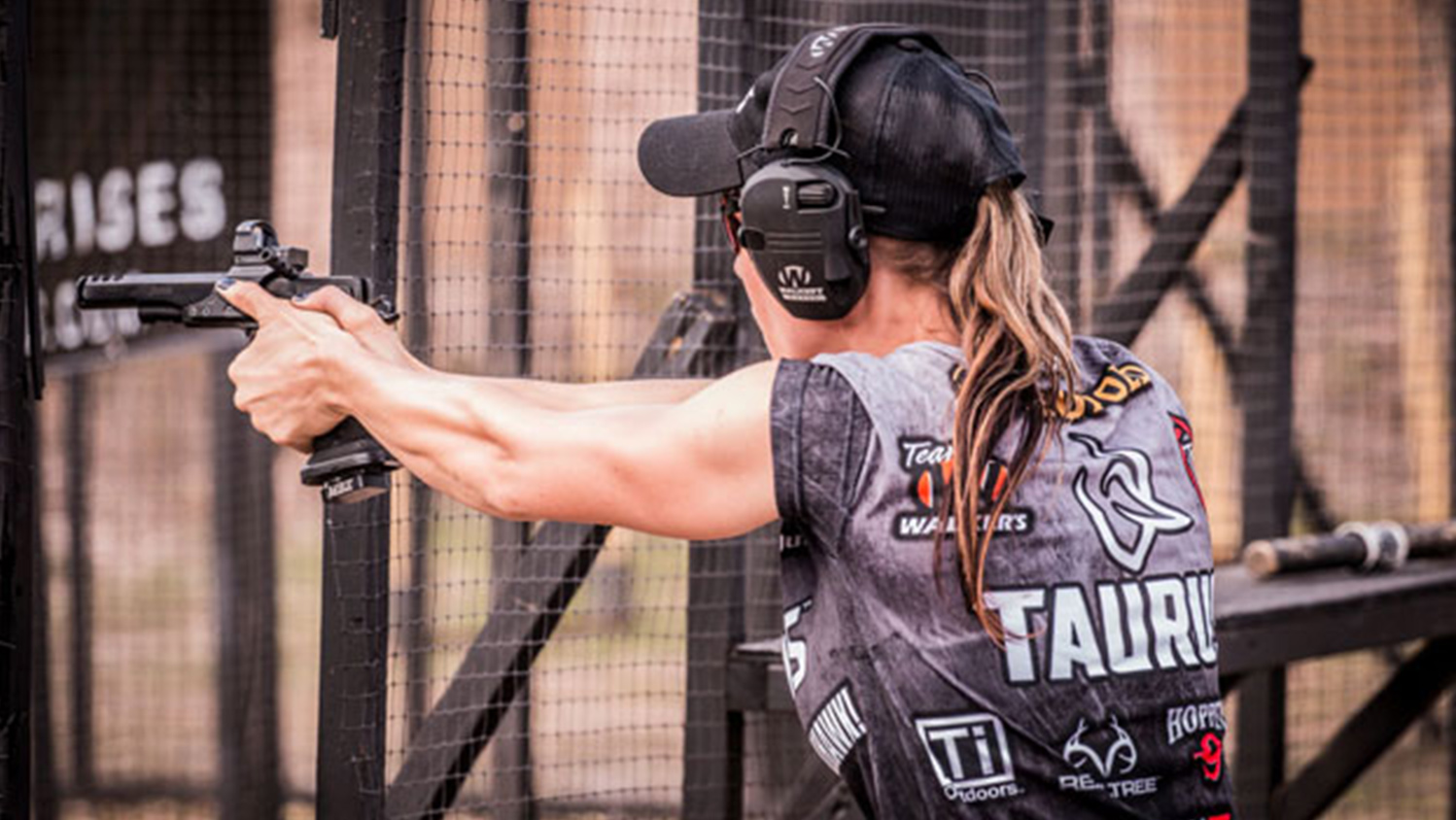 Harrison kicked her spring season into high gear with a win at the World Speed Shooting Championships. Entering the Open, Single Stack, and Rimfire matches she walked away as the High Lady Overall—marking her 10th Ladies Open World Speed Shooting title.

"Each year I look forward to competing at the World Speed Shooting Championships. The challenge that I am faced with from this highly competitive fields drives me to train harder, both mentally and physically," Harrison said in a statement. "I am humbled at the support given to me by my sponsors and fellow shooters. My Taurus 1911 has been very kind to me!"

In addition to tackling her 10th Ladies Open World Speed Shooting title, Harrison also nabbed more accolades at the USPSA Iron Sights Nationals held in Utah last fall. Using a custom-built gun for the Limited Division, she took on a multitude of competitors to turn out yet another win taking home her eighth Ladies Limited National Title.

As impressive as the awards and recognition are, Harrison is quick to point out that these come with a certain amount of sacrifice. That sacrifice comes in the way of time spent away from family and friends as she practices, trains, and travels to competitions and appearances. Harrison says she's fortunate, though, to have the support and love of the people closest to her, allowing her to continue smashing competition after competition.

"Through the continued support of loved ones during preparation and training, I was able to add my 20th USPSA Ladies National Title to the list," Harrison said in a statement after the USPSA Iron Sights Nationals. "I train long and hard but the rewards are worthwhile. I cannot express enough the gratitude I have towards my friends, family and especially my Taurus family who make this all possible."

Despite her dedication to competitive shooting, Harrison does manage a balancing act of her personal and professional life. Aside from her illustrious career knocking down steel she enjoys hobbies outside competition, listing horseback riding, hunting, and conservation efforts among her favorite activities. In addition, Harrison lends her celebrity to support Second Amendment rights, appearing on popular NRA programs as well as Fox News' where she debunks gun myths and advocates for the right to keep and bear arms.

Harrison's 2017 winning roster included: 
USPSA Limited National Championships - Ladies Limited Champion
IPSC World Shoot XVIII - Ladies Open Team Champions
U.S. IPSC National Championships - Ladies Open Champion
Georgia Steel Championships - Ladies Open Champion
USPSA Single Stack National Championships - Ladies Single Stack Champion
Steel Challenge World Championships - Ladies Open Champion
Steel Challenge World Championships - Ladies .22 Open Champion
U.S. Steel National Championships - Ladies Open Champion
U.S. Steel National Championships - .22 Ladies Open Champion
Georgia State Steel Challenge Championships - .22 Open Champion
Georgia State Steel Challenge Championships - Limited Champion

Learn more about Jessie at her website: www.jessieharrison.net