by
posted on September 20, 2016
Support NRA Shooting Sports USA
DONATE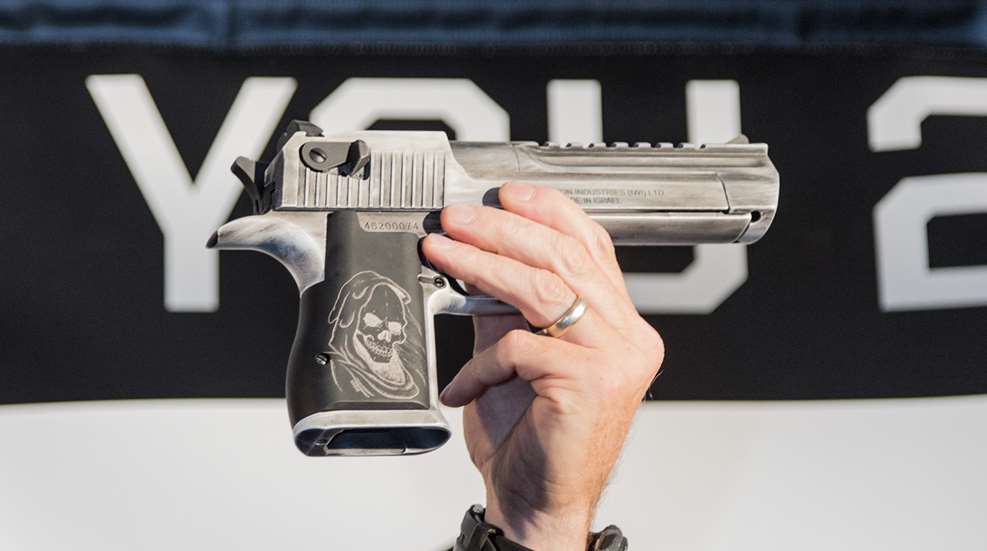 Above: This .44 Magnum Apocalyptic Desert Eagle was donated as a random draw prize by Kahr Firearms Group. Photo by Michael Chisholm.
The folks at Kahr Firearms Group not only ran a popular side match at this year's
NRA World Shooting Championship
, but they also generously donated a
Magnum Research Desert Eagle .44 Mag. pistol
for the awards ceremony (Magnum Research is part of the Kahr Firearms Group). The pistol was given away at the Awards Ceremony by random draw.
Frank Harris, vice president of sales and marketing for Kahr said, "This .44 Magnum Apocalyptic Desert Eagle has a white matte distressed WMD Cerakote finish. This model that we are giving away is special, with aluminum grips adorned with the Grim Reaper that look very cool. It weighs about 5 lbs., holds eight rounds and has a Weaver rail on it."
According to the Magnum Research website, the Apocalyptic Desert Eagle (DE44WMD, MSRP $1895) "[is] for shooting enthusiasts who do not really worry about the apocalypse, [the] new Mark XIX Desert Eagle white matte distressed finish just earns kudos for its 'cool factor.' The Cerakote finish consists of a multi-step process which involves a high temperature ceramic coating that holds up well under normal use."
Kahr Side Match
The Kahr Side Match had competitors begin by running four heavy buckets to a podium. Each bucket had to be placed successively higher on the podium, and when this was complete the shooter had to unlock a safe to get the pistol to begin firing. The stage added difficulty for the competitor as they ran through it
—
using stomp plates that activated targets, and multiple no-shoots.
Kahr had two different pistol models on hand this year at the Side Match, the
CT9 (MSRP-$449)
and the stainless
K9 (MSRP-$880)
.
The CT9 is the largest polymer frame pistol in the Kahr lineup. It has a 4" barrel, holds eight rounds, and the four pistols that the company brought for the competition had Bar-Dot sights. Harris said, "People really liked the Bar-Dot sight after using it one or two times and were used to it."
The stainless K9 has a 3.5" barrel and holds seven rounds. The model that Kahr brought to the match had tritium white dot sights and Hogue grips. 
Check out this video of the Kahr Arms Side Match at last year's NRA World Shooting Championship.
Shawn Barry of Kahr's Pro-Staff has designed this Side Match for the last three years. He said, "This side match is designed to reflect the actual training I have been involved with during my career in law enforcement. I want shooters to be challenged, as well as learn something when they shoot it."