The people in our sport are some of the best people that you will ever meet. I am sure that is something that you have heard and probably have even said before. I have been fortunate that over nearly 20 years of shooting competitions, I have learned that this statement is true. From the local club matches to every major match I have been to, all over the country—I have met some of the finest people anyone could wish to be acquainted with. You have also probably heard the saying, "Give you the shirt off their back" as well. For us, that saying is more like "They will give you their gun out of their range bag." Not just guns, but ammo, mags, belts—you name it, we have borrowed it or loaned it out.
At the end of last year, I went to the inagural Area 2 Steel Challenge Championship. I had been pushing the ADs about getting all areas to host a Steel Challenge match, and while Danny Minter was the interim AD for Area 2 he jumped at the chance to get this on the ground. I headed out to that match with only a Carry Optics handgun and Rimfire rifle. I ended up shooting seven divisions and making it into Club 13. One of the divisions I wasn't planning on shooting was PCCO—I didn't want to fly into or out of LAX with it. Kurt Grimes was the Match Director, and he is one of those guys I was talking about. He and I have met a few times at matches, traded a few emails, etc. He came up to me at the match, "heard you want to shoot PCC—here, try this." When it comes to firearms I am pretty simple in what I like; black works, maybe some hard chrome with a nice blued slide when I am feeling fancy.
What he handed me was a bona fide futuristic-looking work of functional art. Grimes has been into customizing and turning metal into art since the 1970s. As the owner of Grimeez Custom Paint and Airbrush Studio he has been building, customizing and painting trucks, cars, hot rods and bikes in Clovis, CA, for 30-plus years. His custom paint jobs and award-winning custom builds have appeared in several magazines and on the television show Overhaulin. He has taken that same passion, skills and artistic abilities and applied them to race guns. Grimes is a three-division GM in Steel Challenge—in PCCO, Rimfire Pistol and Rifle Open—as well as a Master in Open and Rimfire Rifle Irons. He is also classified in USPSA (A class in Open and Limited), but hasn't shot it very much in the last several years, dedicating his most of his free time to Steel Challenge.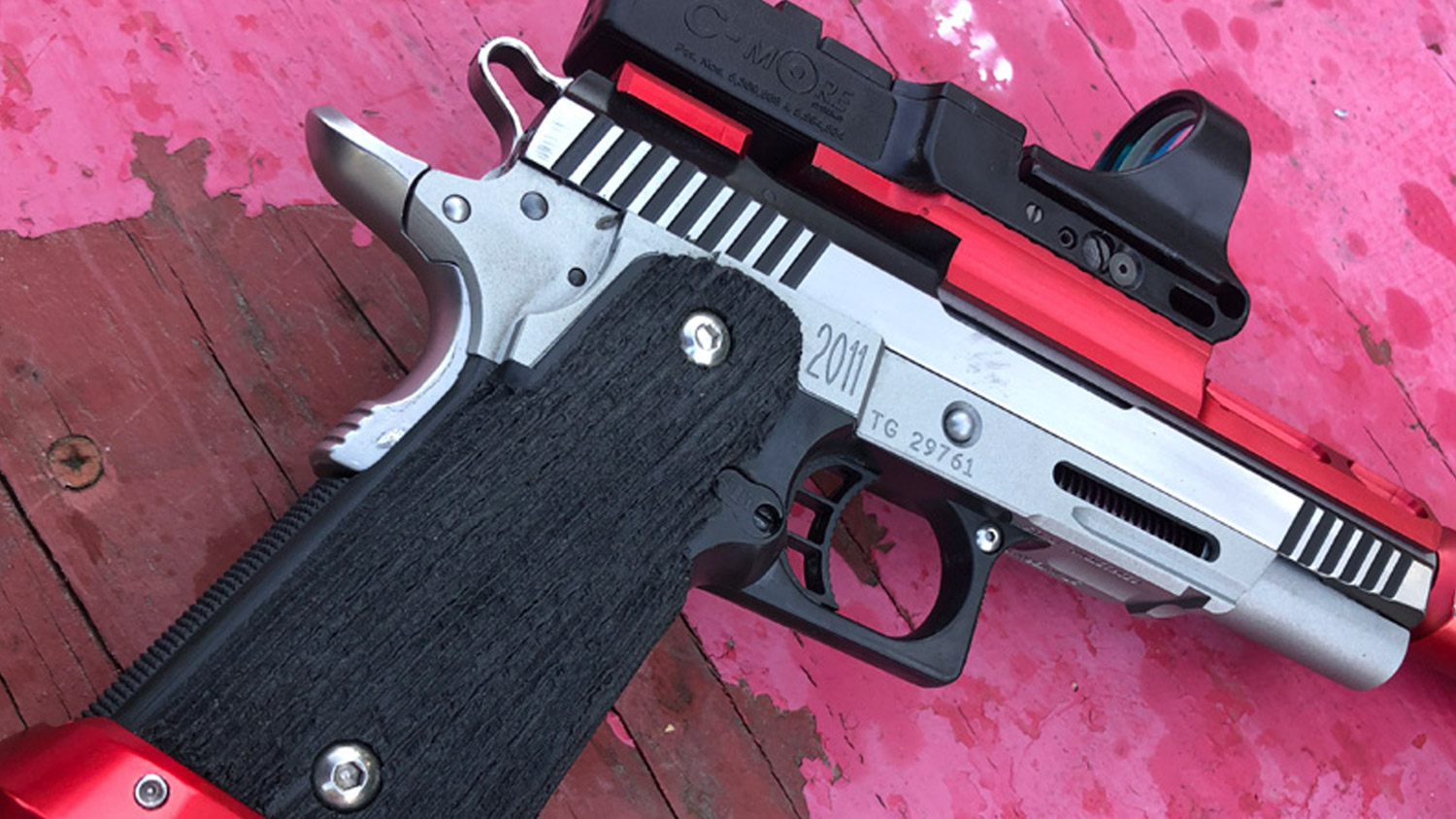 I believe that there is difference between a machinist and a gunsmith. A machinist can put things together, build firearms and make them look really cool. A gunsmith understands how to make them work, and not just run—but to really make them work for the game they are being used in. Grimes knows how to do this for guns used in Steel Challenge.
Steel Challenge is all about speed. From the buzzer to last shot on the stop plate, every hundredth of a second matters. At the World Speed Shooting Championship this past May, Pistol Caliber Carbine Optics Division Champion and second place were separated by .53 of a second. That is .53 of second over eight stages, an average of .06625 a stage. (The average blink of an eye is .30 or .40 of a second.) So in order to perform at your best, you have to eliminate anything that can slow you down. Your firearm must work—not only work but work fast. Each stage is five shots, and in the PCC and Rimfire divisions you are coming from low ready. At the buzzer, you will have to go from low ready to your first plate, then transition four times, ending on the stop plate. Every transition is time wasted not shooting, so you have to do it fast. You cannot swing around a bunch of weight fast and still be able to slow it down to make your shot on steel. You can, but not as fast—and remember, this game is all about speed.
Grimes starts his PCC builds with Lead Star uppers, lowers and their handguards. He also uses their buttstocks and compensators. He goes to work on these parts removing metal to reduce the overall weight of the gun. Once he "skeletonizes," he will add a BSF 14.5 barrel to which he adds the Lead Star compensator. Now that you have a very light PCC, you need to make sure that the rest of the parts (the stuff that makes it function) is going to make it go bang with as little recoil as possible. Grimes only uses Elfman triggers and their pushbutton safeties. PCCs are known for being hard on triggers and that is why Grimes relies only on the Elfman.
The other thing that anyone who has shot a PCC can attest to, they do have recoil—actually, a lot more than you would expect. To help reduce this, a Taccom Extreme bolt is used as well as a Smoke Composites buffer tube. The Taccom bolt does away with the heavy gas key and uses a low drag, low weight orientation key that keeps the bolt from rotating. Inside the buffer tube is a Blitzkrieg buffer with wave spring and spacer to short-stroke the gun. Since there is no power factor in Steel Challenge, competitors are running light loads—but you still have to make the gun function. Getting the right combination of ammunition, bolt and buffer system is very important in how the rifle will react when firing. Grimes also uses Strike Industries aluminum take-down pins and a modified Hexmag grip. The grip on this one is California-compliant. Titanium fasteners are used in the build and he adds a Lead Star extended latch to the charging handles. The C-More rides on a custom aluminum mount that Grimes makes.


The gun is light, about four pounds, and it shoots extremely flat. I had no test runs with it, just headed straight to a stage and went to work. Before shooting this match, I was a middle-of-the-pack B class shooter. I left the Hogue Range in San Luis Obispo, CA, with a new classification in PCCO, 87.25, Master Class.
I wouldn't see Grimes again until we met at the WSSC, said hello, asked how the match was going, talked about his recent trip to Italy and how we all were living it with him through his daily Facebook post. We circled back to the match and talked about what divisions we were shooting. Somehow, I ended up shooting Rimfire Pistol Open with another one of Grimes' builds, This time it was his green 2211 pistol. This is built off a 2011 frame using a Tactical Solutions 2211 conversion kit. Grimes takes weight out of the frame by removing material in the dustcover. He removes the top of the TacSol slide and replaces it with a custom-built top piece that is also a rail that he mounts the C-More to. An aluminum slide racker is installed and a lightweight hammer; this comp is modified and fitted to the stock TacSol barrel. A Dawson magwell and a custom extended magazine release also were installed.
I took the rimfire green racer and the mags that already had his Eley .22 LR ammo in them and headed to my first stage. I went into this match with a B classification in RFPO, having only shot this division a few times and with borrowed guns. I had tried to put a pistol together for RFPO but never really got anything together that was going to work well. I had no expectations in how I would do, just went and shot. I shot all eight stages in 90.02, 35th overall out of the 100 competitors in RFPO. That was good for second B Class and enough to move me to 82.04 percent, A class now. I was also 1.24 seconds faster with Grimes' gun than he was with it. I figured that since I beat him with it, that would mean I got to keep it—apparently, I was wrong. I thought for sure that in all of his years of building and racing hot rods that the concept of "Pinks" would be the same with guns.
If you are looking to get the most out of your Steel Challenge firearms, visit the Kurt Grimes Facebook page or his group page "Rimfire Race Guns" to see what he can put together for you. You can also ask a lot of his fellow competitors—most of them at one time or another have borrowed one of his race guns.
---
Article from the July/August 2019 issue of USPSA's FrontSight magazine. Photos by Jake Martens.