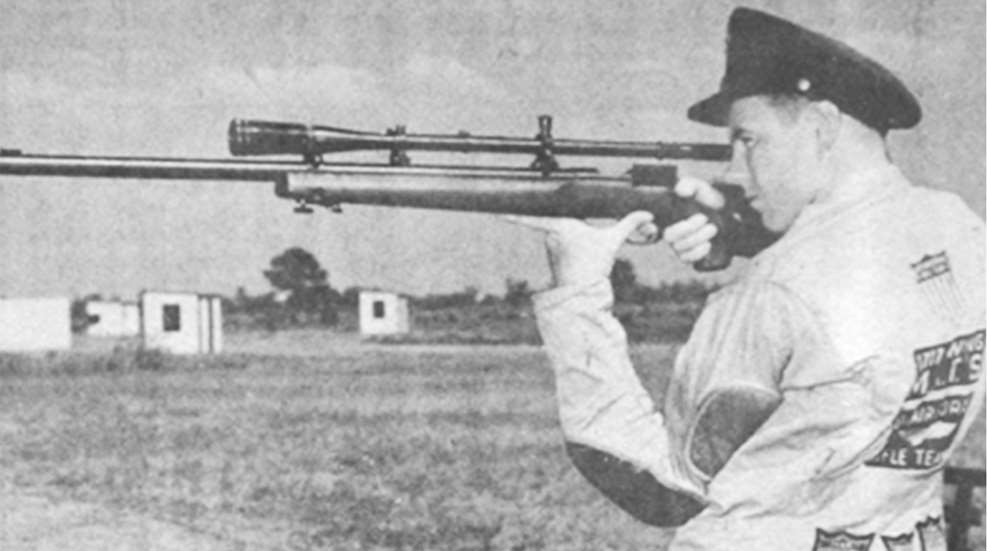 Arthur Edwin "Art" Cook, "the Cookie that would not crumble," passed away on Feb. 21, 2021. He is best known for winning an Olympic gold medal in London in 1948 at the age of 20. Cook was the youngest to do so until 17-year-old Kim Rhode took home the gold in women's double trap 48 years later at the 1996 Atlanta Games.
Cook began shooting in 1939 at Boy Scout Camp. His first major victory came in 1946 when he won the National Junior Smallbore Rifle Championship, after which he enrolled at the University of Maryland. There he led the school's rifle team to the National Intercollegiate Team Championships in 1947 and 1949, and was named an All American three times (1947-1949).
The diminutive Cook suffered from hay fever, which was not helped by shooting from regularly mowed grass firing lines. To combat his itchy watering eyes and a runny nose, he shot both quickly and accurately, able to rattle off 20 Xs and 10s in just three to five minutes.
At the 1948 London Olympics, his gold was won on a tie-breaker with fellow American Walter Tomsen as both had posted a 599x600, a world new record. Tomsen had dropped a point in his third string while Cook lost his in the last 10 shots. In the end, Cook out Xed Tomsen by one for the gold. The Remington Model 37 "Rangemaster" he used is now on display at the National Firearms Museum at NRA headquarters in Fairfax, Va.
Returning from London with a full head of steam, Cook shot the 1948 National Smallbore Prone Championship, defeating two-time repeat winner Garrett W. Moore for the Critchfield Trophy. This was the first of his two national prone titles as he would win a second in 1960.
In 1951 he was commissioned into the U.S. Air Force, joining fellow Olympian Art Jackson and Dick Hanson to form the first of that service's rifle team. Success was immediate for that year Cook won the prestigious Navy Cup Trophy, a 20-shot high power rifle standing match, while Jackson won the President's Hundred Match and Hanson took home the most prominent of all long-range trophies—the Wimbledon Cup.
Cook won the National Indoor Smallbore title in 1953 and again in 1957, the year he won the inaugural National Smallbore Rifle Outdoor Position Championship. The two victories made him the first to win both an indoor and outdoor position title as well as a prone crown. He followed that up with another outdoor position win in 1958.
Cook was a member of the U.S. team at the 1949 International Shooting Union (ISU, now ISSF) World Championships, the 1951 Pan American Games, the 1952 ISU World Championships and the 1954 ISU World Championships. In total he won three gold, three silver, and three bronze medals at these events.
Cook's wife Mary, a fine shooter in her own right and a Randle Team alumna, suffers from a hearing disability which led Art to coach the U.S. Deaf Olympic Team in 1969 and 1993.
Art was a member of the 1953 and 1961 victorious Pershing Teams, a member of the 1600 Club, and has been presented the NRA Smallbore Rifle Prone and International Distinguished Awards. He holds the U.S. International Distinguished Shooters Badge and is a member of both the USA Shooting and University of Maryland Hall of Fame.
Perhaps the one thing that defines Cook's shooting career is not his medals or trophies, but his longevity which is marked by his membership on 15 U.S. Dewar Teams. He made his first Dewar appearance in 1946 at age 18 and his last in 1988 at 60—a span of 42 years.
We are diminished by his loss.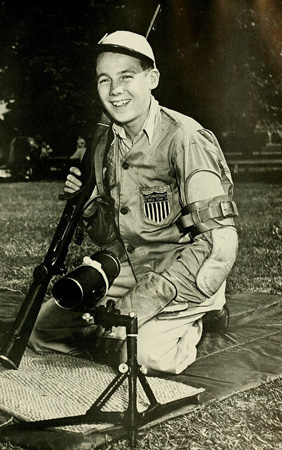 Arthur E. Cook
1928-2021