Above: Lena Miculek with a few of her fans at the conclusion of the 2017 NRA World Shooting Championship. That is a drawing the young ladies drew of Lena in their hands.

Team SIG
Shooter Lena Miculek helped make 2017 the best year in team history, with several wins at the top of multiple shooting disciplines throughout the 2017 season.
Miculek won High Lady in the
Pistol Caliber Carbine
(PCC) at the 2017 USPSA SIG Sauer Optics National Championship at the Universal Shooting Academy in Frostproof, FL, this past March. She was using a SIG MPX. Miculek went on to win High Lady at the Lucas Oil Pistol Caliber Carbine World Championship held at the Lucas Ranch in Cross Timbers, MO in September.
Competing with her SIGM400 rifle, Miculek was as a member of the
first place Ladies Open Team
at the IPSC Rifle World Shoot held at Patriot Park near Moscow, Russia. She competed in a total of 30 stages against a crowded field of nearly 600 competitors from 40 countries.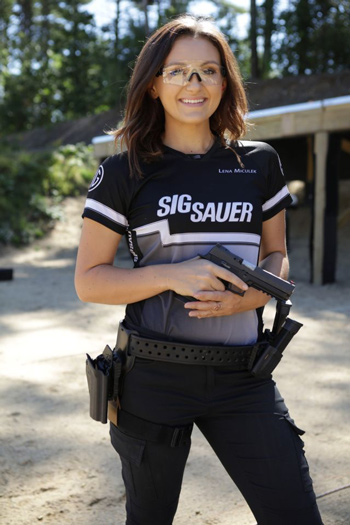 Additionally, Miculek won
High Lady
for the third time at the 2017 NRA World Shooting Championship (WSC). Held at the Peacemaker National Training Center near Glengary, WV, in September, the WSC has participants compete in twelve different shooting disciplines. All firearms, ammunition and accessories are provided to shooters at the WSC.
And that's not all. Proving she has the skills compete in multiple sports, Miculek took home seven other titles this season, including:
USPSA OK Sectional Championship―Champion, Pistol Caliber Carbine Division
USPSA Area 6 Championship―High Lady
Starlight Night Match―High Lady
Babes With Bullets 3-Gun Challenge―High Lady, First Place Tac-Optics
Wyoming Governor's Cup―High Lady
3-Gun Nation Florida Regional Championship―High Lady
3-Gun Nation South Carolina Region Championship―High Lady
"This year proved to me something I've believed and tried my best to follow throughout my career. Every single time I go to the range, I try new things looking for a better way to be a more complete shooter. Because of that method of training I earned my seventh world title this year while shooting five different disciplines," said Miculek. She added, "The key to success is to never stop learning."