by
posted on September 21, 2016
Support NRA Shooting Sports USA
DONATE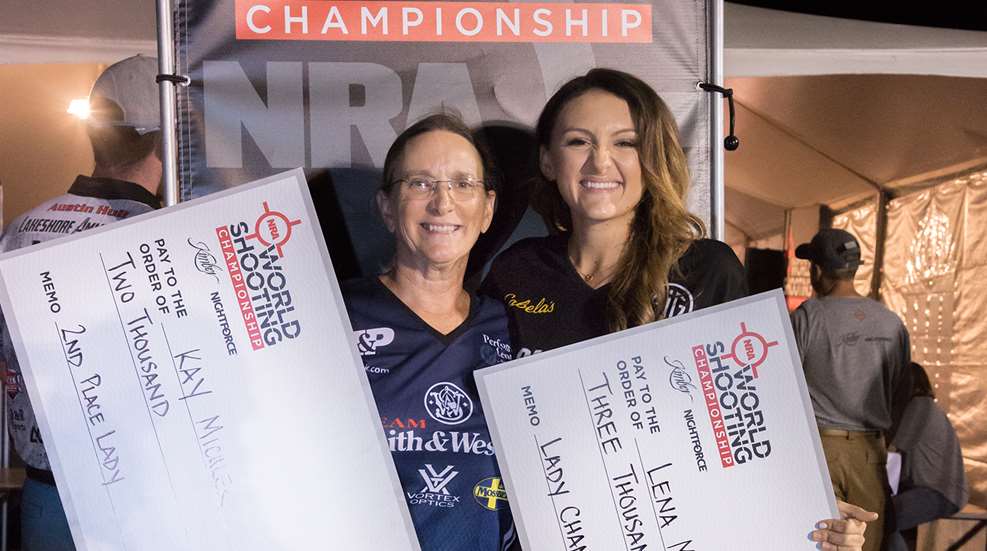 Above: Kay
(left)
and Lena Miculek with their prize checks after the 2016 NRA World Shooting Championship Awards Ceremony. Photo by Michael Chisholm.
This year at the
NRA World Shooting Championship
, Lena Miculek and her mother Kay finished in first and second place, respectively, in the Ladies Championship. Dad and husband Jerry finished in ninth place in the Stock Professional Division, which all three shooters were competing in. Lena received a check for $3,000, and Kay received one for $2,000.
Lena Miculek finished with a score of 2816. Additionally, she finished 12th place overall in the Professional Division. Her best score was in 5-Stand, finishing the stage in second place.
Kay Miculek's final score was 2762. Her best stage was Wobble Clays, finishing in fourth place. 
About the Miculek Family
The Miculek clan, consisting of patriarch and shooting legend Jerry Miculek, his wife Kay and daughter Lena are a family of competitive shooters. Jerry is
considered to be one of the greatest shooters of all time, with 11 world records (including five NRA National Records), over 100 titles in numerous shooting disciplines. Lastly, he is one of only a handful of people to hold a Lifetime Achievement Award for shooting.

Wife Kay Miculek is the daughter of Jim Clark, Sr. founder of Clark Custom Guns, maker of the first 6" long slide 1911. She is one of the best shooters in the history of competitive shooting, man or woman. Additionally, Kay is the founder of Babes with Bullets, a program for new women shooters.

Daughter Lena therefore has competition shooting in her blood, and it is no big surprise that the daughter of two shooting legends is no slouch herself. Since turning pro a few years ago, Lena has racked up win after win on the 3-Gun circuit. At the 2016 NRA World Shooting Championship, Lena used the guns and ammo provided to her, but her usual loadout for competition is the SIG Sauer P320 modular handgun, SIG M400 rifle, all with SIG Elite Performance Ammunition. Lena is a member of the SIG Sauer shooting team.

In 2005, Lena emerged on the pro competitive shooting scene, already an industry veteran with five consecutive Sportsman's Team Challenge Sub-Junior and Junior Division national titles. After moving on to 3-Gun competition, she has become a force to be reckoned with in the sport. In 2015, Miculek won 25 of 28 matches—an extremely impressive 89 percent win rate.


The Miculek family have an
extremely popular YouTube channel
that not only hosts videos with trick shooting, but tips for cleaning, reloading, training, etc.