by
posted on August 20, 2020
Support NRA Shooting Sports USA
DONATE
From the vault: This article by Maureen Hammerquist covers the 2008 NRA High Power Rifle Long-Range National Championships at Camp Perry, where John Whidden garnered top honors for the second year in a row. As published in the November 2008 issue of Shooting Sports USA.
---
John Whidden: Back to Back Victories
By Maureen Hammerquist
There's a sense of familiarly for shooters coming to compete at the NRA national championships at Camp Perry, OH. Participants anticipate the camaraderie, sportsmanship and personal achievements well before they take that first step up to the firing line. And even newcomers are well versed in the unique and often difficult weather conditions that present challenges to the most steadfast competitors.
In a similar scenario to his 2007 champion finish, John Whidden's placement in the relays meant he was in the pits while his competitors finished the match when he heard news of his repeat victory. And like last year, he was unsure of his score. "We were sitting down there in the pits counting on our fingers and toes, trying to figure it out. Didn't really know for sure," a grinning Whidden said.
Whidden overcame Robert Gustin of Cameron Park, CA, by just 8 Xs shooting a 1239-65X out of a possible 1250-125X to Gustin's 1239-57X to take his second national championship. Sgt. Brandon Green of the U.S. Army Marksmanship Unit followed in a close third after firing a 1238-64X.
After completing the last 15 shots in the individual Palma Match, Whidden knew he was still five points behind Green. "I got to watch Brandon shoot, and was more nervous watching him shoot then I was myself shooting," he said.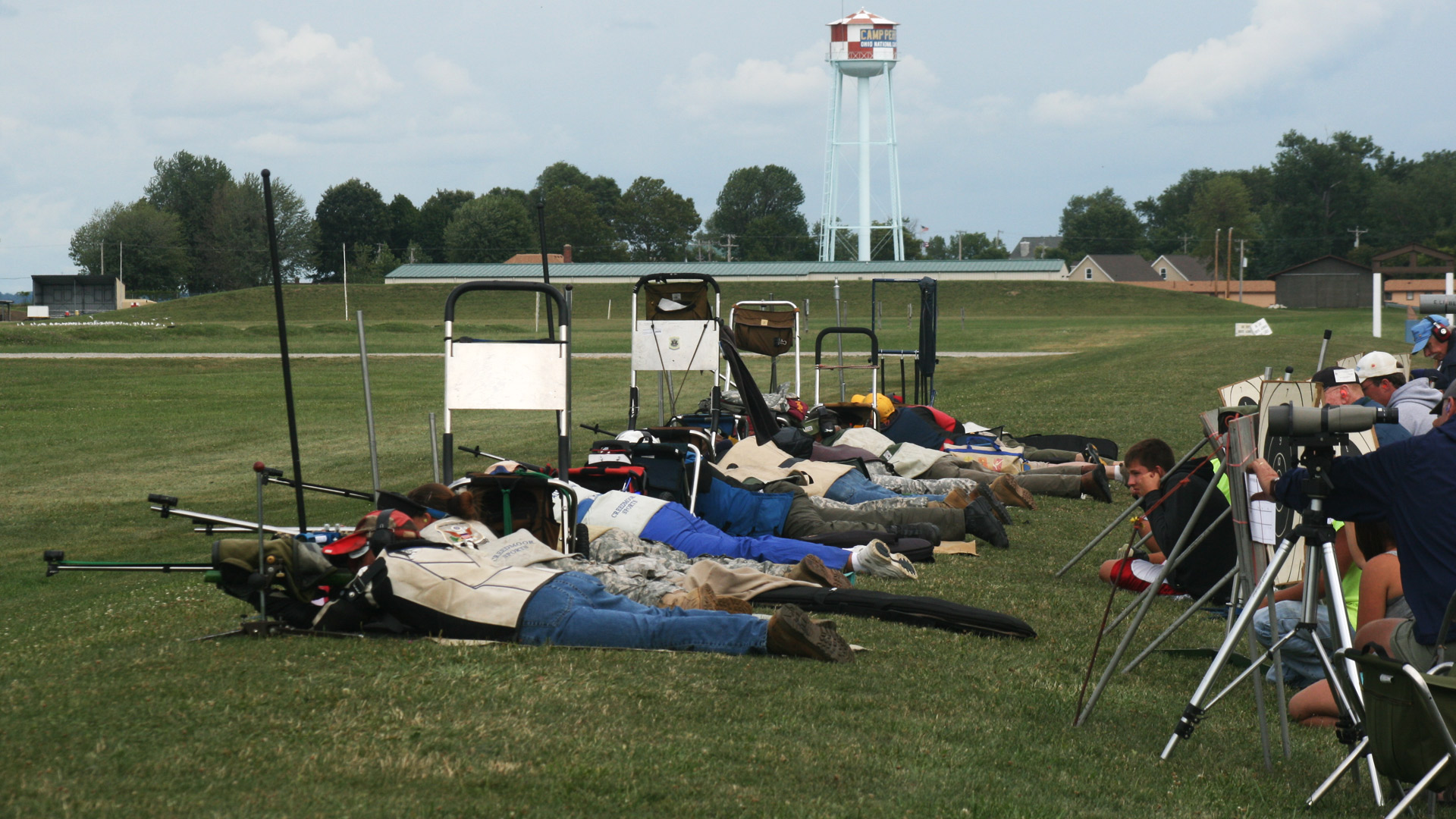 Held Aug. 9 to 13 on Camp Perry's Viale Range, the long-range trophy matches saw an excellent blend of veterans and newcomers looking to retain their titles or earn new ones. Among the familiar surroundings, some changes added an air of excitement to the mix. This year the matches included the first Palma Team Match, held on the closing day of competition. Even though there was plenty of sunshine and no rain delays, the notorious Camp Perry winds were especially challenging, evidenced by the number of participants with less than perfect scores firing in shoot-offs.
Whidden's road to this year's title wasn't easy. "I knew nobody was going to cut me slack just because I won last year," he laughs. "I didn't have the opportunity to train, to shoot as much as in previous years." The Nashville, GA, resident struggled a little bit with the wind during the opening day's 1,000-yard match and Gustin took the early lead, winning the first 1,000-yard slow-fire prone match with a 198-9X. Michelle Gallagher followed with a near-perfect 200-15X to take the second 1,000-yard match, turning the heat up on the field of 342 contenders.
Competitors faced tough conditions during Sunday's trophy matches with blowing winds severe enough to topple chairs during parts of the day. 
This didn't stop Whidden, however, who's score of 200-15X put him on top in the Leech Cup Match. Whidden especially enjoys shooting Palma and was pleased with the win. "I had my eye on this for a while," he said.
Pennsylvania's Joe Sopko overcame Mother Nature to win the Porter Trophy Match for service rifle, fired concurrently on the Leech Cup course. Sopko finished first in his relay with a top shoot-off score of 90-2X, and a final score of 189-5X that was good enough for the win. A match aggregate of 199-7X gave Eddie Newman of Eldridge, IA, the win in the Edward D. Andrus Memorial Trophy Match for high-scoring Palma rifle on the Leech Cup course. 
Day three's any-sight Wimbledon Cup Match found Green successfully defending last year's title after firing a 200-11X to win the Wimbledon Cup. An incredible accomplishment considering Green had never even fired a high-power rifle before joining the U.S. Army Marksmanship Unit in 2004. SFC Kyle Ward of Pine Mountain, GA, took the Farr Trophy Match for high-scoring service rifle shooter on the Wimbledon course with a 189-5X after putting up a shoot-off score of 99-3X. The Herb "Doc" Aiken Memorial Trophy Match for high-scoring Palma rifle shooter in the Wimbledon Cup course was won by James O'Connell of Alameda, CA, with a 194-9X following his shoot-off score of 96-3X.
On the final day of individual competition, Bryan Litz used the clear skies to his advantage, firing a perfect score in the Palma Match, something rarely seen in this leg of the long-range phase. The Palma Match is fired at distances of 800, 900 and 1,000 yards. No stranger to the long-range championships, the Ohio native won the Palma Individual Trophy Match, edging out Nancy Tompkins with a score of 450-26X to Tompkins' 449-27X. Tompkins herself had a successful championship, earning high woman honors in a repeat of last year's victory, after posting an aggregate of 1231-59X.
The U.S. Army Marksmanship Unit (AMU) had a strong showing at the 2008 championships. In recent years the unit began modernizing their long-range program and, with teams of very talented shooters, the results quickly started to show. In addition to individual trophy wins, the team's shooters made up most of the top scorers in the Wimbledon Cup. But team competition is where they really prevailed.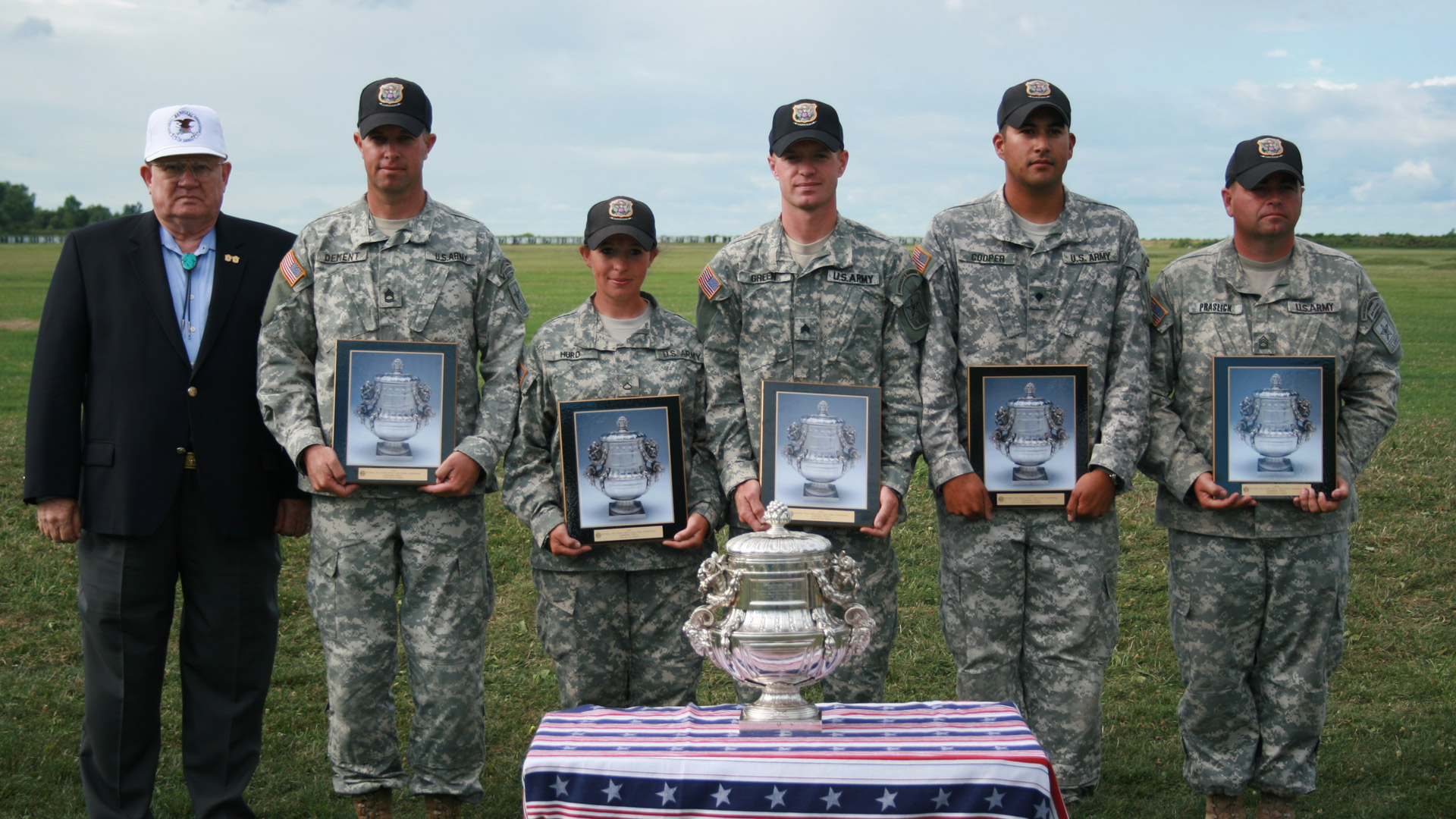 As they did in 2007, AMU Team Praslick swept both the Roumanian Trophy Team Match and the Herrick Trophy Team Match, firing scores of 785-30X and 796-43X, respectively. "We win a lot of team matches because we have a team of champion shooters," said Head Coach Emil Praslick. "Our guys love the challenge and excitement of team competition." Praslick credits the support staff in the team's success. "One of the main reasons our team is so strong is because of team support. Every one of the roles is as important as the guys pulling the trigger," he explains.
The Palma Team Matches closed out the 2008 championships on Wednesday. Historically a team event, there was a good turnout for this inaugural match with 26 four-man teams participating. Prior to this match, the AMU had never fired a four-man team Palma Match. But one would never have guessed this as AMU Team Praslick took the win with a national record score of 1791-102X. "It was one of the highlights of my whole summer," said Praslick, "we're looking forward to doing it again next year." Fired concurrently with the Palma Rifle Match, AMU Team Craig won the Palma Team Match for service rifle with a 1791-102X. The Reade Range Organization came out on top in the Palma Team Match—NRA Match Rifle with a score of 1744-54X.
Among the familiar surroundings, fresh faces worked hard to make names for themselves. After shooting as a civilian for many years, 2008 marked PFC Sherri Hurd's first competition at Camp Perry with the AMU. Without much training time Hurd handled the transition well by celebrating a second-place finish in the Leech Cup Match along with her AMU team wins. Junior shooter Nick Mower sent a powerful reminder that youth are definitely succeeding in the shooting sports with his second-place finish in the Edward D. Andrus Cup Match.
Staying on top when the competition is within close reach of taking the title is no easy feat. This year the margin of win was less than one point; less than one 10th of a percent separated first from third place. Elated with his back-to-back championship wins, Whidden acknowledged the outstanding skills of his fellow shooters. "These guys just keep getting better and better. There will always be a number of folks that any day will shoot well enough to win the championship. I just happened to be lucky enough this year."
---
See more:
A Brief History Of Reporting The National Matches