From the vault: former Managing Editor Chip Lohman's report from the 2010 NRA National High Power Rifle Long-Range Championship. As published in the October 2010 issue of Shooting Sports USA.
---
2010 NRA National Long-Range Rifle Championship
By Chip Lohman
Attendance at this year's Long-Range matches was up by 11.2 percent. Says Jan Raab, NRA National High Power Rifle Manager; "We almost filled the Palma Individual Match to range capacity this year. It's really great to see the interest in long-range shooting increasing as we look forward to the World Long-Range Championships next year in Amsterdam, and again in 2015 when the United States will host this prestigious event."
Of the 354 long-range entrants, half of them came to Camp Perry only to compete in this weekend portion of the tournament. The remaining competitors also participated in the across-the-course high power matches in the previous week.
While the Greek God of wind—Aeolus, may have slept during the across-the-course events, he awoke in time for the long-range firing.
After a two-year absence from the top of the winner's podium, John Whidden returned for his third long-range victory at Camp Perry, having won previously in 2007 and 2008. A new course was established in 2007, prior to which David Tubb was the record holder and five-time champion. Recently retired CMP Director Gary Anderson also won this event in 1980.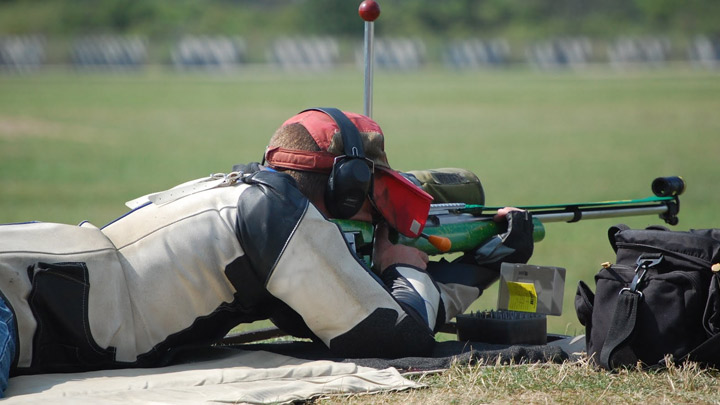 As a 4-H member, first-place Whidden began his shooting career with a BB gun, limiting his long-range accomplishments back then to about 15 feet! After several state trap championship wins, he shot in high school with the JROTC rifle team where he became accomplished in 3-position air rifle. After graduating from North Georgia College where he was a member of their rifle team, Whidden eventually found his way back to the sport through long-range shooting.
If the name Brandon Green sounds familiar, it may be because second-place Sgt. Green won six championships this year, including the overall individual championship during the inter-service matches at Quantico, VA. Green was also the first recipient of CMP's Junior Distinguished Badge back in 2001. He later became double distinguished while competing with the U.S. Army Marksmanship Unit.
Third-place Michelle Gallagher is part of the "First Family of Rifle Shooting," having won this match in 1998, 2000 and 2001. When not competing, Michelle works with Berger Bullets as their marketing coordinator. As you may know, her younger sister Sherri holds the long-range record set in 2009 and her mother Nancy has won the event three times as well. It's not hard to imagine what this family discusses at the dinner table when they get together.
2010 NRA National Long-Range Rifle Championship Leaderboard
Winner—John Whidden, 1243-75X
Second—Brandon Green, 1240-60X
Third—Michelle Gallagher, 1238-70X (also High Woman)
High Jr.—Michael Storer, 1221-45X
High Sr.—Robert Gustin, 1233-70X
High Palma—Kevin Nevius, 1236-52X
---
Read more classic SSUSA articles: Looking Back At The 30th Anniversary NRA Bianchi Cup