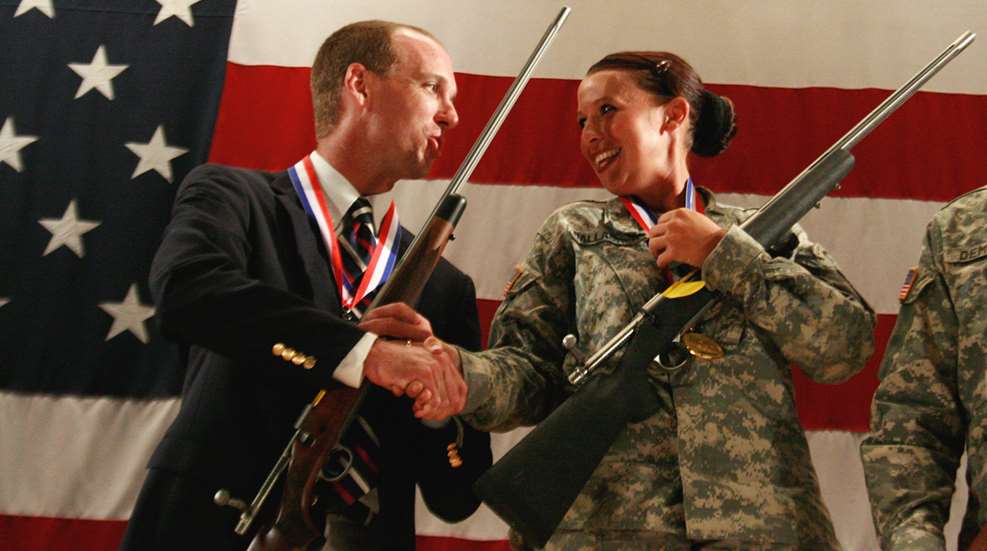 From the vault: coverage of the 2009 NRA High Power Long Range Nationals, as published in the October, 2009 issue of
Shooting Sports USA.
In addition to a consistent sight picture, reading the mirage to calculate shifting wind and a perfectly still trigger release, long-range "artillery" shooters require precision ammunition. The artillery reference is appropriate because of the approximate 12-foot-high maximum ordinate of the bullet trajectory from the 1000-yard line.
Army SPC Sherri Gallagher mastered all of the above as the 2009 National Long Range Champion. In the photo at the top of this article, Sherri congratulates second-place winner
John Whidden
, who won in 2007 and 2008.
If you recognize the Gallagher name, Sherri is already a world champion Palma shooter. Her mother—
Nancy Tompkins-Gallagher
, is a three-time long range champion (among many other awards) who competed with the 2009 Roberts Team in England during the National Matches. Older sister
Michelle
is also a three-time national long range champion (as well as other awards), and their step-father—
Middleton "Mid" Tompkins
won the 2009 Long Range High Grand Senior title. As you might suspect, Mid also has a lifetime collection of first-place awards.
A total of 278 shooters competed in the long range matches, which were fired over three days immediately following the high power "across-the-course" championship.
While most long range shooters use a match rifle for the better optics, longer barrels and larger calibers (like the 6mm Sherri uses), many shooters enjoy firing their AR15 (in .223 caliber) or AR10 (in .308 caliber)
service rifle
and are just as competitive.
2009 NRA National High Power Long Range Championship Leaderboard