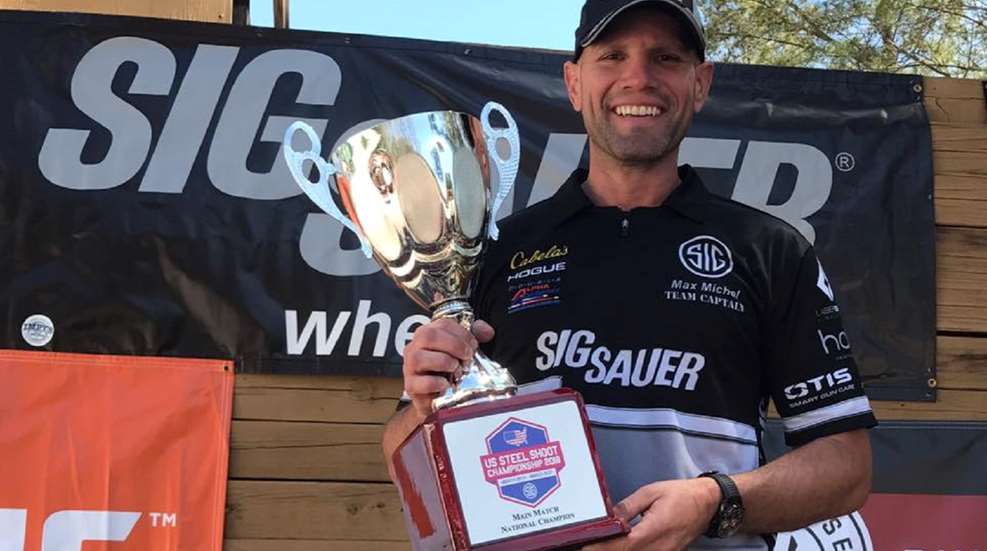 Team SIG Captain Max Michel continued his award-winning competitive shooting season this past March at the 2018 U.S. Steel National Championship in Covington, GA—taking home the grand prize of overall National Champion. Additionally, Michel took second place in the carry optics division, and third place in the rimfire division.

Michel completed eight courses of fire at Steel Nationals in 78.28 seconds. Each course consisted of five steel targets that both range in size and distances, using a 9mm SIG Sauer 1911 outfitted with a SIG Romeo 3 optic.

"With limited time to train for this event I decided to enter into three divisions," said Michel. "I felt shooting in the rimfire and carry optics divisions gave me the opportunity to get into the match mindset leading up to the overall main event."

The 2018 title is Michel's sixth overall U.S. Steel National Championship victory. He also has seven World Speed Shooting Championships to his credit.

"We are extremely proud of Team SIG Captain Max Michel and his accomplishments," said Tom Taylor, chief marketing officer and executive vice president of SIG Sauer. "His commitment to his sport is exemplary of the SIG Sauer brand and our mission—to never settle for our past successes. Together, Max and SIG Sauer will continue to set the bar in both sport and industry."

Max Michel will compete next at the United States Practical Shooting Association Area 6 Championship in the carry optics division in Okeechobee, FL later this month.