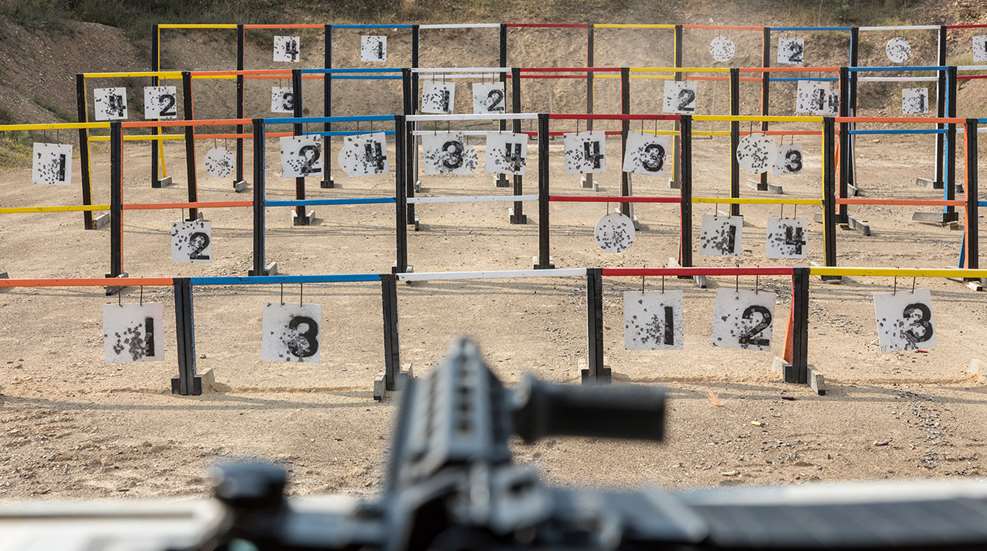 Back in August, we shared the news about the first-ever Metal Madness Shootout. The match will take place October 10-11 at the Grand Rivers Shooting Range in Grand Rivers, Ky. Now, the folks at Metal Madness have shared more details about the two-day event.
Metal Madness divides the firing line into numbered lanes, and shooters must fire all of them. Each lane has four square numbered 12x12-inch shoot plates and a round 12-inch stop plate. The shoot plate numbers must be hit in numerical order and are randomized for each lane. Competitors at the 2020 Metal Madness Shootout will face four separate courses-of-fire over the duration of the match. Grand Rivers is equipped with multiple shooting houses, and each will feature a different course.
At least one competitor is traveling from the Caribbean. According to Ed White, the founder of Medal Madness and match director, "We even have someone coming from Puerto Rico."
As for prizes, the list is deep. Some highlights: Tippmann Arms is donating two MMSSA model M-4 rifles with Tandemkross grips and Elftmann triggers, along with 5,000 rounds of ammunition. Tandemkross will be donating custom parts as prizes, NRA is supplying hot and cold mugs and Devil Dog is providing a high-end pistol. Additionally, SK will be handing out 5,000 rounds of ammo.
There will be a flurry of additional activities besides the match proper. Tippmann Arms will have a .22 LR rifle tent, and representatives from Crazy Quail will be setting up a side match. Plus, Oleg Volk will be on hand to take photos, along with the Metal Madness media crew that will be filming.
Metal Madness is a unique shooting discipline that emphasizes accuracy and speed. The sport has grown rapidly since its introduction, even appearing as a side event at the 2019 NRA World Shooting Championships. White is quick to credit Metal Madness competitors for the success of the discipline.
"The most valuable part of Metal Madness is our members," said White. "Our members make Metal Madness what it is."
Entry fees for the 2020 Metal Madness Shootout are $30 per firearm. There are classes for open and stock rifles and pistols, but there will be no revolver class.
To learn more or to register, visit the Metal Madness website at mmssa.net.
---
See more:
NRA National Championships: The Early Years