The long history of O.F. Mossberg & Sons, Inc. and its firearms exemplifies the ingenuity and sweat that made America great. More Gun for the Money documents the people and products of Mossberg's first 75 years, and in it you will discover surprises—including that you may have more experience with Mossberg than you thought.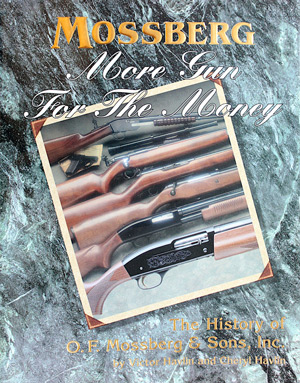 Nobody knows everything about anything, and sharing an interest in old guns as historical artifacts requires of the afficionado two things: a good reference library and a knack for researching credible information. In writing a recent article on the Mossberg Model 183KE shotgun, I discovered both in the National Mossberg Collectors Association. The energy behind NMCA is Victor and Cheryl Havlin, president and vice president of the organization, which they founded in 1988. The Mossberg company officially recognizes NMCA, which is also an NRA-affiliated collectors association member. More than just information, NMCA is happily also a parts resource for obsolete Mossberg firearms.
Vic and Cheryl compiled much of their collector information in a 304-page book, Mossberg: More Gun for the Money, The History of O.F. Mossberg & Sons, Inc. A bit short on the dry but useful info typical to such books, such as serial number runs and dates of manufacture, the book stands out from other such histories in being nearly as much about people as about guns. As such, the reader gets to meet some of the personalities behind the products.
"Profusely illustrated" is a phrase that applies to More Gun for the Money, as every text page bears at least one illustration—and usually more—including old advertisements, patent drawings, photos and parts diagrams. And there are quite a few surprises and I-didn't-know-that's. Oscar Frederick Mossberg designed, patented and marketed the "Novelty," a pistol of entirely enclosed design that permitted firing through a pocket with just a squeeze, as well as a semiautomatic pistol (both c. 1905). The company briefly manufactured golf clubs and bicycles in the 1970s, as well as sailboards, canoes and camper trailers. Though better known for manufacturing utility firearms for blue-collar workers, Mossberg also produced in the 1970s the Pedersen Custom Gun line of high-end shotguns and bolt-action rifles.
Certainly, the most unusual Mossberg development detailed in the book was the 1938 "Targo," both a series of smoothbore .22-caliber Mossberg rifles and the game of shooting miniature skeet-like flying targets. The Mossberg device for throwing the targets was either hand-held or attached to the rifle barrel. Targo went away with the start of WWII, but saw a brief resurgence in 1961, endorsed and promoted by the NRA as the "NRA .22 Shotgun Qualification Course." Within two years Mossberg discontinued Targo because, according to company Vice President of Sales Jack Boone, breaking targets with No. 12 shot from a .22 was just too difficult and discouraging for most shooters.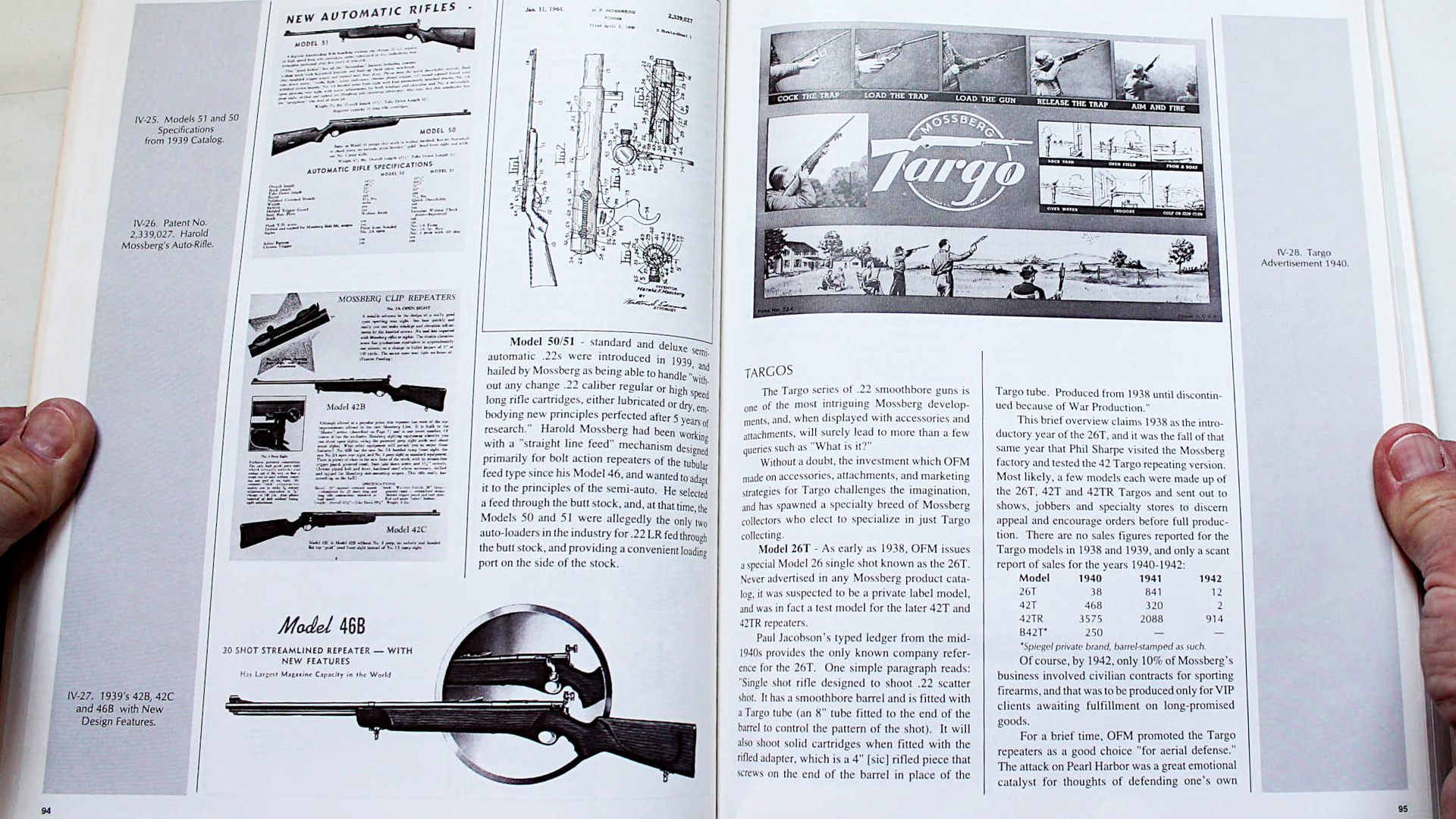 If there's a down side to More Gun for the Money, it's that it is today incomplete, having been first published in 1995, leaving a gap in Mossberg history that has now widened to nearly 30 years. However, the book is still both useful and entertaining, and it now resides in my reference library. More Gun for the Money is available from the National Mossberg Collectors Association as a softcover for $25 plus shipping. The NMCA also offers on its website a few free Mossberg owner's manuals, as well as a 100-year chronology of Mossberg firearms downloadable as PDFs. Annual membership in NMCA is $20 and includes four quarterly newsletters that feature a "Swap and Sell" section. 
They say one thing leads to another, and soon after the Mossberg Model 183KE article, I needed parts to rebuild nearly a dozen WWII-era Mossberg 44US .22 LR training rifles. I found several of the parts online at the Havlin Sales and Service website, and in a phone conversation Vic came through with a bonus unlisted firing pin plunger not available anywhere else. If you have need for an obsolescent Mossberg part, Vic and Cheryl may have it.
In the unlikely event that you don't presently own a Mossberg of some kind, you probably have or will, and it's at least likely that you've shot a Mossberg—even if you didn't know that it was a Mossberg, as the company manufactured so many firearms under other brand names. Don't be surprised if you turn a page of More Gun for the Money and find yourself thinking, "Hey—didn't Dad have that gun?"
---
Read more:
Review: Mossberg 940 JM Pro