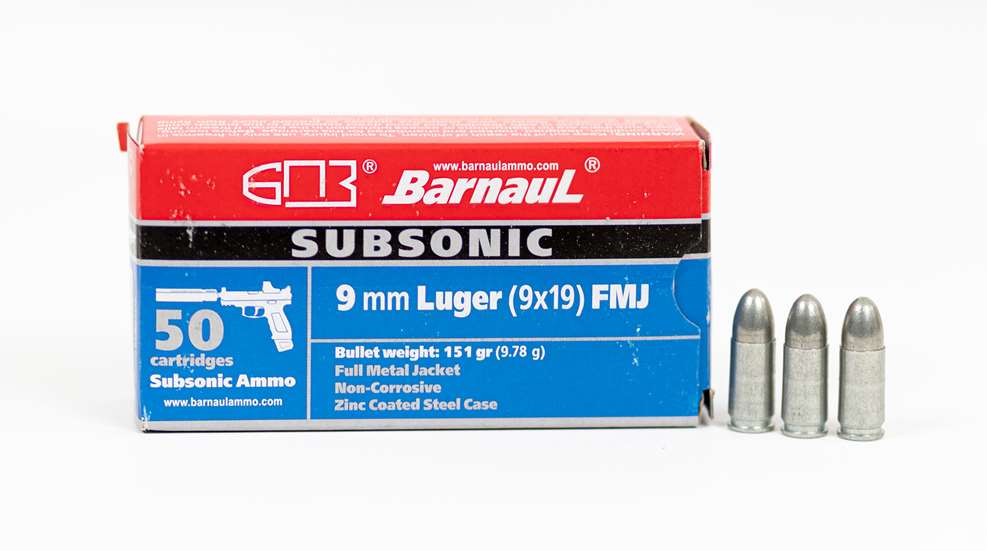 New from Barnaul is a steel-case, subsonic 9 mm cartridge suitable for action shooters competing in Minor Power Factor divisions. Barnaul 9 mm Subsonic is also ideal for use with suppressors. (Learn more about Power Factor here.)
Following the path of the Russian manufacturer's original Silver Sport line of Minor Power Factor ammo developed for IPSC competition, the new Barnaul 9 mm Subsonic ammunition incorporates a key change. Instead of the original 148-grain projectile, the new ammunition sports a slightly heavier 151-grain FMJ bullet. With an average muzzle velocity of 850 f.p.s. (muzzle energy 282 foot-pounds), Barnaul 9 mm Subsonic delivers 128.35 PF from a 4.7-inch barrel, which is enough to satisfy the 125 PF minimum adopted by most shooting organizations for Minor PF.
Barnaul 9 mm Subsonic uses a bi-metal jacket and a steel cartridge case. For consistent accuracy and proper cycling performance with the reduced power load, both the FMJ bullet and the case include a zinc coating for enhanced lubricity.
The ballistic coefficient (G1) for Barnaul 9 mm Subsonic is 0.231. Maximum length of the cartridge is 1.117 inch, and the average weight is 211 grains.
Barnaul 9 mm Subsonic ammunition should arrive on retail shelves by the end of March. Learn more at barnaulammo.com and mkssupply.com.
---
Read more:
Surviving The Ammo Shortage