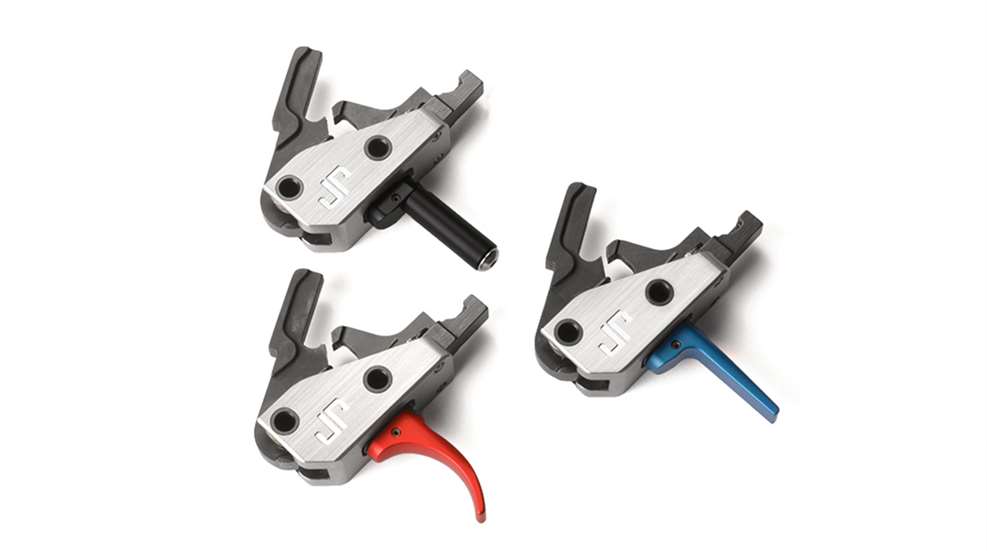 JP Enterprises released a new modular AR trigger, the JPFC-M, at the 2018 SHOT Show in Las Vegas, NV. This is a drop-in, modular design that incorporates an interchangeable shoe feature for user customization. The core module can be easily changed with one of three different shoe designs: curved, flat and roller.

Preassembled in a stainless steel housing, the JPFC-M sports wire-cut components that requires no user adjustment. Installation of the module is simple: insert the trigger pins and tighten down the two screws to secure the module in place.

The JPFC-M comes packaged with the user's choice of shoe style and color for the curved or flat shoes, each available in black, silver, red or blue. Also included are JP's anti-walk pins, and an ambidextrous safety selector with levers color-matched to the trigger. Two alternate rate hammer springs provide for customization of the trigger pull.

The company launched their first AR upgrade trigger design over 25 years ago, followed by one of the original JPFC-M, which debuted in 2004.

"The modular trigger was a concept we really believed in," said JP founder John Paul. "But while we appreciated and stood by those original designs, we always felt the 'one-size-fits-all' module came with a sacrifice in quality. I wasn't willing to bring a module back to market until we had a design that could stand toe-to-toe with our shop-installed triggers. I'm glad that day has finally arrived."

The JPFC-M will be available for purchase by the second quarter of 2018.