New from Real Avid is Gun-Max gun oil, which the company describes as "a superior firearms lubricant with a proprietary formulation that consistently outperforms in every important benchmark of firearm protection, including corrosion resistance, long-lasting lubrication under friction, and low-temperature viscosity."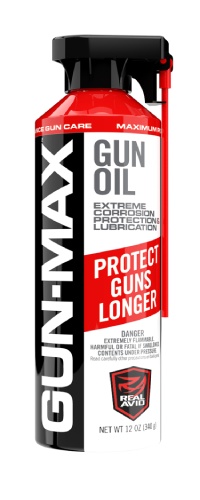 Gun-Max is available in two sizes, a 12-ounce aerosol can or a 4-ounce liquid bottle, and contains inhibitors that not only effectively displace moisture, but also deliver extended corrosion protection. During testing in a harsh and corrosive salt-spray chamber, Gun-Max outperformed the competition by a significant margin for corrosion protection. In addition, Gun-Max is chemically engineered with advanced anti-friction additives which bond to metal surfaces for better performance under friction.
For excellent cold-weather performance, Gun-Max is chemically formulated to remain fluid at -20 degrees Fahrenheit. And as a long-lasting lubrication, this gun oil will also help ensure that a stored gun will operate when needed.
The aerosol cans come equipped with a two-position spray nozzle that folds down and stores with the can. The flip-up, two-position nozzle straw can provide either a broad spray application in the down position, or a precise stream application when deploying the straw.
MSRPs for Real Avid Gun-Max gun oil is $12.99 for the 12-ounce aerosol can and $8.99 for the 4-ounce liquid bottle. Learn more at realavid.com.
---
Read more:
New: Real Avid Smart-Torq Driver