Real Avid's latest round of gun tools were developed to take your do-it-yourself prowess to the next level.
Bore-Max Speed Jags and Patches Multi-Cal Pack
The Speed Jags in the Bore-Max Speed Jags and Patches Multi-Cal Pack (MSRP: $49.99) sport longer shanks than standard jags, delivering up to four times more bore contact surface than traditional jags. Used exclusively with Real Avid's no-bunching Speed Jag Patches, this system means fewer passes and fewer patches are required to remove bore fouling. What's more, the precision-sized Speed Jags are nickel-plated to prevent chemical breakdown and long life. The kit includes 10 jags (six rifle jags covering .22 caliber through 7.62 mm and four handgun jags in .22-, .380/9 mm, .40-, and .45-caliber). Also included are 500 Speed Jag Patches.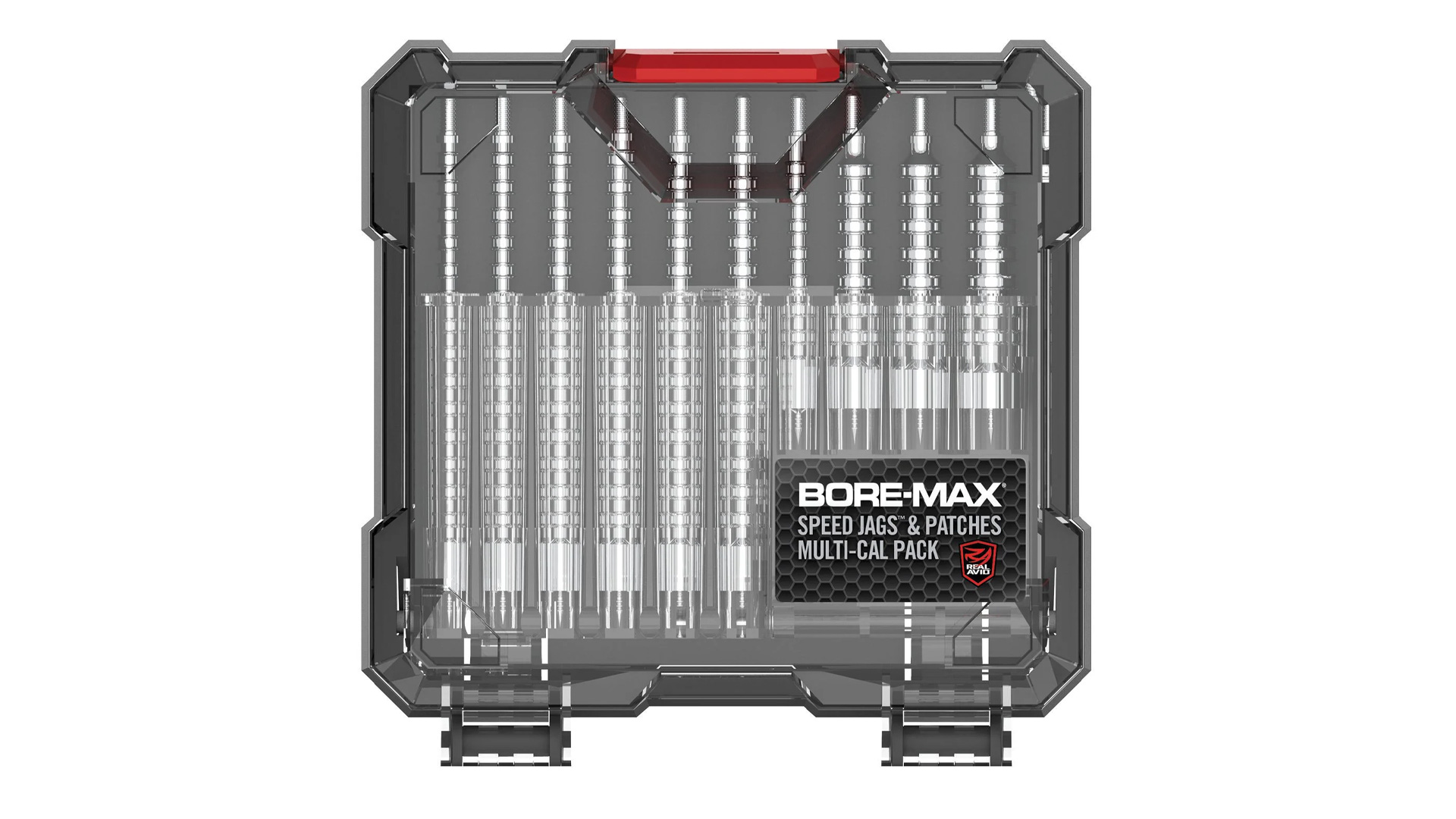 Bore-Max Speed Brushes Multi-Cal Pack
Also new from Real Avid is the Bore-Max Speed Brushes Multi-Cal Pack (MSRP: $39.99). This kit includes 10 brushes (six rifle and four handgun) covering the same calibers as the Speed Jag kit. These brushes are nickel-plated to last longer and to resist chemicals better than standard brushes. Boasting double-density bristles, the longer-than-standard Speed Brushes reduce cleaning time by delivering maximum scrubbing power. Additionally, to keep the Bore-Max Speed Jags and Speed Brushes Multi-Cal Packs handy on the bench and portable for the range, each kit comes in a container with a built-in tilt-up tray for convenient use and storage.
Accu-Grip Steel Picks
Among the most useful tools for gun cleaning are a set of quality picks. The new Accu-Grip Steel Picks from Real Avid (MSRP: $39.99) meet the standard of both professional gunsmiths and DIY aces with their stainless-steel construction and ergonomic, soft-touch textured handles. The kit includes five picks with two tip shapes per pick for a total of 10 pick options. Featuring several variations of pointed, flat and angled picks, there is a pick for every cleaning application. Whether you are scraping tough carbon fouling in sharp corners, dabbing grease onto hard-to-reach trigger components or prying out obstructions, the Accu-Grip Steel Picks can get the job done. Also, the picks come in a handy snap-in-place tray.
Front Sight Adjuster Pro
For dealing with your AR-15's front sight post, the new Real Avid Front Sight Adjuster Pro (MSRP: $19.99) is designed for AR fans who favor the simplicity and broad aiming solution of standard A1 and A2 open sight systems, but struggle with the front sight's spring-and-detent elevation adjustment design. The new Front Sight Adjuster Pro solves this problem with its ergonomic grip. The broad grip—like that of an automotive key—provides the control and leverage needed to depress the front sight detent, and easily rotate the sight to raise or lower bullet impact when zeroing.
This tool features a new longer design and for both four- and five-pin ends, making it compatible with A1 and A2 front sights, as well as flip-up backup-style sights from companies such as HK, Troy and Magpul. Included with the sight adjuster is a compact, snap-in storage module with an integrated lanyard slot to prevent loss. This low-footprint tool takes negligible space in your range bag, so toss it in and you'll never have to make sight adjustments with a bullet tip again.
AR-15 Pivot Pin Tool-Pro
Do-it-yourself AR-15 builders know that the most aggravating part of a lower receiver build is pivot pin assembly. Pressing the spring and detent into the receiver while simultaneously moving the pivot pin into place can be an exercise in extreme frustration—not to mention the risk of small parts shooting across the shop. Fortunately, Real Avid has developed a solid solution to the long-standing battle between man and pivot pin assembly.
The new AR-15 Pivot Pin Tool-Pro (MSRP: $29.99) is an all-metal, multi-component tool that makes short work of any pivot pin installation (or removal). Simply place the fixture onto the receiver, insert the PPT pin, load the spring and detent through the fixture and into the receiver, and depress the assembly with detent plunger. The spring and detent are then safely captured by rotating the PPT pin 90 degrees. At this point, the pivot pin can be driven into the receiver and the PPT removed. With its robust construction and precision fit, Real Avid said its new AR-15 Pivot Pin Tool-Pro "stands ready for years of reliable service."
Learn more at realavid.com.