Safariland has been on a roll with new hearing protection products as of late, and the announcement of the new Liberator HP 2.0 Advanced Hearing Protection headset continues this trend. Liberator HP systems compress and reduce hazardous sound to safe levels inside the headset, without muting other ambient sounds or audio. The noise reduction rating (NRR) is 26 dB.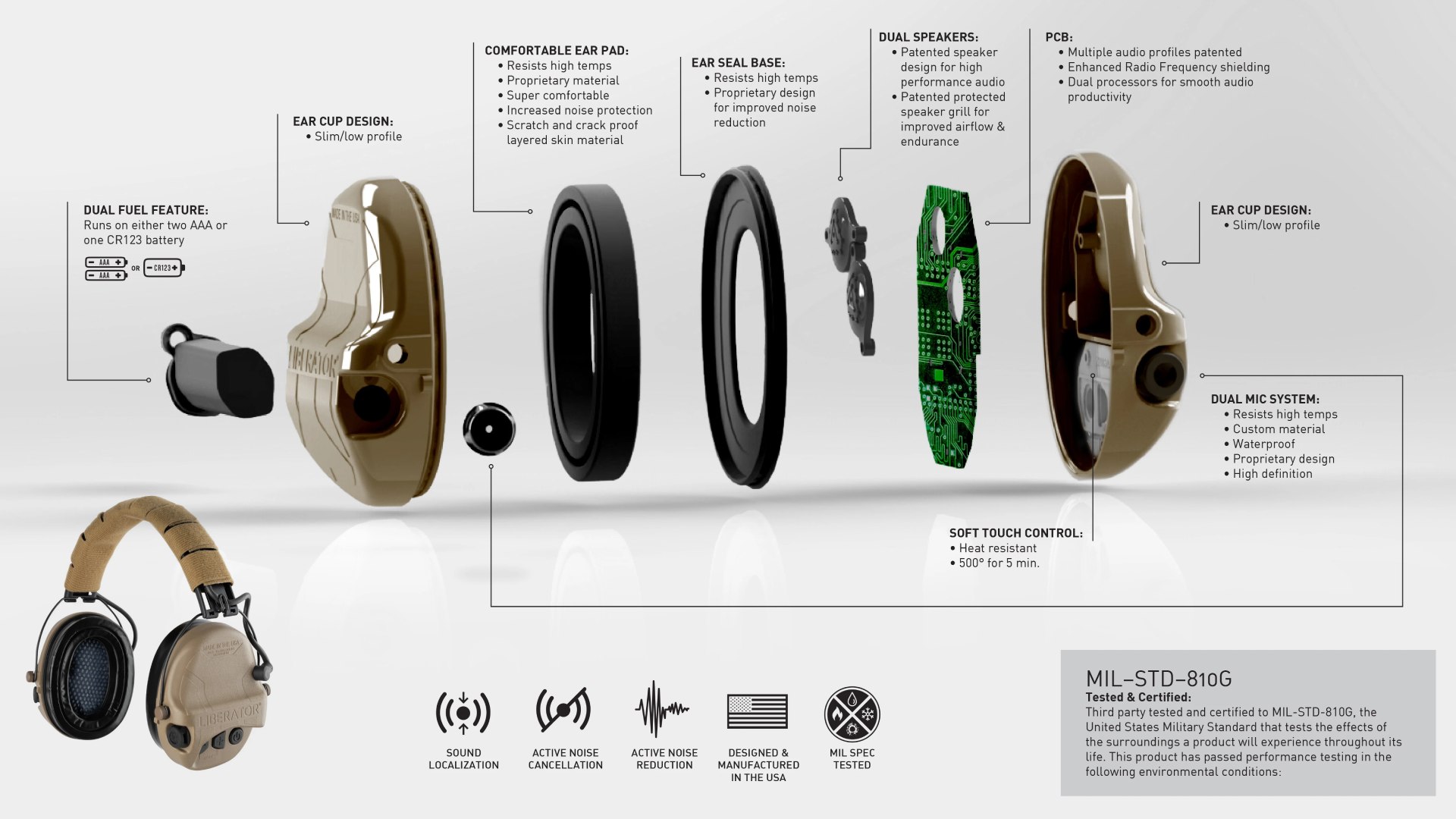 The new Liberator HP 2.0 include active noise cancelation, along with the ability to provide a full spectrum of environmental sounds simultaneously. This is crucial for effective communication and situational awareness. Plus, the multi-mode, dual processor boasts active noise reduction. The first of the hearing protection modes is enhanced mode, which blocks dangerous impulse noise while enhancing nearby speech and audio. Next is move mode, which blocks all external noise. Finally, clarity mode blocks all external noise, while enhancing nearby speech and audio.
With up to 29 dBa of attenuation, the headset compresses harmful sound levels to approximately 82 dBa. Safariland also mentions the Liberator HP 2.0 headset cut sound levels up to 33 dB. (Note: In the dBa system, the decibel values of sounds at low frequencies are reduced, compared with unweighted dB, where no correction is made for audio frequency.)
In addition, Liberator HP 2.0 headsets provide 360-degree ambient sound reproduction for accurate environmental sound replication and localization. Two microphones and dual speakers help achieve this. And in speech isolation mode, users can communicate face-to-face without using an intercom.

To power the Liberator HP 2.0 headset, users can choose to use two AAA batteries or a single CR123 battery. Safariland calls this feature the dual-fuel battery compartment. Published runtime is 160 to 300 hours, depending on the mode used. Additionally, the firmware for the internal electronics can be updated.
As for keeping the headset securely on your head, Safariland's Adaptive Headset Suspension can be configured to be worn over-the-head, behind-the-head or rail-mounted (the last two options can be purchased separately).
Designed and manufactured in the USA, the Safariland Liberator HP 2.0 headset starts at $299.99. Learn more at safariland.com.
---
Read more:
Review: Safariland's In-Ear Impulse Hearing Protection