Safariland has released a limited-edition M81 Woodland Camo Cordura wrap for 6304RDS and 6354RDS holsters.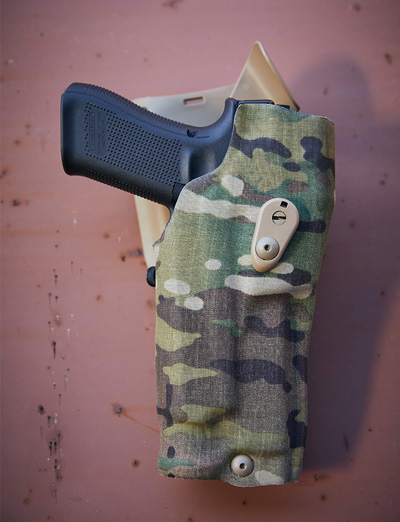 It was back in 1981 that the United States Armed Forces adopted the first official Battle Dress Uniform. The camouflage chosen for the first BDUs was U.S. Woodland—a pattern well suited for use in dense forests of hardwoods and pines.
The limited-edition 6304RDS and 6354RDS holsters are specifically designed for firearms with red-dot sights. Additionally, the Automatic Locking System locks the firearm in all directions upon holstering. The ALS is completely operable with the thumb, making it very intuitive to use—once the device is deactivated, a simple straight-up draw can be used.
The holsters have a thermal-molded construction (SafariLaminate) to protect firearms and sights, and a suede lining to protect finish. A Safariland QLS 19 Locking Fork is also included.
"Representing a significant military pattern, the M81 Woodland camouflage serves as a historical icon and is widely appreciated among the industry today," Eric Gasvoda, the vice president and general manager of duty gear for Safariland, said. "Woodland is symbolic of the end of the Cold War, representing the period before the War on Terror and the legacy of a new millennium. We're thrilled to bring to market these limited-edition holsters with fits for the top handguns on the market."
MSRP for the 6304RDS holster is $259.75, and MSRP for the 6354RDS holster is $233.50. Both of the M81 Woodland camo holsters are available in a variety of popular firearm fits. Go to safariland.com.