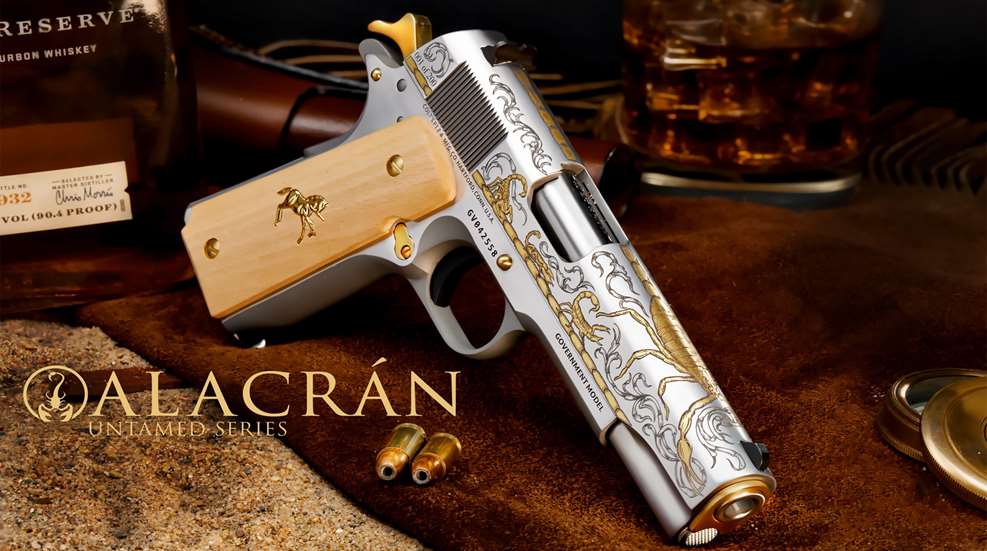 SK Customs has introduced Alacrán, the second production gun in the Untamed series. This exclusive production run consists of only 200 Colt 1911 Full Size Government Models pistols, each meticulously crafted to embody the essence of one of the world's most dangerous predators, the scorpion.
The new pistol follows the successful introduction of the Untamed Anaconda, which paid homage to the mighty reptile.
"We are thrilled to introduce Alacrán as the second edition in the Untamed series," Simon Khiabani, owner and founder of SK Customs said. "Chambered in .38 Super, these Colt firearms represent the world's highest diversity of scorpions found in Mexico, known for their extreme venomous nature."
Alacrán, meaning scorpion, is a yellow scorpion endemic to Mexico. The study of their venom is crucial for the development of lifesaving antivenom, which can cost up to $36 million per gallon.
The Untamed Alacrán pistol sports a semi-polished stainless finish on the slide and frame flats, adorned with selective 24k gold controls. Each pistol features a special engraved edition number. The custom engraved scroll pattern on the firearm resembles the intricate design of a scorpion stinger, while the top of the slide showcases a depiction of a "super" scorpion in 24k gold. Additionally, SK Customs has included Beechwood grips, which are complemented by the 24k gold Colt Rampart.
A testament to SK Customs' commitment to excellence and innovation in the world of firearms, only 200 Untamed Alacrán pistols are available. Learn more at skguns.com.