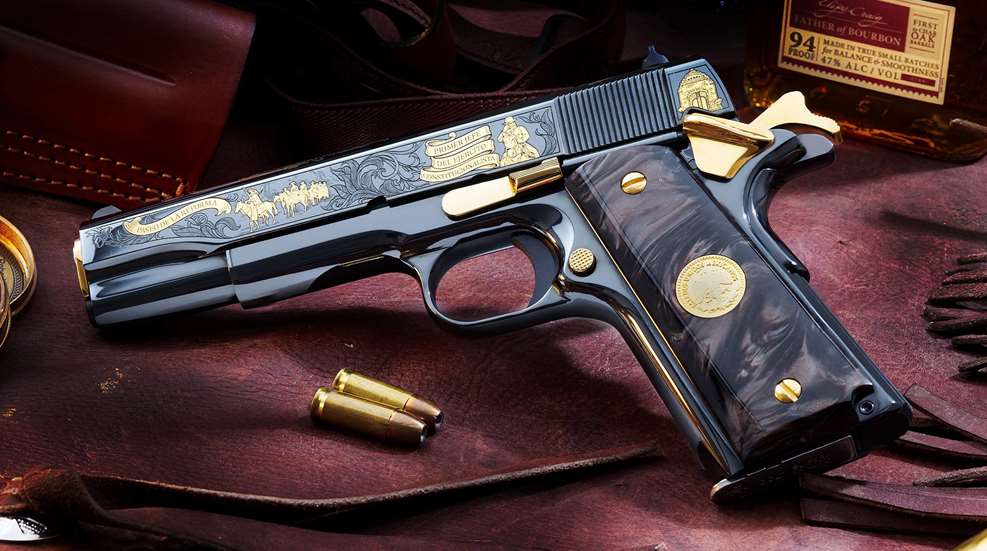 SK Customs recently introduced the "Venustiano Carranza," which is the second production in its Mexican "La Revolución" Series. This limited-edition design of the Colt 1911 Full Size Government Model chambered in .38 Super honors the history of the Mexican Revolution.
Carranza, also known as Primer Jefe or First Chief, consolidated power in the capital, leading to a convention in 1916 to revise the liberal constitution. Carranza was elected the first president under the new revolutionary Mexican Constitution of 1917, serving from 1917 to 1920.
Each Carranza Colt 1911 Full Size Government Model, only 300 in production, sports a highly polished royal blue finish with selective 24k gold controls. Each gun includes a special engraved edition number.
On left side of the firearm is the Monument to the Revolution in Mexico City with a Cannas floral scroll. An illustration of Carranza in 24k gold on horseback, saluting as his constituents cheer, is engraved with, "Primer Jefe del Ejército Constitucionalista" (First Chief of the Constitutional Army). The forward slide art displays the Constitutional Army following Carranza into the city center with the words "Paseo De La Reforma" (Promenade of the Reform) engraved in 24k gold.
The right side continues with "REVOLUCION" displayed in 24k gold, the Carranza Family Coat of Arms and a depiction of the Carranza's revolutionist title Insurrectos Mexicanos (Mexican Insurgents).
To complete the firearm, a portrait of Carranza sits on the top of the slide alongside the iconic Mexican Eagle respective for its era. Additionally, the firearm wears a set of custom Kirinite grips embedded with a set of custom 24k gold peso medallions.
"After seven years of civil unrest, Carranza provided much-needed hope for the Mexican Revolution," Simon Khiabani, owner and founder of SK Customs, said. "This limited-edition production follows the first firearm in the series, "Pancho Villa," and represents the restoration of lands to native peoples, the separation of church and state and dramatic economic and educational reforms."
MSRP of the "Venustiano Carranza" pistol is $2,900. Go to skguns.com.