The new Taurus GX4XL 9 mm is the second model in the company's GX4 pistol lineup. Adding a new slide and barrel, the new GX4XL pistol retains the performance features of the original GX4 micro-compact 9 mm.
The Taurus GX4XL is built on the same polymer receiver as the GX4. With a micro-compact profile, the GX4XL's hybrid stainless steel and polymer receiver includes a modular grip with standard or high-swell backstrap options, along with texturing for optimal firearm control. In addition, the magazine release is reversible, and the flat-face target trigger sports a generous trigger guard that can accommodate different hand sizes.
Separating the Taurus GX4XL from the GX4—an extended barrel and slide assembly. The GX4XL's barrel is 0.64 inches longer the GX4's barrel. This longer barrel helps bump up the muzzle velocity. Additionally, the increase in barrel length brings a longer slide profile and extended sight radius.
For adding a red-dot optic, the GX4XL is also available equipped with the T.O.R.O. (Taurus Optic Ready Option) slide, which includes a direct-thread mounting system that does not use plates. The T.O.R.O. slide will accommodate micro red dots such as the Shield RMSc, Holosun HS507K X2, Sightmark Mini Shot A-Spec M3 and Trijicon RMRcc.
As for the GX4XL's carbon steel slide, it is treated with a gas nitride finish to enhance surface hardness and reduce wear—a key consideration for a handgun intended for reliable everyday carry. Equally protected from wear and corrosion is the stainless-steel barrel, which has Diamond-Like Coating to boost surface durability and lubricity to reduces friction.
As with the GX4, the GX4XL comes with a serrated blackout steel drift-adjustable rear sight and a fixed white dot front sight. The rear sight dovetail cut and front sight mounting hole are compatible with common aftermarket sight systems, and tritium night sights are an upgrade option.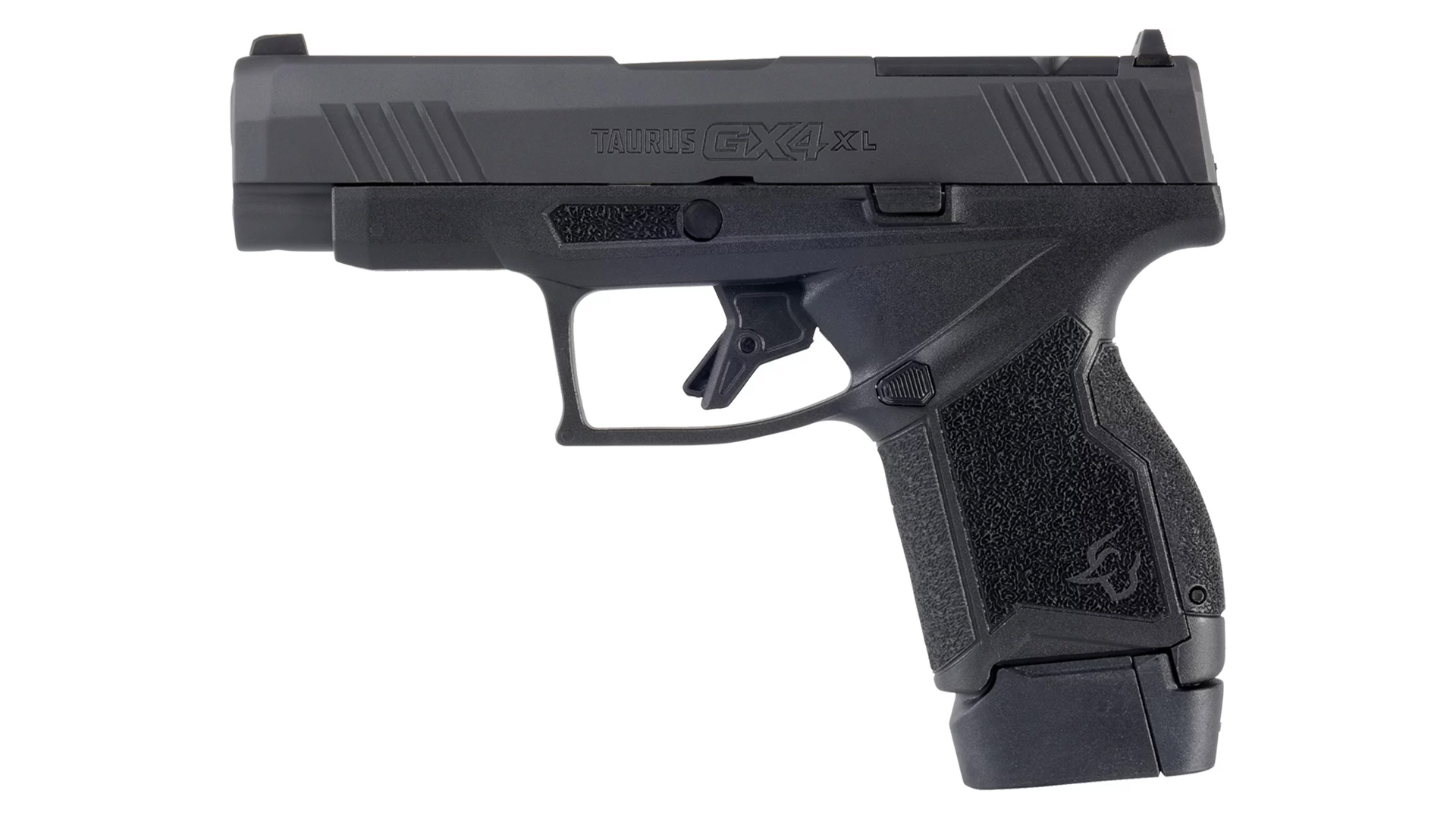 The Taurus GX4XL 9 mm pistol comes with two magazines—one 11-round and one extended 13-round magazine, in both standard and T.O.R.O. slide configurations. Additionally, two 10-round magazines in standard and T.O.R.O. configurations are available for residents of capacity-restricted states. No matter the model, all GX4XL magazines have magazine and grip cuts to aid in magazine stripping, if needed.
For the standard slide GX4XL pistols, MSRP is $429, with the price increasing to $459 for the upgraded version with the T.O.R.O. optics-ready slide. Learn more at taurususa.com.