We all want the confidence that our ammo (and firearm) can make itty-bitty groups so that when we step up to the firing line we know success rests squarely on our own marksmanship. There's an unofficial but undeniable, directly proportional relationship in match grade ammo: the more you spend, the smaller the groups get.

Handloading costs less than factory match ammo, but not everyone handloads―and handloading match grade .22LR isn't even on the table―so factory match ammo is important for inviting everyone into competition. There are plenty of choices in top-of-the-line match grade factory ammo, but recognizing that not every competition requires one-hole precision and its associated cost, Norma-USA has created another level of precision ammo.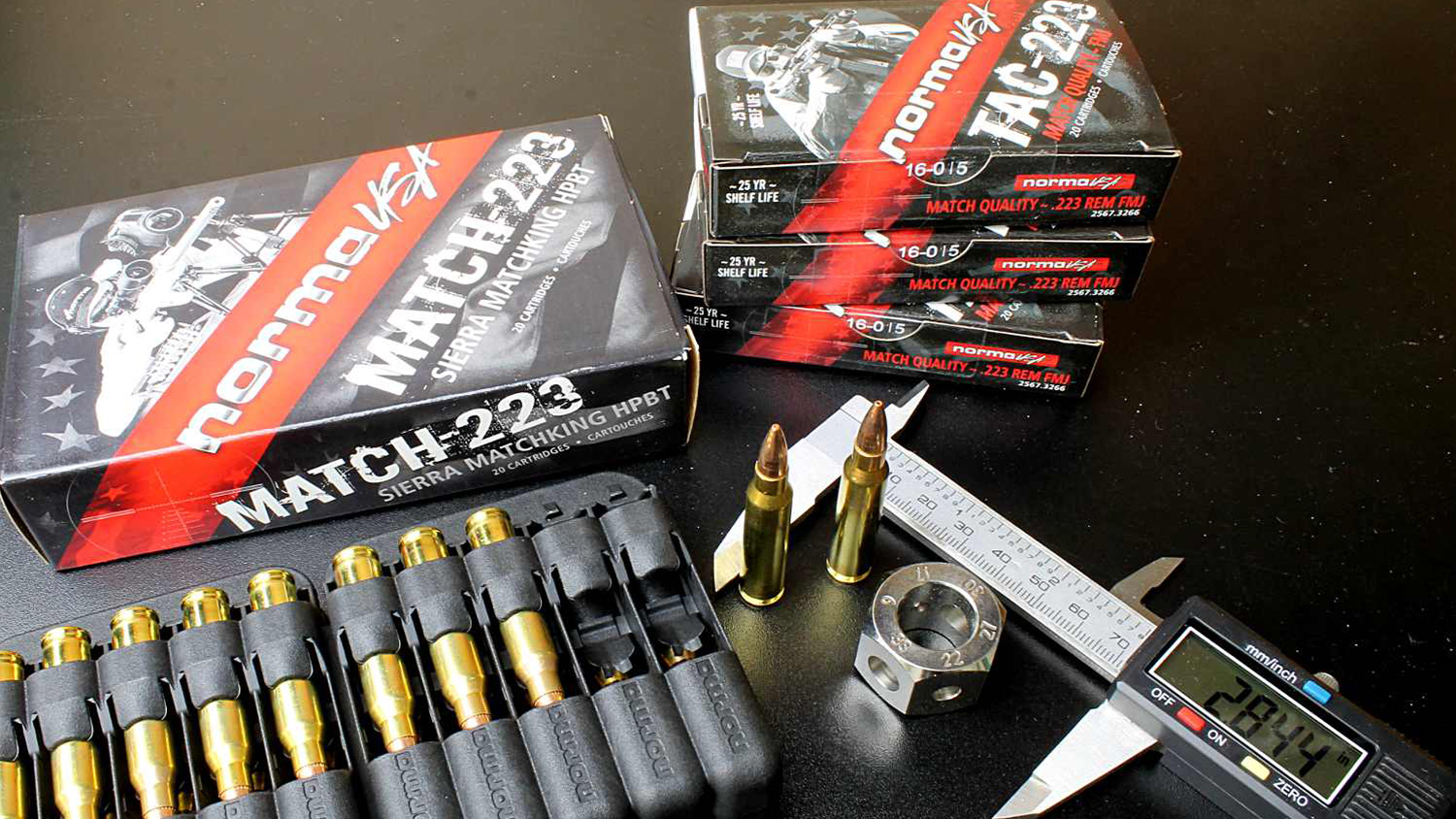 In a black-or-white world where ammo is either match grade or it isn't, what should a maker call ammo that is better than standard but a trifle below their very best? Norma-USA calls theirs "TAC," an apparent nod toward tactical marksmanship competitions that don't require sub-MOA precision. The TAC line includes the two most popular competition rounds, .223 Remington and .22LR. Here, let's compare Norma-USA's TAC to their Match line, first at the loading bench and then at the range.

223 TAC vs 223 Match

Norma-USA loads its Match-223 with Sierra's 77-grain MatchKing bullet and, unsurprisingly, Norma headstamped brass. Careful packaging includes a plastic cartridge holder that fits into a shooting jacket pocket for offhand match stages.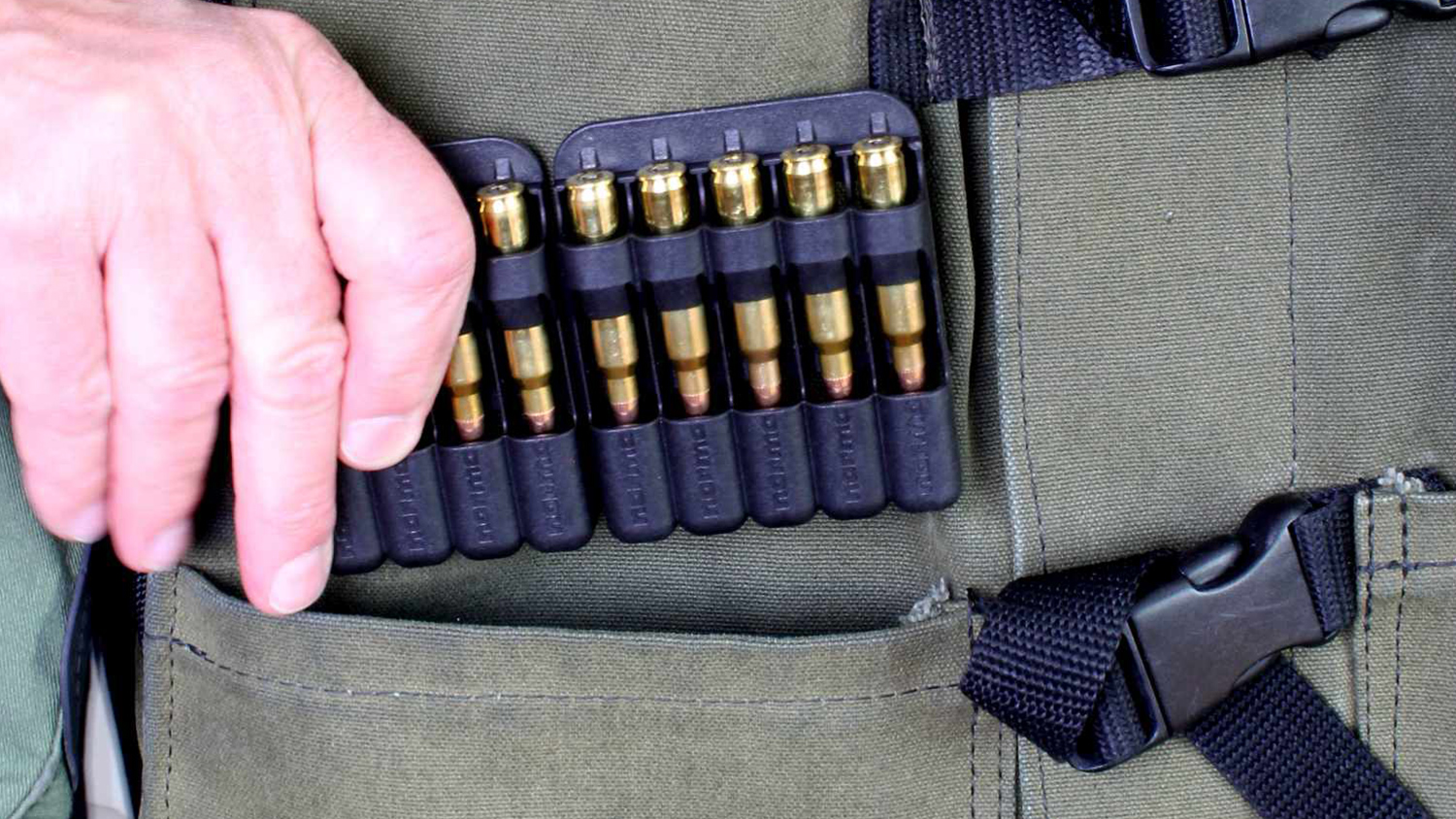 The TAC-223 utilizes an unnamed FMJ bullet of 55-grain on the same brass; unlike the Match offering and befitting its tactical games implication for semi-auto rifles, TAC-223 primers are firmly affixed with a three-point stab crimp and have a sealant applied. Cartridges come loose-packed in boxes of 20.

Two critical outer dimensions in any precision ammunition are 1) Consistent bullet seating depth and 2) Minimal bullet runout. Bullet seating depth should be measured from the cartridge base to, not the bullet's tip, but to its ogive/bearing surface juncture. This is because even match grade bullets have imperfect tips that will vary several thousandths of an inch in length, giving an incorrect cartridge overall length (COL) measurement. Besides, what we are really concerned with is how far the bullet "jumps" across the unsupported space of the chamber throat between the case and the rifling lands, and the first part of a bullet to meet the rifling is the ogive/bearing surface juncture. Inconsistent seating depth results in inconsistent longer and shorter starting "jumps" and shows up as wider bullet dispersion―larger groups―on the target.

The Sinclair bullet comparator allows us to measure COL to the bullet's ogive using a caliper. Using comparator and caliper, a sampling of 10 Norma-USA Match-223 cartridges showed a variation of only 0.0035-inch between the longest and shortest cartridge, comparing well to match grade high power handloads. By comparison, the TAC-223 cartridges varied by a not-best-match grade but not-too-shabby 0.018-inch.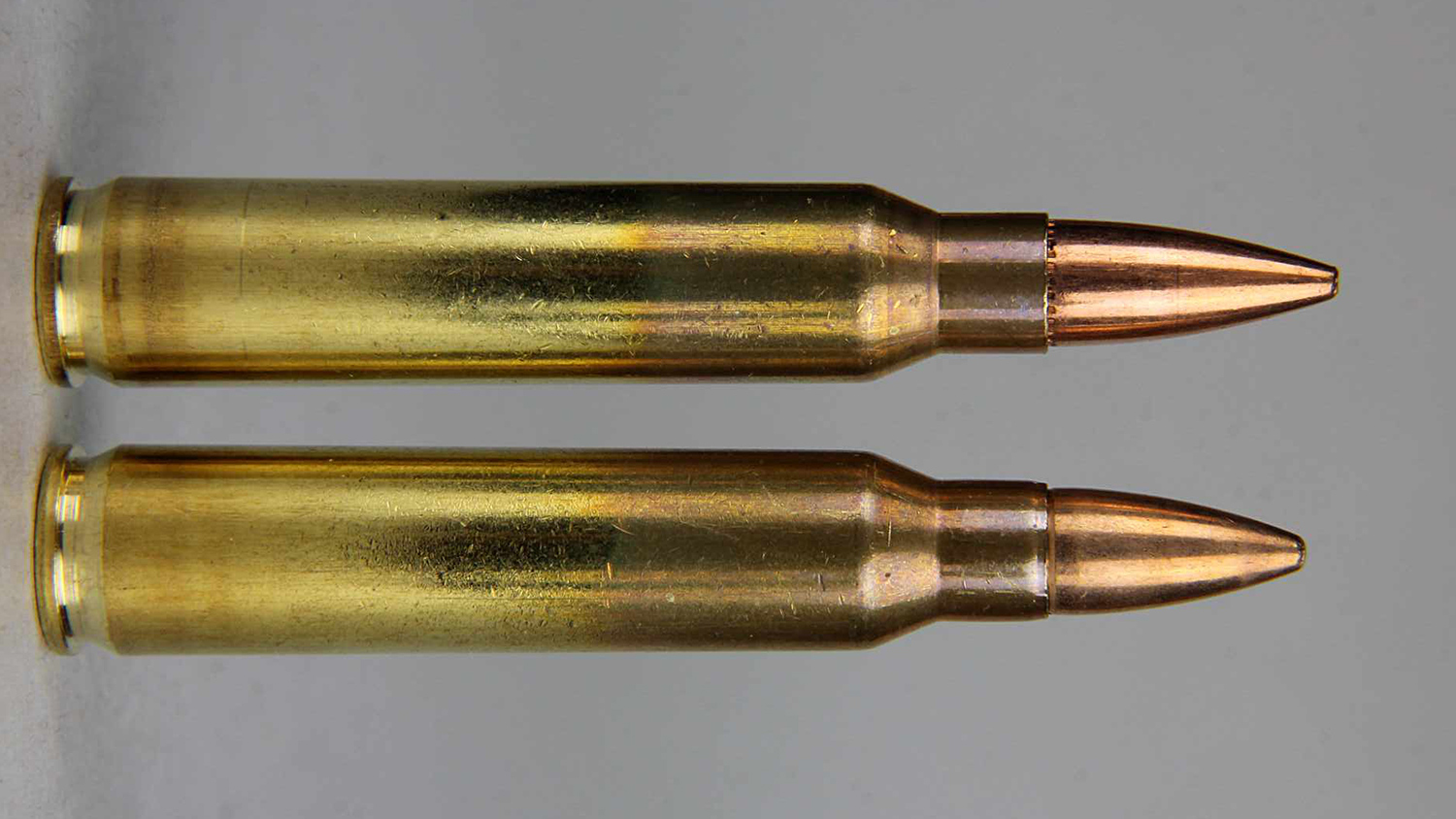 Runout, also called concentricity, is a measurement of the alignment of the longitudinal axis of the bullet to the axis of the cartridge case. When precisely aligned the bullet will enter straight into the bore upon firing; any misalignment "tips" the bullet's nose away from center so that the bullet enters the bore off-center. If the bullet leaves the muzzle in this condition, accuracy suffers.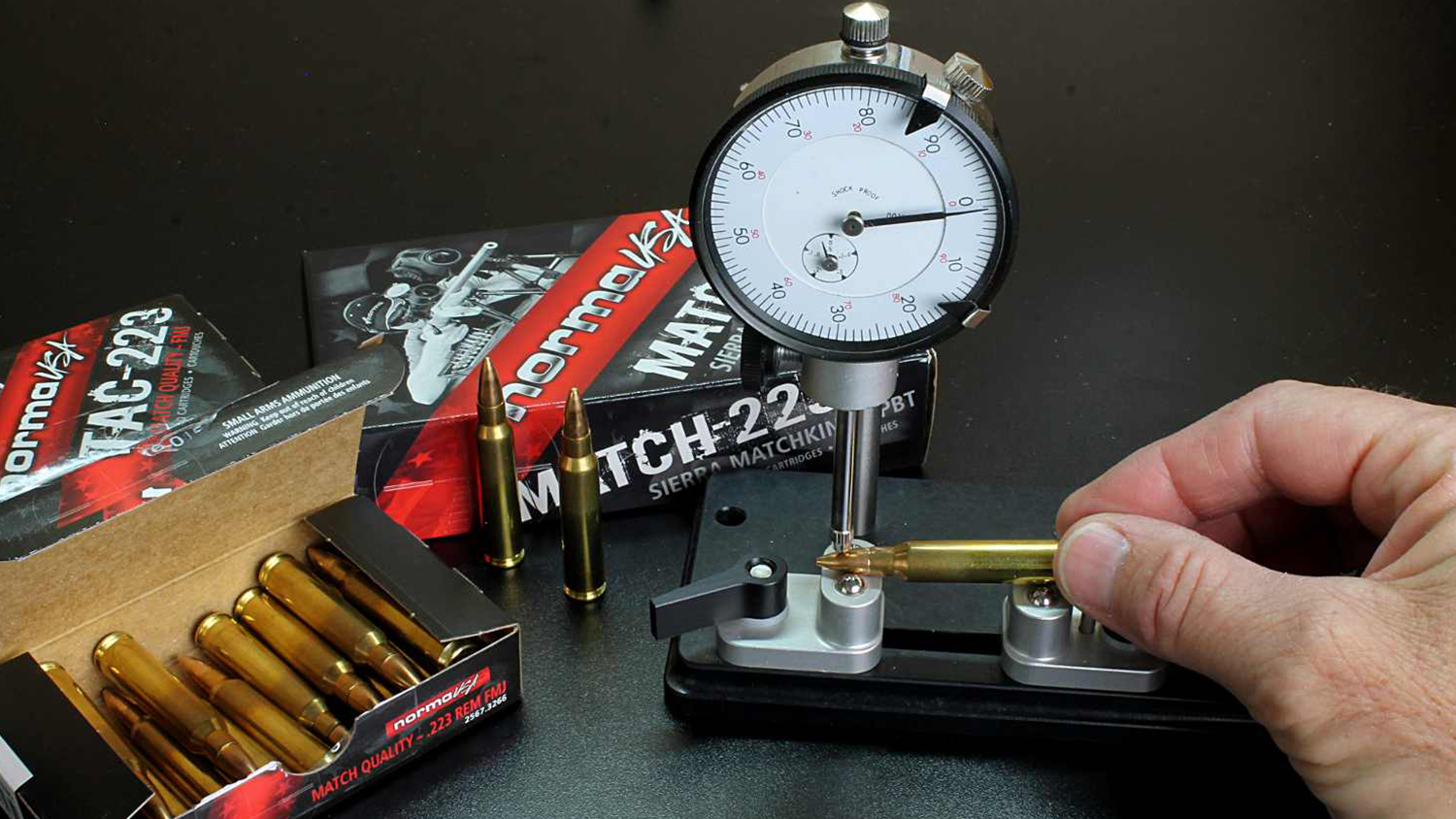 We can measure concentricity at the bench with a (surprise, surprise) concentricity gauge. Excellent match grade ammo has a runout that doesn't exceed 0.0015-inch, a generally accepted community standard. By comparison, good factory ammo typically has a runout of 0.002-inch or so, and milsurp ammo has runouts of around 0.004-inch. For the same reasons argued above, it makes sense to measure runout at the bullet's ogive. Again taking a random sampling of 10 of the Match-223 cartridges, average runout measured 0.0012-inch with a minimum of 0.001-inch and a single cartridge indicating 0.003-inch. Average runout of the TAC-223 was almost twice that at 0.0021-inch, again with a single cartridge indicating 0.003-inch. Seven of those TAC-223 rounds measured only 0.002-inch.

At range and wallet

With a Weaver T-36 scope mounted on my National Match AR-15, 100-yard groups from the Match-223 ran right at one inch with an excellent even distribution. The TAC-223 would have done as well but for a proclivity toward vertical stringing that increased group size to 1.5-inches and proves the economic rule stated at the beginning.

An online perusal turned up TAC-223 for about the same price as run-of-the-mill FMJ plinking ammo, around $9 per box of 20―a real bargain in the accuracy vs. cost trade-off. Norma-USA Match-223 pricing starts at $25 per box of 20.

Bargain rimfire precision

When it comes to competitions utilizing .22 rimfire, there is no handloading option. Yes, it's possible to reload .22LR―we've shown you how to do it―but so far the practice shows no promise of match grade precision. With .22s, testing to find a specific brand of ammo that our competition (or hunting) guns shoot well is the order of the day.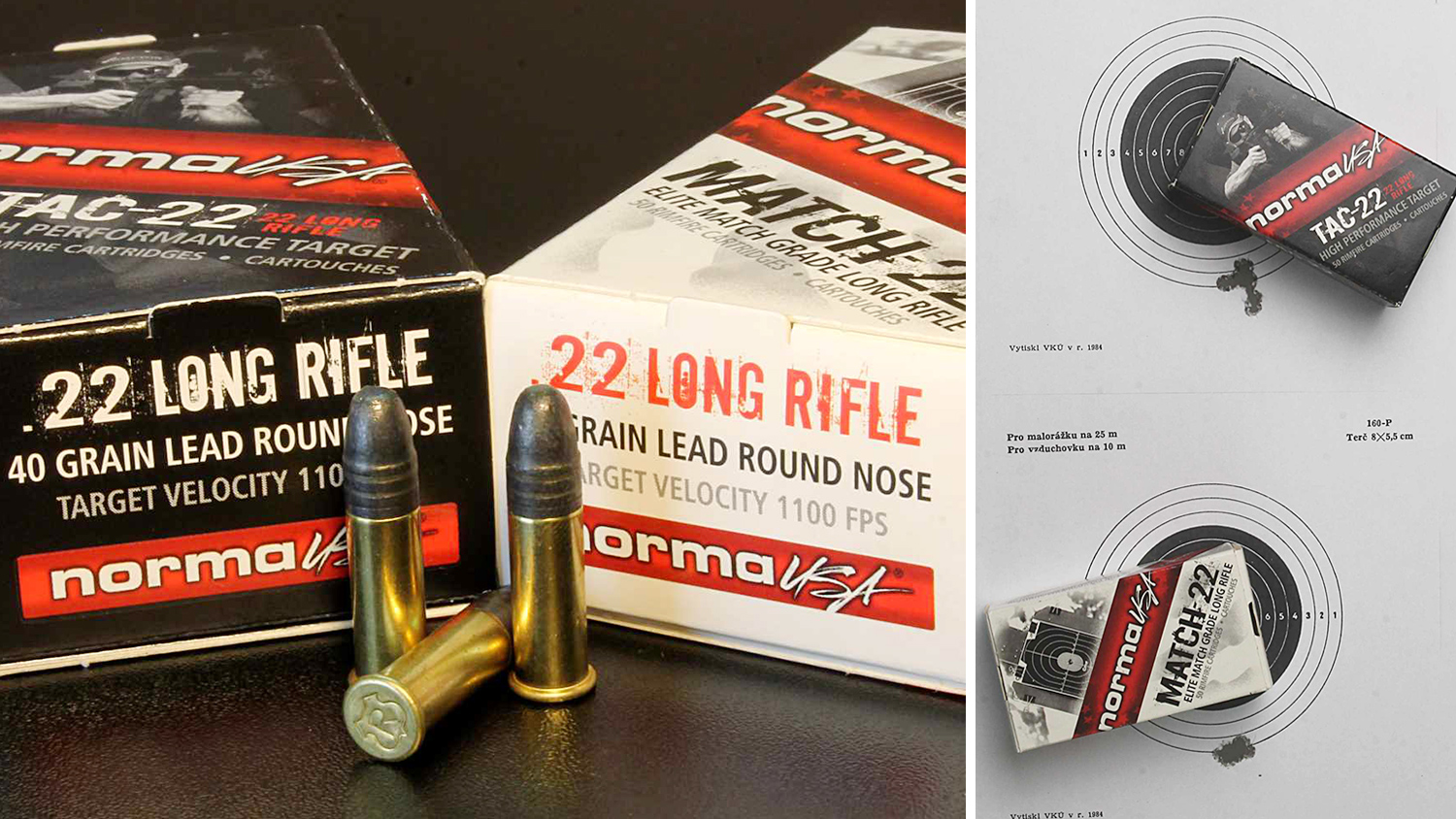 To the plinker or hunter, the $17 to $20 price tag on a 50-round box of match grade .22LR is eye-popping. The smallbore competitor who finds ammo his rifle "likes" will buy a case of it, all the same lot number, readily shelling out $2,000. But it isn't always necessary to buy the most expensive cartridges, and happy is the competitor who finds his rifle likes ammo at half that price. Norma-USA's Match-22 is in that category, retailing for about $7 per box.

Norma-USA offers its TAC-22 at an even lower price, and one online catalog boasted a sale of $40 per brick of 500. Both cartridges feature 40-grain LRN bullets at an advertised 1,100 fps; both appear identical externally, right down to an oily, waxy coating on the cartridges. Norma-USA labelled the Match-22 box, "Elite Match Grade" and the TAC-22, "High Performance Target," and at the range their differences showed up on paper targets.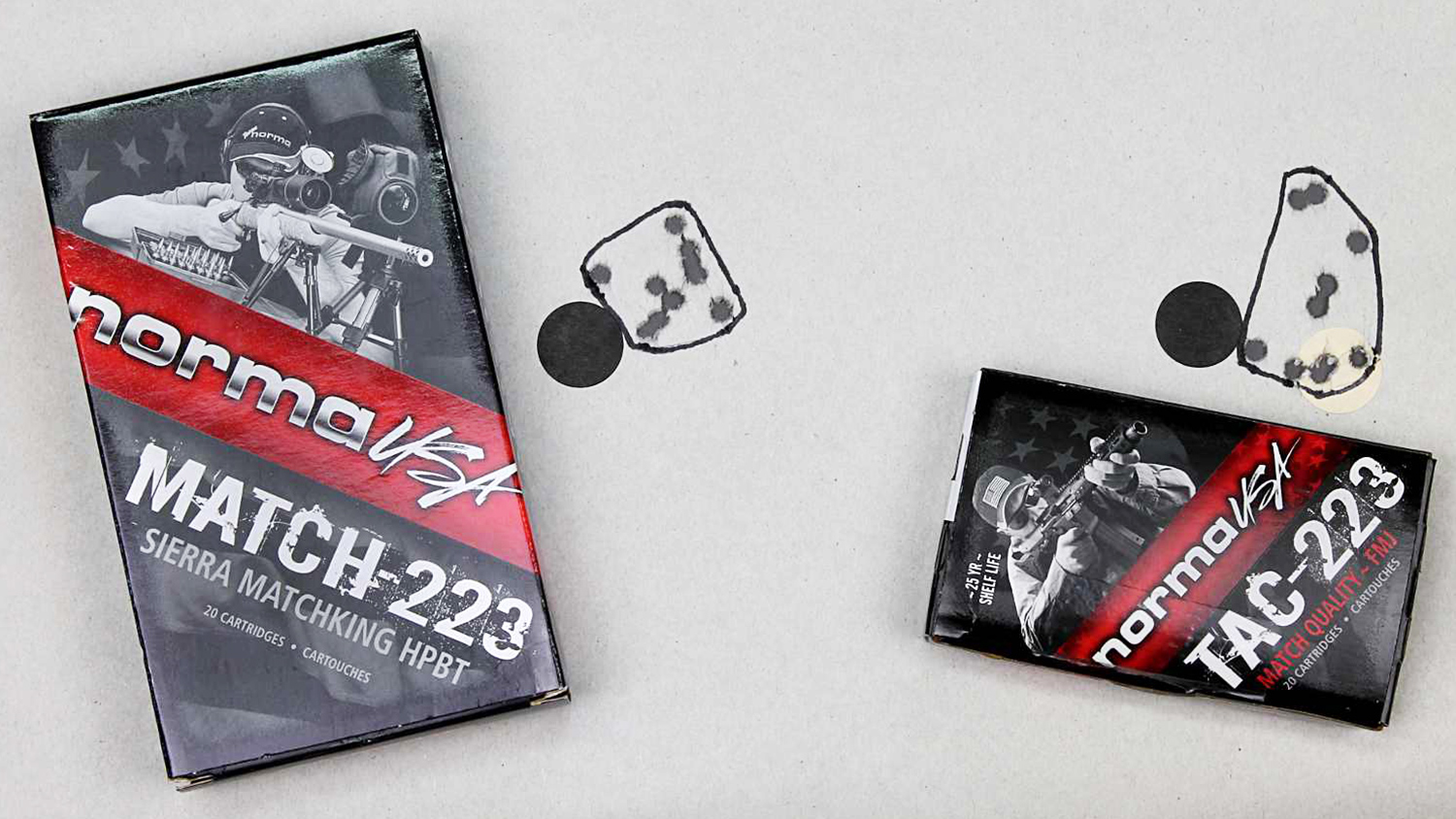 I tested both cartridges from the bench in my old school smallbore match rifle, a Remington 513T fitted with Redfield aperture sights. The rifle puts Winchester Mark III's into a single hole at 25 yards, and I dipped into my dwindling stash to make sure Murphy didn't get into the rifle; after firing the control group (yep―still one hole) I put 10-round groups of Match-22 and TAC-22 through the rifle. As you can see from the representative targets, both Normas punched out one-holers, but the Match-22 groups ran smaller and more uniformly round than those of the TAC-22.

As their names imply, Match-22 is obviously intended for precision shooting like smallbore; the TAC-22 is certainly no slouch, and its lower price tag will appeal to those who shoot games that don't require the Match-22's level of precision, such as rimfire silhouette.

While it's generally true that the more we spend the smaller our groups get, the reality is that final precision lies with the firearm; we know that the same high quality ammo that performs exceptionally well in one fine competition rifle may not perform so well in the next. Norma-USA provides competition shooters with more precision ammo options, and does so at an appealing lower price.

Comparison of Match-223 and TAC-223 chronograph results

Match-223
Bullet: Sierra 77-grain MatchKing
Velocity average, 10-shot string: 2,639 fps
Hi: 2,667
Lo: 2,616
Extreme spread: 51.31
Standard Deviation: 20.22
Group size: 1-inch round

TAC-223
Bullet: 55-grain FMJ
Velocity average, 10-shot string: 3,128 fps
Hi: 3,149
Lo: 3,100
Extreme spread: 48.34
Standard deviation: 16.49
Group size: 1.5-inch with vertical stringing

All photos by Art Merrill